WASHINGTON, DC – Just before the last Presidential debate, Twitter locked down the account of Hogan Gidley, President Trump's national press secretary for his reelection campaign. Why, a reasonable person may ask? Allegedly because Gidley had made a tweet disparaging mail-in voting.
Twitter locked the account of the Trump campaign's national press secretary, Hogan Gidley. https://t.co/SWbmswhpoV

— Breitbart News (@BreitbartNews) October 23, 2020
Gidley tweeted:
"Got 'my'…uh wait…no…"Daniel's" ballot in the mail?!? Who is that? Apparently it's a former tenant who hasn't lived in the unit for 8 YEARS!!! But yeah, sure…the mainstream media is correct…unsolicited vote-by-mail is "totally safe."
According to Fox News, Gidley also tweeted out a picture of the mail-in ballot, with his address and Daniel's information. After all, he knew that the liberals would claim that he was lying and he had to offer proof to the contrary. However, he still got called a liar.
🚨NEWS: Twitter has locked Trump campaign national press secretary @JHoganGidley out of his account because he tweeted a photo of a mail-in ballot he received that wasn't his.

Presidential debate is in two hours.https://t.co/PCi1eEMdWH

— Andrew Clark 🎃 (@AndrewHClark) October 22, 2020
Shortly after the tweet, Gidley learned that his Twitter account had been banned for showing that he, like many, many others in the country, have received mail-in ballots for the wrong people in the mail.
That is not inaccurate, misleading or false, it is fact, a fact in which he was able to show proof of, however, that was not satisfactory to Twitter.
In the notice of the Twitter suspension, Gidley was informed:
"You may not post content providing false information about voting or registering to vote."
I, like many other Americans, received a ballot in the mail that was not meant for me. Twitter suspended my account for simply posting about it.

This censorship is insanity.

We must continue to expose and fight Big Tech's clear bias against conservatives who speak the truth.

— J. Hogan Gidley (@JHoganGidley) October 23, 2020
After Gidley received his Twitter account back, after he was forced to delete the tweet in order to get access, he posted:
"I, like many other Americans, received a ballot in the mail that was not meant for me. Twitter suspended my account for simply posting about it.
This censorship is insanity. We must continue to expose and fight Big Tech's clear bias against conservatives who speak the truth."
In an interview with Fox News, Gidley said:
"I, like many other Americans, received a ballot in the mail that was meant for me, and that proves what the President has been saying is one hundred percent correct – that there are serious issues with the Democrats' plan for universal, unsolicited mail in voting.
"Irrationally, inexplicably suspending my Twitter account simply for tweeting about the incorrect ballot is completely insane, and it won't cover up the fact that Democrats changing the way we vote just weeks before an election is dangerous and fraught with the potential for massive fraud."
Andrew Clark, President Trump's Rapid Response Director for the reelection campaign also had concerns over the Twitter suspension of Gidley. He also noted that the suspension of the account was done a few hours prior to the final Presidential debate was aired. He said:
"This is just another attempt by Twitter to silence the Trump campaign, hours before the final presidential debate no less."
A spokesperson for Twitter responded to Fox's questions about Gidley's account suspension. According to Fox, the account was suspended because they felt that Gidley had violated their rules on civic integrity.
The policy said that people "may not use Twitter's services for the purpose of manipulating or interfering in elections or other civic process. This includes posting or sharing content that may suppress participation or mislead people about when, where, or how to participate in a civic process."
The locking down of Republican Twitter accounts has been increasing as of late.
The week prior to this situation, the White House Press Secretary, Kayleigh McEnany, had her account suspended for sharing the New York Posts media account of allegedly damning information for both Hunter Biden and his father, current Democratic Presidential Nominee Joe Biden, and their endeavors overseas.
They also suspended the Trump campaign's twitter account after a post was made calling Joe Biden a liar along with videos of the alleged Biden corruption. Twitter claimed they did so for the same reason they blocked the New York Post, because those materials could have been hacked.
Is the @NYPost still locked?? Election Meddling: Twitter Locks Account of Trump Campaign National Press Secretary Hogan Gidley https://t.co/6gYshgM1f1 via @BreitbartNews

— Chris Brossette (@chris_brossette) October 23, 2020
Of course, Twitter had no issue with released tax records that belonged to President Trump, after the only way they could have been obtained, and released, was through some sort of criminal endeavor.
Do you want to join our private family of first responders and supporters? Get unprecedented access to some of the most powerful stories that the media refuses to show you. Proceeds get reinvested into having active, retired and wounded officers, their families and supporters tell more of these stories. Click to check it out.
Twitter refuses to unlock New York Post account unless media outlet deletes Hunter Biden posts
October 18, 2020
Recently, Law Enforcement Today has reported on the bombshell emails that dropped this past week showing Hunter Biden's overseas business dealings, in addition to showing Joe Biden's alleged involvement when he was the Vice President of the United States.
Many news outlets have chosen to sweep this story under the rug, however, the New York Post chose to do their job, and report on the eye opening emails, that the country deserves to know about.
The two major social media platforms, Twitter and Facebook, chose to censor this particular information however, and now they are both coming under fire.
AMERICA WILL NEVER FORGET WHEN THE MAIN STREAM MEDIA FELL ON ITS SWARD TO PROTECT A CRIMINAL. https://t.co/RBM4jeXfx2

— 🇺🇸 Antoine Tucker for Congress NY-14 (@montaga) October 17, 2020
The New York Post posted information that allegedly shows communication between Joe Biden's son, Hunter Biden, and an adviser to a Ukrainian energy company on its social media accounts.
Both Twitter and Facebook did not appreciate the "anti-Biden" posts.
On Wednesday October 14th, Twitter went as far as to lock The Post's primary account at 2:20pm, deleting six of the tweets, and no longer allowing people to share the information. Those six particular tweets were replaced with "This Tweet is no longer available. Learn More"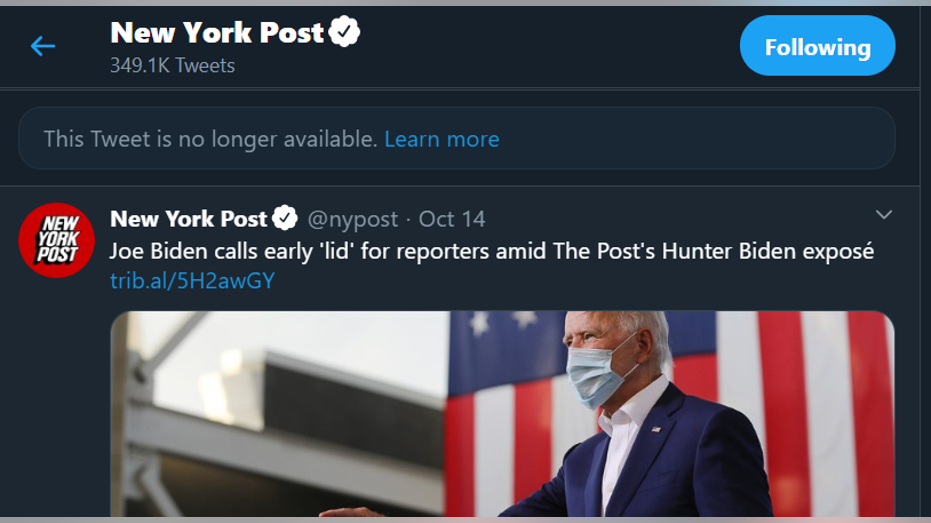 "Anyone who looks at The Post's Twitter feed can't even see the tweets about the Biden stories, which have been replaced by messages saying, 'This Tweet is no longer available,'"
One would think that Twitter would try to hide their blatant violation of the First Amendment, however, in a statement released to Fox Business, Twitter confirmed that:
[The Post] "has been informed what is necessary to unlock their account."
Twitter is claiming that the Post has violated their "Hacked Media Policy" against displaying "hacked" information when tweeting about the Hunter Biden stories. The Post of course says there is no merit to this claim.
Twitter updated that policy on Friday, October 16th, saying it will start labeling content that violates its rules rather than remove it altogether, "unless it is directly shared by hackers or those acting in concert with them." Fox Business reported.
Our work to limit the spread of misleading information goes beyond elections. Starting today, before you Retweet or Quote Tweet any labeled Tweet that breaks our misleading information rules, you'll see a prompt.

It'll provide more context on why the Tweet breaks our rules. pic.twitter.com/KjQSnDk8cC

— Twitter Support (@TwitterSupport) October 16, 2020
Twitter wrote in a statement to the Post:
"While we've updated the policy, we don't change enforcement retroactively. You will still need to delete the Tweets to regain access to your account,"
Facebook was actually the social media platform to get the ball rolling. According to the New York Post, Facebook said they would limit the spread of The Post's story on its own platform. The social network added that the story would be eligible for review by independent fact-checkers.
Obviously this enraged many, including Republican law makers, who called on the CEO's of both companies to justify their actions.
Republican Senator Josh Hawley of Missouri sent a letter to Facebook's CEO, Mark Zuckerberg saying in part:
"The seemingly selective nature of this public intervention suggests partiality on the part of Facebook,"
"And your efforts to suppress the distribution of content revealing potentially unethical activity by a candidate for president raises a number of additional questions, to which I expect responses immediately."
Hawley then wrote a similar letter to Twitter's CEO, Jack Dorsey, saying in part:
"I ask that you immediately answer these questions and provide the necessary justifications so that your users can feel confident that you are not seeking to influence the outcome of the presidential election with your content removal decisions,"
Not surprisingly, the Post is not the only account that was shut down for sharing the information on Hunter and Joe Biden. President Trump had a similar experience when Twitter shut down his campaign account for sharing the story.
Law Enforcement Today reported that according to Mike Hahn, Twitter locked down the Trump campaign account for sharing the story about Hunter Biden.
Accompanying a screenshot of the Team Trump account showing that it has been locked, Hahn wrote the following:
"Twitter has suspended [the Team Trump account] for posting a video calling Joe Biden a liar who has been ripping off our country for years, as it relates to the [New York Post] article. 19 days out from the election."
It seems as though it is not just the sharing of the Biden email scandal that is causing accounts to be locked. It also appears to be any media outlet that reaches a large number of voters, and shows support for President Trump, or, at least that is our guess, as Law Enforcement Today, the nations largest police-owned media company had our Twitter account shut down with no explanation, shortly after the announcement of our endorsement of President Trump.
While the account has now been reactivated, below you can read all of the details, brought to you by Kyle Reyes, Law Enforcement Today's National Spokesman.
Want to make sure you never miss a story from Law Enforcement Today? With so much "stuff" happening in the world on social media, it's easy for things to get lost.
Make sure you click "following" and then click "see first" so you don't miss a thing! (See image below.) Thanks for being a part of the LET family!