The following contains editorial content within which is the opinion of the writer.
—
ST. LOUIS, MO- Washington University's Brown School, located in St. Louis, MO., recently hosted a discussion whereby they delved into a question that has been plaguing well…nobody. They decided to probe the question if professionalism is a racist construct as part of a series for Black History Month, according to Red State.
"Professionalism is racist?" According to a YouTube video posted on Feb. 1, the university offered this description:
"The term 'professionalism' has at times been used to silence and marginalize people of color, when attributes of appearance, language, or interactions that have nothing to do with job knowledge or constructive collegial relationships are labeled as 'unprofessional.'"
Campus Reform reported on how certain "traits of white supremacy culture" were identified:
Perfectionism
A sense of urgency
Defensiveness
Worship of the Written Word
Quantity Over Quality
According to Jewel Stafford, Assistant Dean for Field Education:
"Even though we're working really hard, there's a narrative that we're not enough, that somehow who we are, what we do, it's just not enough."
Unbelievably, it seemed to progress downhill from there. According to Campus Reform:
[Assistant Dean of the Office of Community Partnerships Cynthia Williams] said that depending on the marginalized group being recognized at the time, they might have changed the question.
For example, she noted that if the talk was on Disability Awareness Day, the talk may have been called "is it an Ableist Construct?" If it was given during Women's History Month, it may have been called, "Is it a Misogynistic or Sexist Construct?"
If the talk was given during Gay Pride Month, they might have called it "Is it a Heterosexist (Homophobic) Construct?" And if the talk was given during National Native American Heritage Month, it may have been called, "Professionalism: Confronting Anti-Indigenous and Systemic Racism."
This is of course nothing new. In 2020, as we reported here at Law Enforcement Today, the Smithsonian Institution's National Museum of African American History and Culture identified what they referred to as "components of Caucasianness":
Rugged Individualism
The Nuclear Family
Objective Thinking
Believing Hard Work is the Key to Success
Christianity is the Norm
Respecting Authority
Planning for Future
Delayed Gratification
Action Orientation
Decision-Making
Being Polite
After getting eviscerated for the posting, the Smithsonian removed it and claimed, "We erred in including the chart. We removed it and we apologize."
Apparently, hard work and rational thought are considered "white." As they noted, last year at Colorado University, they dove into it, with a teacher training which looked into fighting the "White Supremacy" of "Productivity."
This actually seems to be somewhat racist and plays into former stereotypes whereby actual racists referred to blacks as being lazy. Whether intentional or not, it seems like these universities are in fact playing into that stereotype. And that in itself is extremely disturbing, probably to a lot of non-white Americans.
Some refer to being white as a disease of sorts, one for which there is no cure. Such is the case reported in the New York Post, where the Journal of the American Psychoanalytic Association published an article last year written by Dr. Donald Moss of the New York Psychoanalytic Institute. Moss wrote:
"Whiteness is a condition one first acquires and then one has—a malignant, parasitic-like condition to which 'white' people have a particular susceptibility."
He continues that whiteness is "systemic":
"The condition is foundational, generating characteristic ways of being in one's body, in one's mind, and in one's world."
Moss claims there is "no guarantee against aggression," but there is "effective treatment." He suggests a "combination of psychic and social-historical interventions." But Moss laments that "There is not yet a permanent cure."
Moss by the way is very, very white. He's got a lot of guilt. You almost have to feel sorry for him…well, maybe not. From his official biography:
"Since the mid-80s, I have been working on clinical/theoretical/activist perspectives that aim to understand and dismantle structured forms of hatred—"hating in the first person plural"—racism, homophobia, misogyny, and xenophobia."
Oh, but there is a cure, but it's a little, shall we say scary. It was touted at the Yale School of Medicine by psychiatrist Aruna Khilanani, who shared a fantasy, as we reported at Law Enforcement Today:
"I had fantasies of unloading a revolver into the head of any white person that got in my way, burying their body, and wiping my bloody hands as I walked away relatively guiltless with a bounce in my step. Like I did the world a fucking favor."
Of course, big business is also down with the revolution, as seen in a course courtesy of Coca-Cola, which said that being "less white" means to be:
Be less oppressive
Be less arrogant
Be less certain
Be less defensive
Be less ignorant
Be more humble
Listen
Believe
Break with apathy
Break with white solidarity
Nothing like pissing off half your market share. Well, maybe not half because clearly there are a lot of white people who are guilty for how they were born.
So with all of this in mind, the Brown School is here to help.
The program insinuated that "so-called professionalism is coded language, a construct that upholds institutional racist policies and excluding practices."
The conference said it would look into "dismantling white supremacy and privilege" all while pushing "social justice and advancing effective workplaces."
As we have become used to over the past couple of years, the university had to pay homage to "ancestral homelands" of where the school was located. This seems to be a new thing, as if the peoples who had been the "occupants" of that land had been there for all time. That of course is absurd. Much of the so-called "ancestral lands" were initially taken by force.
That of course leads to the obvious question…if the Brown School is indeed on "ancestral lands," why don't they give it back? Inquiring minds want to know.
Such is 2022 America.
For more on the NYC shrink who spoke at Yale University, we invite you to:
DIG DEEPER
NEW HAVEN, CT – A New York City-based psychiatrist shared some unsettling fantasies she had of killing white people while before an audience at the Yale School of Medicine back in April.
This psychiatrist was quite explicit in her animus toward white people, claiming that white people are tantamount to "a demented, violent predator".
NYC shrink tells Yale audience she fantasizes about shooting white people in head https://t.co/ju0N3ve3lt pic.twitter.com/OKoQLOuCsI

— New York Post (@nypost) June 4, 2021
Dr. Aruna Khilanani shared her racist vitriol on April 6th while speaking at the Ivy League institution's Child Study Center.
Former New York Times opinion writer and editor Bari Weiss helped bring light to this disturbing event on her platform that was titled "The Psychopathic Problem of the White Mind", which was promoted with the following flyer on Yale's website: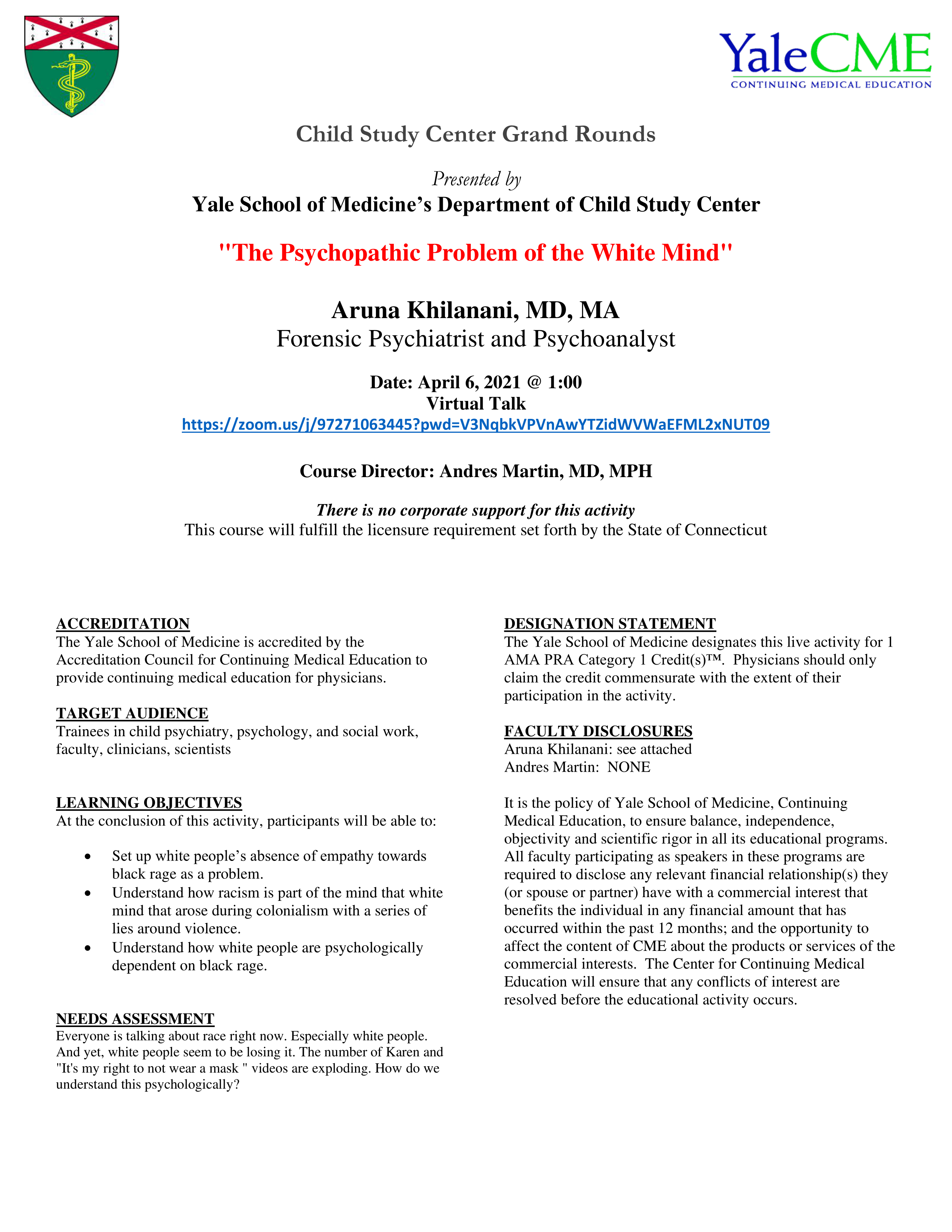 Some of the quotes from this April 6th lecture by Dr. Aruna Khilanani shared the following racist rhetoric:
"This is the cost of talking to white people at all. The cost of your own life, as they suck you dry. There are no good apples out there. White people make my blood boil."
Outside of claiming that there are no good white people, Khilanani shared her fantasies of murdering white people and walking away "guiltless" as though she did the world a "favor":
"I had fantasies of unloading a revolver into the head of any white person that got in my way, burying their body, and wiping my bloody hands as I walked away relatively guiltless with a bounce in my step. Like I did the world a fucking favor."
Ironically, this lecture was somehow meant to address racism. Instead, this lecture was overtly charged with blatant racism coming from the mouth of Khilanani.
Also, keep in mind: this woman is a psychiatrist – medically licensed in the state of New York.
Khilanani professed during this speaking event that discussing race issues with white people is a "waste of our breath," alleging that all white people are inherently violent  – almost by design:
"We are now in a psychological predicament, because white people feel that we are bullying them when we bring up race. They feel that we should be thanking them for all that they have done for us. They are confused, and so are we. We keep forgetting that directly talking about race is a waste of our breath."
"We are asking a demented, violent predator who thinks that they are a saint or a superhero, to accept responsibility. It ain't gonna happen. They have five holes in their brain. It's like banging your head against a brick wall. It's just like sort of not a good idea."
This is YALE -I had fantasies of unloading a revolver into the head of any white person that got in my way, burying their body and wiping my bloody hands as I walked away relatively guiltless https://t.co/yUGqWCdH9X

— Jeffrey Sauter (@ClevelandJeff) June 5, 2021
Now, it is hardly shocking to hear that once Yale Medical School staff actually learned about the lecture delivered, they were not exactly thrilled about Khilanani's racist and violent rhetoric.
Do you want to join our private family of first responders and supporters?  Get unprecedented access to some of the most powerful stories that the media refuses to show you.  Proceeds get reinvested into having active, retired and wounded officers, their families and supporters tell more of these stories.  Click to check it out.
In a statement regarding the speech delivered by the racist psychiatrist back in April, the school noted the following:
"On April 6, a speaker who is not affiliated with Yale gave a Child Study Center Grand Rounds talk, with the provocative title "The Psychopathic Problem of the White Mind." After the event, several faculty members expressed concern to the Yale School of Medicine's Office of Academic and Professional Development and the Office of Diversity, Equity & Inclusion about the content of the talk."
"Based on these concerns, School of Medicine leaders, including Dean Brown and Deputy Dean Latimore, in consultation with the Chair of the Child Study Center, reviewed a recording of the talk and found the tone and content antithetical to the values of the school."
Yale Medical School officials decided to make the recording of the event only available to students from here on out, instead of typically making the lecture recording available to the general public, citing:
"In deciding whether to post the video, we weighed our grave concern about the extreme hostility, imagery of violence, and profanity expressed by the speaker against our commitment to freedom of expression. We ultimately decided to post the video with access limited to those who could have attended the talk— the members of the Yale community."
The school also added that they in no way support any sort of violence or racism being directed toward a member of any group:
"Yale School of Medicine expects the members of our community to speak respectfully to one another and to avoid the use of profanity as a matter of professionalism and acknowledgment of our common humanity. Yale School of Medicine does not condone imagery of violence or racism against any group."
Renowned author and clinical psychologist Dr. Jordan B. Peterson even weighed in on this debauchery served by Khilanani, simply writing the following on Twitter:
"Read it and weep. Grand rounds. Psychiatrist Yale. Say no more…"
Read it and weep. Grand rounds. Psychiatrist Yale. Say no more… https://t.co/l8C9ROGx9w

— Dr Jordan B Peterson (@jordanbpeterson) June 5, 2021
Bloomberg Opinion contributor Eli Lake also referenced the lecture delivered by Khilanani, referring to it as a modern-day endorsement of phrenology, which is a pseudoscience that was once practiced in the 1800s:
"Just a thought. If you are an academic lecturing on the 'psychopathic white mind,' you're a con artist. There is no white mind or black mind. This is 21st century phrenology."
Just a thought. If you are an academic lecturing on the 'psychopathic white mind,' you're a con artist. There is no white mind or black mind. This is 21st century phrenology

— Eli Lake (@EliLake) June 5, 2021
Even Khilanani's TikTok account bears much of this racist hostility toward white people – painting them as a monolith and alleging that certain conversational traits are exclusive to white people:
"I usually know when know when I'm talking to a white person because they'll always attempt to invoke a feeling of pity in me. Apparently, this works amongst white people."
"I don't think that they get that my inter response to that is I'm trying to like pick them off like little leeches on me."
_
Want to make sure you never miss a story from Law Enforcement Today? With so much "stuff" happening in the world on social media, it's easy for things to get lost.
Make sure you click "following" and then click "see first" so you don't miss a thing! (See image below.) Thanks for being a part of the LET family!