CHICAGO, IL – A recently released video from a confrontation between a suspect and Chicago Police officers in May demonstrated how quickly an encounter can turn deadly.
The video showed officers descending upon a shooting suspect, who were shot within moments by the suspect and thus returned fire.
2 Chicago cops shot by suspect, officers return fire, video shows https://t.co/2XRsV6vsHr

— Raymond E. Foster (@policeofficer) June 10, 2021
The incident occurred on May 16th after officers were notified about shots being fired at approximately 7:19 a.m. within the 3600 block of West Douglas Boulevard.
A description of the shooting suspect was obtained by a local resident near where the shooting occurred, and a male subject matching the description was eventually located.
As seen in the video, officers approach the suspect and repeatedly ask to see his hands.
In an almost nonchalant fashion, the suspect produces a firearm from his sweatshirt pocket and shoots one officer on his side and fires upon another officer in front of him.
Within moments of both of the officers being hit, police returned fire on the subject.
Multiple angles were provided from the released footage, providing the perspective of the four officers involved as well as dash cam footage.
After the gunfire was exchanged, the officers struck can be heard groaning in pain, as well as what sounds to be the suspect as well after he went down.
According to officials, the two officers shot and the suspect were transported to an area hospital, which all three survived.
Interim Chief Administrator Andrea Kersten commented on the release of the video, highlighting that the release footage is in line with the department's "commitment to transparency":
"Today's release within 24 days of the incident is consistent with our commitment to transparency and the timely release of video and other materials."
"At a time when the public demands answers, specifically as it relates to officer involved shootings and the release of video footage, it is important that COPA remains the civilian oversight agency that is timely and trusted."
Man charged with shooting 2 CPD officers in Lawndale https://t.co/FC4HJ0MQwX

— Sun-Times Breaking (@CSTbreaking) May 17, 2021
The suspect was identified as 45-year-old Bruce Lua, who was described as being a convicted felon who was also awaiting trial for a misdemeanor assault case when the May 16th encounter with Chicago Police occurred.
Lua was last reported as being charged with attempted murder, aggravated battery and unlawful use of a weapon for the May 16th incident, and is being held in custody with his bail set at $10 million.
COPA is still reportedly investigating the incident.
Do you want to join our private family of first responders and supporters? Get unprecedented access to some of the most powerful stories that the media refuses to show you. Proceeds get reinvested into having active, retired and wounded officers, their families and supporters tell more of these stories. Click to check it out.
In other news coming out of Chicago, a man who was out on bail for a gun charge and an alleged robbery of a cell phone store was arrested again for another alleged robbery of a cell phone store.
We at Law Enforcement Today reported on this instance of a catch-and-release, only to be caught again earlier in June.
Here's that previous report.
_
CHICAGO, IL – A 31-year-old man was arrested earlier in June after allegedly committing an aggravated robbery at a cell phone store.
Ironically, the suspect allegedly committed the robbery while on bail for a gun charge and a previous aggravated robbery of another cell phone store.
May 1: Gets recognizance bond for a gun case.

May 4: Allegedly robs a phone store. Pays $10K to get out.

Tuesday: Charged with robbing another phone store while on bail in those two cases.https://t.co/gQ25bjfiIQ

— CWBChicago (@CWBChicago) June 9, 2021
On June 6th, police arrested 31-year-old Tony Hampton for allegedly robbing a Cricket Wireless store on May 25th. However, at the time of the alleged robbery, Hampton was out on bond in connection with two other cases in April and May.
On April 30th, Hampton was reportedly pulled over for an alleged traffic violation within the city's West Side. When the officer asked for Hampton to step outside of the vehicle, the officer was said to have seen Hampton place a bag he was wearing on to his front passenger seat.
Bulging out from the bag, according to authorities, was the butt of a firearm. Hampton was later charged with felony unlawful use of a weapon and when placed before Judge John Lyke, Hampton was released on electronic monitoring.
Then, on May 4th, Hampton had allegedly robbed a Cricket Wireless store and was subsequently arrested and charged with aggravated robbery.
When placed before the judge for that case, Hampton's bail was set at $10,000 – which Hampton posted.
Three weeks after the alleged Cricket Wireless robbery, prosecutors say that Hampton committed another aggravated robbery on May 25th at the Cricket Wireless at 1550 West 18th Street.
Hampton had allegedly entered the store at approximately 1:00 p.m. on May 25th and was asking a store employee about some phones.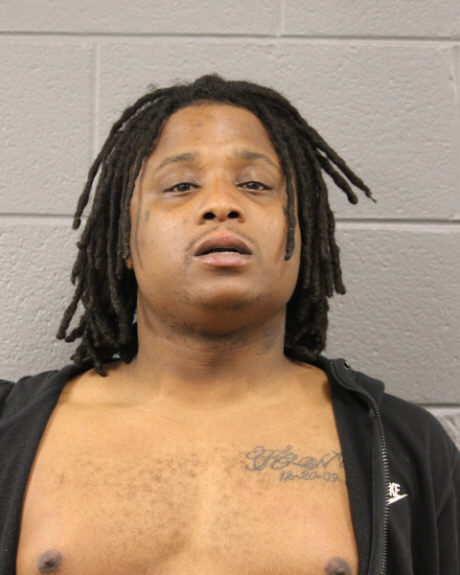 Prosecutors say that Hampton then followed the employee behind the counter, with his hand in his pocket at to imply that he was carrying a firearm.
Hampton allegedly told the store clerk:
"Don't make me do it. Go get a bag. Go to the back and grab phones."
Prosecutors say that Hampton managed to steal over $5,000 worth of iPhones from the location. Surveillance footage captured most of the May 25th robbery, which the store employee also identified Hampton in a photo line-up after the incident.
On June 8th, Hampton was standing before Judge Lyke once again, with the judge making sure he was hearing the criminal history correctly when prosecutors detailed their case:
"[He] caught a gun case May 1. Three days later he has an aggravated robbery. Is that right?"
The prosecutor confirmed that the judge summed up the history correctly, which then Judge Lyke added:
"And now he's on front of me again with an aggravated robbery. OK."
For Hampton's latest aggravated robbery charge, the judge set his bail at $500,000, however, Judge Lyke ordered Hampton held without bail for violating the terms of bond in his pending gun and robbery charges.
_
Want to make sure you never miss a story from Law Enforcement Today? With so much "stuff" happening in the world on social media, it's easy for things to get lost.