WEST ADA, IDAHO – A teacher in Idaho is no longer a teacher in Idaho after she posted what's being called a sexual and racially charged comment about Boise's mayor.
Rita Soltesz has been relieved of her duties with the West Ada School District. She formerly taught music at the Idaho Fine Arts Academy and Eagle Middle School.
The Facebook post is as follows:
"Her white supremacist hater (a–) needs to get laid! … by BLM members. Should be a group activity … and make it go viral! … I'm still deciding if they should wear masks during the activity".
District officials and parents saw her July 18th Facebook post which was a reply to an article about the recall campaign against McLean after she criticized white supremacists for disrupting theBLM "protest". Her last day of work was Friday.
A Facebook user took a screenshot of the post and sent it to the Idaho Fine Arts Academy, KTVB reports. School officials later said the district would be taking "immediate action," according to the station.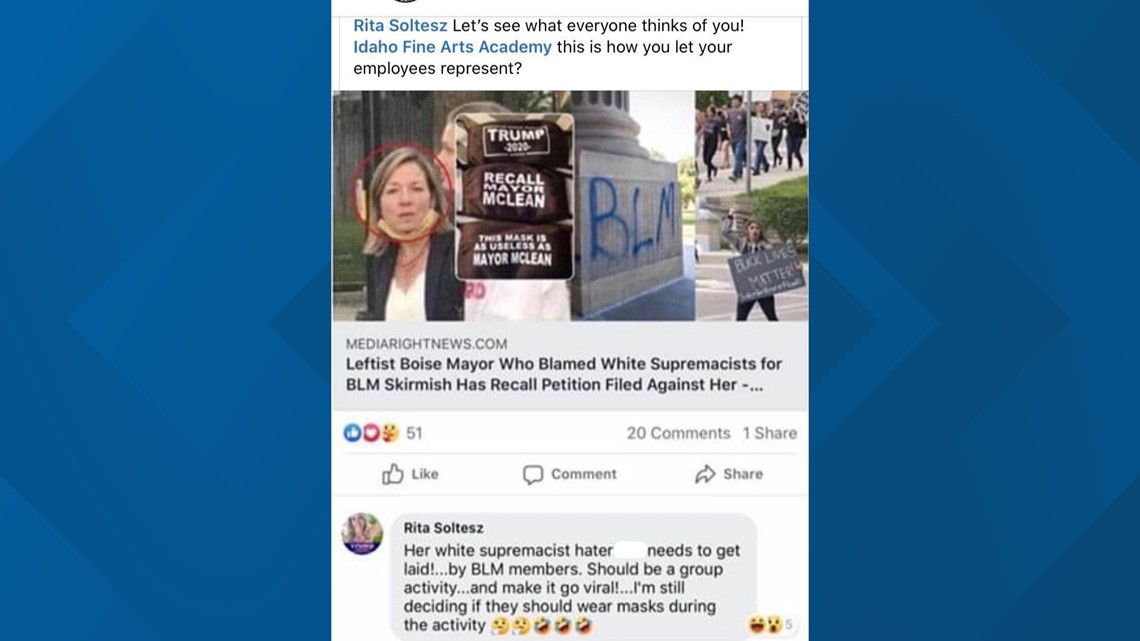 District officials will now "need to reiterate" its social media guidelines following Soltesz's post, Exline told KBOI.
"We have received a number of emails from concerned parents and we share their concerns," Exline said. "The statements in the post don't reflect the values of the West Ada School District."
Several members of the community contacted the Idaho Fine Arts Academy through their Facebook page and posted their replies.
The former teacher also plays in the Meridian Symphony Orchestra and Facebook Users contacted them demanding she be held accountable for her comments. They also responded via Facebook.
Other users posted links to the Educators Code of Ethics page.
One would think that a teacher would know better than to publicly post something so incendiary. Many people have been fired, doxxed, death threatened and more over lesser digressions.
In a report by Fortune Magazine, it was noted that writer, Craig Gore, who has worked on the shows S.W.A.T. and Chicago P.D., was fired from forthcoming Law & Order: Organized Crime spin-off because of Facebook posts. One was captioned "Curfew…" with a picture of him holding a rifle on his front porch, and in another full of expletives, he threatens to shoot looters who come near his home.
Grant Napear, TV announcer for the NBA's Sacramento Kings was fired from his radio job and and then resigned Tuesday from the team's broadcast crew after he tweeted "ALL LIVES MATTER" to former Kings player DeMarcus Cousins when asked his opinion on the Black Lives Matter movement.
It would seem that someone in the education field would know better than to put such a heinous comment on social media, particularly in a time when people are losing their jobs and their peace of mind for simply disagreeing with the "woke" narrative.
In the meantime in Los Angeles, you have an entire union of activists (whoops – we mean "teachers").
In case you missed it… here's that insanity.
Teacher union demands: Defund police, shut down charter schools, tax the wealthy, Medicare for all
LOS ANGELES, CA — Look around the country. Look at what has happened over the past six weeks. We have seen "protests" over the death of one man, ostensibly due to police misconduct, escalate into riots, looting and all manner of violence.
Who is the face of this violence and mayhem? Primarily young, white, "educated" 20-somethings.
What else is on display? The abject failure of our education system, from both our public schools as well as our institutions of "higher learning."
If you look at what the Los Angeles Unified School District teachers are asking for — no demanding — before they will return to the classrooms this fall, it should become pretty clear.
This past week United Teachers Los Angeles (UTLA), which represents some 35,000 Los Angeles teachers, released a "policy paper" that demands local officials "keep school campuses closed when the semester begins on Aug. 18."
Clearly, they won't be giving up their salaries and benefits when classes are scheduled to start because after all, "it's about the children."
The union has demanded that numerous provisions be put in place, including smaller class sizes, providing masks and personal protective equipment (PPE) for students and redesigning school layouts to facilitate the obscure six-foot "social distancing" requirement. You know, things that would only take mere weeks to accomplish. Those requirements in the aftermath of a pandemic at least are in the ballpark of being reasonable.
However, when it comes to unions, especially teacher's unions, reasonable isn't the goal. Just the News reports that the union went full social justice warrior after that, making demands most of which do not even fall under the purview of the city of Los Angeles.
We reported earlier this week on the teacher's union looking to defund police departments. The paper parrots the usual left-wing socialist talking points that police violence "is a leading cause of death and trauma for Black people and is a serious public health and moral issue."
This, of course, is nonsense and has been statistically proven to be false. Remember, these people are educating our children. Does anyone think for a moment such claptrap doesn't make its way into the classroom? This is why you have punks spitting in the faces of cops, mocking them, assaulting them and doxing their families. No respect.
The document goes on to demand local authorities "shift the astronomical amount of money devoted to policing," to education, and other essential needs such as housing and public health. But, education first. Not any education of course. Just their form of education. Read on.
"Privately operated, publicly funded charter schools," however, "drain resources from district schools," the paper states.
Of course, because it's always about feathering their own nest.
They go on, claiming the "collocating" of charter schools in existing buildings "adds students to campuses when we need to reduce the number of students to allow for physical distancing." Oh, so it's about "protecting the children" from coronavirus? Got it.
As much as the rest of this is off the rails, the next "demand" is priceless.
They want a federal "Medicare-for-all" program, additional California taxes on wealthy people and a "federal bailout" of the school district. In text parlance, ROFLMAO for expecting American taxpayers to bail out California when they have thrown wads of cash at illegal aliens to cover for their own reckless use of taxpayer money.
"The CARES and HEROES Acts provided funding for K-12, both fell far short of what would be needed to rescue districts and state and local governments," cited the National Education Association, which is the largest labor union and special interest group in the United States, according to the California Globe.
Do you want to join our private family of first responders and supporters? Get unprecedented access to some of the most powerful stories that the media refuses to show you. Proceeds get reinvested into having active, retired and wounded officers, their families and supporters tell more of these stories. Click to check it out.
The Globe also said that the union wants housing for the homeless to be fully funded and "financial support for Undocumented Students and Families."
"The benefits of restarting physical schools must outweigh the risks, especially for our most vulnerable students and school communities," the demands continue. "As it stands, the only people guaranteed to benefit from the premature reopening of schools amidst a rapidly accelerating pandemic are billionaires and the politicians they've purchased," it says.
They do not explain exactly how reopening schools benefits "billionaires" and "politicians they've purchased."
The Globe noted that when schools were ordered to close down by California Gov. Gavin Newsom, most private and charter schools were up and running with online learning programs nearly immediately, while the behemoth Los Angeles public schools took as long as six weeks to get up and running. Likewise, private and charter schools have been actively preparing to reopen for physical teaching once again instead of posturing with far-left talking points.
Of course, it is also always about politics because face it, that's how public employee unions, outside of those representing police, roll.
"UTLA educators are eager to get back to the classrooms where they can care for, laugh with, and most importantly teach our students," the UTLA said in a statement.
They missed the part about indoctrinating children in anti-American ideology, but we digress:
"The eventual restarting of schools should be primarily about learning, not merely about the economy. Unlike other countries that recognize protecting lives is the key to protecting livelihoods, the United States has chosen to prioritize profits over people. The Trump administration's attempt to force people to return to work on a large scale depends on restarting schools so parents have childcare."
No, getting people back to work is important because unlike public employees such as teachers, a majority of people do not get paid unless they actually show up to work. Talk about tone deaf.
Oh, but returning to classrooms is also dependent on another thing. "But until a vaccine or cure is available, starting school without policies in place to mitigate viral spread and provide additional student supports will almost certainly compound the pandemic's outsize trauma on those students and their families."
Vaccine or cure. Got it.
The paper cites the American Federation of Teachers as a source claiming:
"California's public schools were severely underfunded even before the Great Recession and have only recently seen a return to non-inflation-adjusted pre-recession funding."
The source, the second largest teacher's labor union in the country, probably has a bit of a slanted bias, wouldn't you agree?
Finally, the UTLA says of COVID-19:
"This is a highly contagious, deadly disease and the role of children in the transmission of COVID-19 is currently unknown."
Not so much.
Lisa M. Krieger, science writer at the San Jose Mercury News, says:
"…kids aren't the germ bags and grownups are," noting that research indicates that young children are not likely to transmit COVID-19. "They get it from us."
"This is good news for teachers, whose classrooms can feel like big Petri dishes. It's a relief for parents, weary of juggling work and childcare. Best of all, it's good for kids, who aren't learning or playing with friends," Krieger continued.
Her analysis is confirmed by Science Magazine, which stated:
"Continued closures risk 'scarring the life chances of a generation of young people,' an open letter said last month, which was signed by more than 1,500 members of the United Kingdom's Royal College of Pediatrics and Child Health (RCPCH).
"Science looked at reopening strategies from South Africa to Finland to Israel, some encouraging patterns emerged. Together, they suggest a combination of keeping student groups small and requiring masks and some social distancing helps keep schools and communities safe, and that younger children rarely spread the virus to one another or bring it home."
The Globe noted the sourcing for UTLA's diatribe consisted of overwhelmingly left-leaning sources such as Vox, The Washington Post, Los Angeles Times, CNN and the Centers for Disease Control, which has been widely criticized for inconsistencies in recommendations and analysis of COVID-19, often contradicting their own recommendations.
The paper concludes:
"As politicians have gutted public goods, the burden on schools to be safe havens for learning has become more substantial."
Not for Los Angeles teachers, however. Unlike most Americans, they get their health care free of charge with no employee contributions whatsoever for either themselves or their families. Oh, and that continues after they retire. Nice gig if you can get it.
Meanwhile, we have a generation of young adults who have no grasp of the history of our country and who have been taught to hate America and everything it stands for while teachers collect their fat paychecks and teacher unions rake in cash.
Want to make sure you never miss a story from Law Enforcement Today? With so much "stuff" happening in the world on social media, it's easy for things to get lost.
Make sure you click "following" and then click "see first" so you don't miss a thing! (See image below.) Thanks for being a part of the LET family!