DESERT HOT SPRINGS, CA– Gavin Ludwick, a seven-year-old boy, was left with a hole in his skull after a neighbor allegedly attacked him with a rock as he walked home from a pool party that was four doors down from his home.
The attacker is believed to be 32-year-old Daniel Poulsen. As little Gavin was walking home, Poulsen flew into an unprovoked fit of violent rage and threw a rock at Gavin. According to the U.S. Sun, Poulsen was arrested on suspicion of attempted murder following the attack.
Gavin Ludwick is a 7-year-old boy who was brutally attacked in Desert Hot Springs last Saturday night while walking home from a neighbor's house. He's currently in the Intensive Care Unit, and now his family is asking for help.https://t.co/j8xI0pgNuQ

— KFI AM 640 (@KFIAM640) July 24, 2020
It's also alleged that after hitting Gavin with a rock, Poulson picked up and threw Gavin to the ground.
Poulsen has been scheduled to be arraigned Thursday afternoon at the Banning Justice Center. Judge Alfonso Fernandez ordered a doctor to evaluate whether Poulsen is mentally fit to be prosecuted on attempted murder and other charges.
Poulsen's bail has been set at $1 million and has a scheduled hearing for September 17th at the Larson Justice Center in Indio.
Court records show that Poulsen has been arrested 15 times in Riverside County since 2007 and 11 of those times, he was found mentally incompetent to stand trial. His previous arrests included burglary, battery, resisting arrest, indecent exposure, committing lewd acts in public and annoying and/or molesting a child under 18 years old.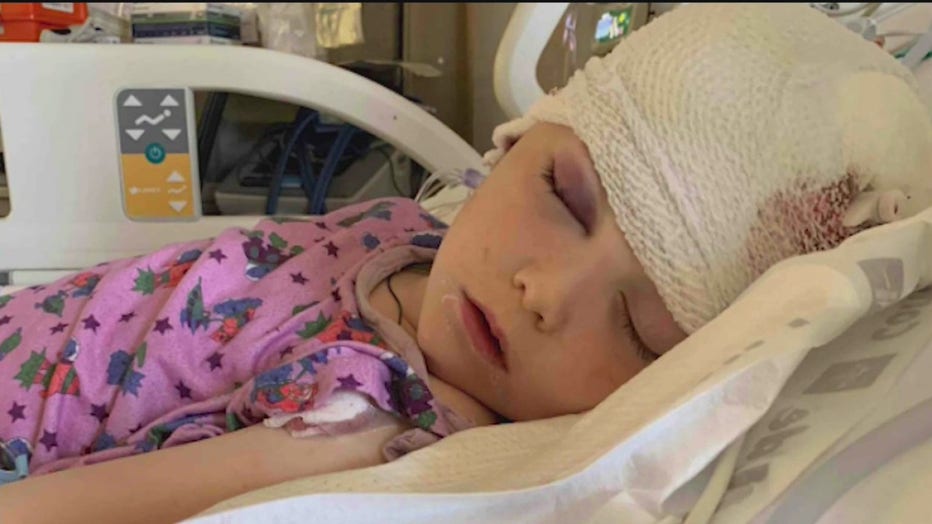 Poulson was deemed not able to stand trial for two cases involving children and/or sexual misconduct- one in 2010 on accusations of annoying and/or molesting a child under 18 years old, and one in 2016 on accusations of indecent exposure.
Even if Poulson had been convicted of those allegations, says John Hall, a spokesman for the Riverside County District Attorney's Office, they're misdemeanor crimes so he would have only seen up to a year in a mental facility for each case.
At first glance, there are no felony convictions on Poulson. However, four cases started out being filed as felonies, which were later reduced to misdemeanors or dismissed altogether.
Friends and family want to know why this man, who is clearly mentally unstable, allowed to be out roaming the streets, now almost murdering a young child that he doesn't even know.
On one update to the GoFundMe page, friend of the family Mandy Franklin wrote:
"The first and most important thing we have to focus on is his recovery but making sure the man who did this NEVER has the chance to do it again, is going to be step 2, very soon.
"He should have never had the opportunity to commit this heinous act but the system failed. We can't let it fail us again. They allowed Gavin to pay for their terrible oversight or lapse in judgement and that is completely unacceptable."
Do you want to join our private family of first responders and supporters? Get unprecedented access to some of the most powerful stories that the media refuses to show you. Proceeds get reinvested into having active, retired and wounded officers, their families and supporters tell more of these stories. Click to check it out.
The day of the incident, Gavin was walking home from swimming at a neighbor's house.
Allegedly, neighbors discovered shocking CCTV footage of the incident showing Poulsen standing on his front porch following the attack, watching little Gavin lying in agony in the street for close to 20 minutes.
Finally, another neighbor, Alturo Delgardo discovered Gavin lying lifeless in the street. He picked him up and carried him to his house. Gavin's sister, Kaylee opened the door and saw her younger brother unconscious. She was horrified.
Gavin's mother, Wendy said that the swelling was getting worse and worse and that he was in and out of consciousness. Soon, Gavin began throwing up. The paramedics arrived and Gavin was rushed to the hospital.
First, he was rushed to Desert Regional Medical Center. Later, he was airlifted to Loma Linda University Medical Center and placed in the intensive care unit.
Wendy said:
"When the paramedics arrived, they told me he was in an active seizure before one of them picked him up and said we are taking him and rushed out the door."
Doctors took many x-rays and scans. They were shocked by what the x-rays revealed. The doctors delivered the unfortunate news that Gavin's skull was so shattered by the blows that they would not be able to save the bone that was so severely damaged.
Pos POC attacks an innocent little white boy😡

7 yr old Gavin Ludwick was walking home Saturday from a neighbor's house in Desert Hot Springs, Cali when he was attacked by 32 yr old Daniel Poulsen. Dep Police Chief Steve Shaw called the attack "deliberate & "very vicious." pic.twitter.com/J5nL5qTKzb

— Mellie Augusto Pinochet's Left arm sucks (@bamabellie) July 22, 2020
After reviewing the x-rays and scans, Gavin was immediately taken into surgery were the fragments of the skull were removed. Gavin now has to wait three months for the swelling to subside before they will perform another surgery to put a metal plate in his skull.
Wendy was devastated by what the doctor said and at first believed her son had be hit by a car, until the video footage from CCTV surfaced.
She said in a statement:
"When I first saw him, I thought he had been hit by a car. I was in shock, I thought, 'why have they not stopped'…I haven't been able to bring myself to watch the footage. When I found out about it, I was shocked and mad."
Wendy continued:
"I couldn't believe someone would do this to such a sweet little boy, he (Poulsen) doesn't even know Gavin, they have never had any interaction."
She said:
"He is lucky to be alive. He could have easily killed him."
Gavin was supposed to have been taken home on the neighbor's golf cart, but instead made his own way home on foot. According to Wendy:
"He can't talk yet, but he can make babbling sounds. He can sit up now, but is still very weak. It's very upsetting and sometimes I just fall a part when they are doing procedures on him and I have to walk away."
She said:
"I saw with him and told him, 'momma is not going to leave you, momma is here.' I don't think he will remember anything that happened and I hope he doesn't."
Gavin will have to spend months in the hospital and then will need intense rehab as doctors are still unclear if there will be any lasting damage. Gavin recently lost his father, Charles, who died from lung cancer in March this year.
Friends and family have gathered to raise funds for little Gavin as his medical care will cost the family more than they already have. The GoFundMe page has raised over $80,000 and will continue to grow.
The paramedics who rushed Gavin to the hospital said in a statement:
"We are so sorry that the family and friends are all having to cop with such a senseless act. Gavin is in our thoughts and hearts and it was a privilege to help take care of him."
Want to make sure you never miss a story from Law Enforcement Today? With so much "stuff" happening in the world on social media, it's easy for things to get lost.
Make sure you click "following" and then click "see first" so you don't miss a thing! (See image below.) Thanks for being a part of the LET family!