OSCEOLA COUNTY, FL- On Tuesday, August 17th, the State's Attorney's Office announced that the school resource officer seen in a viral video of a takedown in the hallway at Liberty High School will not face any criminal charges.
This is liberty high school in Osceola county and I've seen my share of body slams from that school not only by officers but from Deans as well. I've seen grown ass man hop on top of girls to hold them down while they are clearly in distress. pic.twitter.com/wyePuKVqqZ

— LouluNev (@LouluNevy) January 26, 2021
According to reports, a criminal investigation was opened in January after a video on social media showed Deputy Ethan Fournier, a school resource officer at Liberty High School, stabilizing a female student on the floor while attempting to arrest her.
Following a Florida Department of Law Enforcement investigation, the findings were turned over to Orange-Osceola State Attorney Monique Worrell in May to determine if any charges were warranted.
During a news conference, Worrell announced that Fournier acted within the bounds of Florida's use of force statutes. She said in a statement:
"After a thorough review of the evidence and the applicable law in this matter (the independent review) team has concluded that officer Fournier's use of force did not violate any laws of the state of Florida. As such, there will be no criminal charges in this matter."
Under Florida's use of force statute, law enforcement can use force under certain circumstances, including when making an arrest. During the news conference, Osceola County Sheriff Marcos Lopez said in a statement:
"It's a positive thing for law enforcement and for our community. Especially guys like Fournier that every day put their lives on the line to defend us and defend our children."
A school resource officer in Osceola County who slammed a 16-year-old student onto the ground in a Liberty High School breezeway will not face charges. https://t.co/rMHEtZBoYR

— FOX 35 Orlando (@fox35orlando) August 18, 2021
Worrell said that as a mother, it was hard to watch the video, but reiterated that Deputy Fournier had not broken any laws with his actions. She said in a statement:
"Let me be very clear, this decision is based solely on the law. Although Officer Fournier's actions were legal in accordance with Florida law, as a parent and a member of this community when I watched this video I was angry and concerned for the safety and well-being of my own children and all children."
The sheriff also addressed the video and the reaction that came following its release. He said:
"It's unfortunate that the young lady went through this incident. It's also unfortunate that my deputy has suffered a lot of constant bashing and harassment. You know when he just did what he was trained to work and operate."
Fournier also spoke at the news conference. He said in a statement:
"I was the longest-serving SRO in Liberty High School's history with four consecutive years as SRO. Liberty is filled with great kids and staff. I could have left and went to different schools each year, but I chose Liberty every single year.
I'm reminded daily by the calls and texts from the students and players I coach, the parents and staff that I am loved, and missed on campus."
Osceola County's School Resource Officer Task Force was formed after a video that circulated across the country showed an SRO taking down a student at Liberty High:
https://t.co/FsOEqykYQq by @BecharaReports

— Spectrum News 13 (@MyNews13) May 7, 2021
He later added that if he gets the opportunity, he would like to go back to serving at Liberty High School. At the time of the incident, the SRO did not have a body camera. Worrell added:
"The use of body-worn cameras in this incident could have provided a greater sense of transparency and awareness on how our children are treated in our schools."
Following the January incident, an Osceola County school board member organized a School Resource Officer (SRO) Citizens Task Force to make recommendations going forward.
Do you want to join our private family of first responders and supporters? Get unprecedented access to some of the most powerful stories that the media refuses to show you. Proceeds get reinvested into having active, retired and wounded officers, their families and supporters tell more of these stories. Click to check it out.
School Resource Officer fired by school board for supporting department's 'Thin Blue Line' patch
June 29th, 2021
MOUNT PROSPECT, IL – A School Resource Officer (SRO) is speaking out after being dismissed by the school district for supporting the inclusion of the Thin Blue Line image on the Mount Prospect Police Department's patch.
Mount Prospect officer Lisa Schaps told "Fox & Friends" on Thursday that she was fired as a school resource officer after sharing her "authentic" and "vulnerable" defense of the department's thin blue line patch, which local residents claimed was "divisive."
On June 15, Schaps, who served as a Mount Prospect officer for almost 15 years and most recently as the school resource officer at Prospect High School, told members of the school board at a public meeting that what she sees in the thin blue line flag displayed in the community:
"It is about support. I know that those people care about the police."
She told the crowd that the patch created in 2017 was about support for law enforcement, not the oppression some have recently claimed:
"It was never about hate. It was never about oppression. That is never what it meant, and those were never our intentions."
Lol so a Mt. Prospect SRO went on Fox and Friends to stand up for her right to wear a thin blue line patch, and now she's been reassigned

Would love to be a fly on the wall at their next school board meeting, I'm sure it'll be a delight pic.twitter.com/XLYwPLsLsu

— Raven Geary isn't funny & she ruins everything fun (@dudgedudy) June 25, 2021
The former SRO added that people should not form opinions about the Mount Prospect Police Department based on what others have done:
"We are good people. We are here to serve and protect, and I think that if you judge us on the actions of a few bad officers or groups that have taken our flag and used that, it is no different than judging somebody on the color of their skin, on their religion, or on their sexual preferences.
"The way that we have seen people of color be treated by police officers, if you think that that doesn't enrage us and anger us, then you are wrong because the men and women here in Mount Prospect do not treat our citizens that way."
I have seen some misinformation this week regarding the Thin Blue Line. This line represents the law enforcement family, separating good from evil, order from chaos, sheep from wolves. Be informed of what things stand for.https://t.co/TSn804D7Iq pic.twitter.com/upofQ2bOCk

— Dave Quillen (@SRO_Q) August 29, 2020
During her interview with Fox News host Ainsley Earhardt on Thursday, Schaps said that the school district objected to her comments and demanded she be replaced as the district's SRO. When asked what the district claimed she said wrong, Schaps responded:
"They had mentioned that I compared being a police officer to being Black when I really didn't say that. I said, 'Please don't judge us like you would judge somebody on the color of their skin or their religion or their sexual preference.'
"It was really about the judgment, and they just said that that was inappropriate."
Mount Prospect Police Officer Out at Prospect High School After Explaining Thin Blue Line; District 214 Supports Faction That Opposes Hijacked Meaning: Mount Prospect, Illinois police officer Lisa Schaps and Police Chief John Koziol join 'Fox and… https://t.co/9PHiRC7QDY

— Cardinal News (@EarlyReport) June 25, 2021
Schaps said the School District Board said she compared being a police officer to being black, but she explained she never said that. Schaps said her statement was really about judgment, but that the school district said her statement was inappropriate.
Mount Prospect Police Chief John Koziol appeared on the news program with Schaps to show support, something he also did during a meeting with Prospect High School Principal Greg Minter to advocate for her. He told the host that he was "floored" by the official's reaction:
"We sat down with him (Minter), and he explained he and the district had received complaints and probably from these same people that have an objection to our patch, and I was giving him ideas on how to handle those calls; send them to the police department or the village.
It really wasn't their fight to fight. And it basically got to the point where he says, 'We're past all that, we want a new SRO. We want Lisa gone."
Congratulations to Mr. Greg Minter, the next principal of @KnightsofPHS!

Mr. Minter succeeds Ms. Dowling, who retires this year after a 34-year career in District 214.

Official press release here: https://t.co/IzsqfQ6Rp5 pic.twitter.com/0rNQGRRB5Z

— District 214 (@District214) January 19, 2018
The chief said that he was the one to reach out to the media for help because he found that Minter "really believed in what he was doing."
Chief Koziol said he was shocked:
"This small group of people has somehow got this much power to affect someone's career, someone's livelihood."
The Chief said he had full faith in Schaps' abilities as an SRO and would want her there if something happened:
"It's been a job she's always wanted. I know how much she does for those kids. If the wolf ever came to the door at that school, she is the momma bear you wanted there."
Calling her removal "devastating" to her, the Chief said he is confident Schaps will continue to be an asset to the department:
"Here is a very strong, confident woman, which we want in all our police officers, and I saw her devastated in that meeting."
@ainsleyearhardt I am the Brother of Officer Lisa Schaps and you had her and Officer Berg on Fox and Friends yesterday for the Thin Blue Line segment and I think the world should know that Prospect High School removed her from her SRO position today. Totally unacceptable!!

— Joe Morel (@joe_morel2398) June 23, 2021
Dave Berry, the interim communications supervisor for Township High School District 214, said in a statement:
"We did recommend the consideration of having a different officer assigned to this school in order for our focus to remain on our students.
"The school does not have the authority to fire or dismiss a School Resource Officer, so any assertion that the school terminated the School Resource Officer is not correct or accurate."
Another officer also spoke out during the June 15 school board meeting in support of the Blue Line patch. Officer Chris Berg, a Mount Prospect police officer of more than 20 years, said the thin blue line represents a brother and sisterhood that honors "a police officer's ultimate sacrifice: dying in the line of duty."
Officer Berg said that the image has been "hijacked" by radical groups, but that does not change what the true meaning is to law enforcement:
"It's not white supremacy. It's not neo-Nazism. It does not represent hate. It is not a secret society.
"Most important, the representation of the thin blue line is for those who have given their lives in the line of duty."
Do you want to join our private family of first responders and supporters? Get unprecedented access to some of the most powerful stories that the media refuses to show you. Proceeds get reinvested into having active, retired and wounded officers, their families and supporters tell more of these stories. Click to check it out.

Police department under fire after hanging Thin Blue Line flag honoring murdered California detective
May 27, 2021
SAN LUIS OBISPO, CA – Two variations of the Thin Blue Line flag were hung outside the San Luis Obispo Police Department headquarters to honor San Luis Obispo Police Detective Luca Benedetti, who sadly passed away earlier in May.
However, the hanging of said flags outside the department has incensed some in the community, with a Cal Poly music professor proclaiming the flags to be "racist."
— Mental Ammo (@MentalAmmo) May 26, 2021
On May 10th, Detective Luca Benedetti was fatally shot when he and other officers were actively executing a search warrant in relation to a series of commercial burglaries that had been committed.
As officers approached the apartment on Camellia Court, off Margarita Avenue near South Higuera Street, they had knocked on the door of the residence and received no response.
After waiting an extended period of time, the officers forced the door open, where the suspect was reportedly waiting inside and opened fire.
Detective Benedetti was shot fatally, while Detective Steve Orozco was non-fatally shot. The suspect, later identified as 37-year-old Edward Zamora Giron, was said to have later committed suicide after exchanged fire with officers.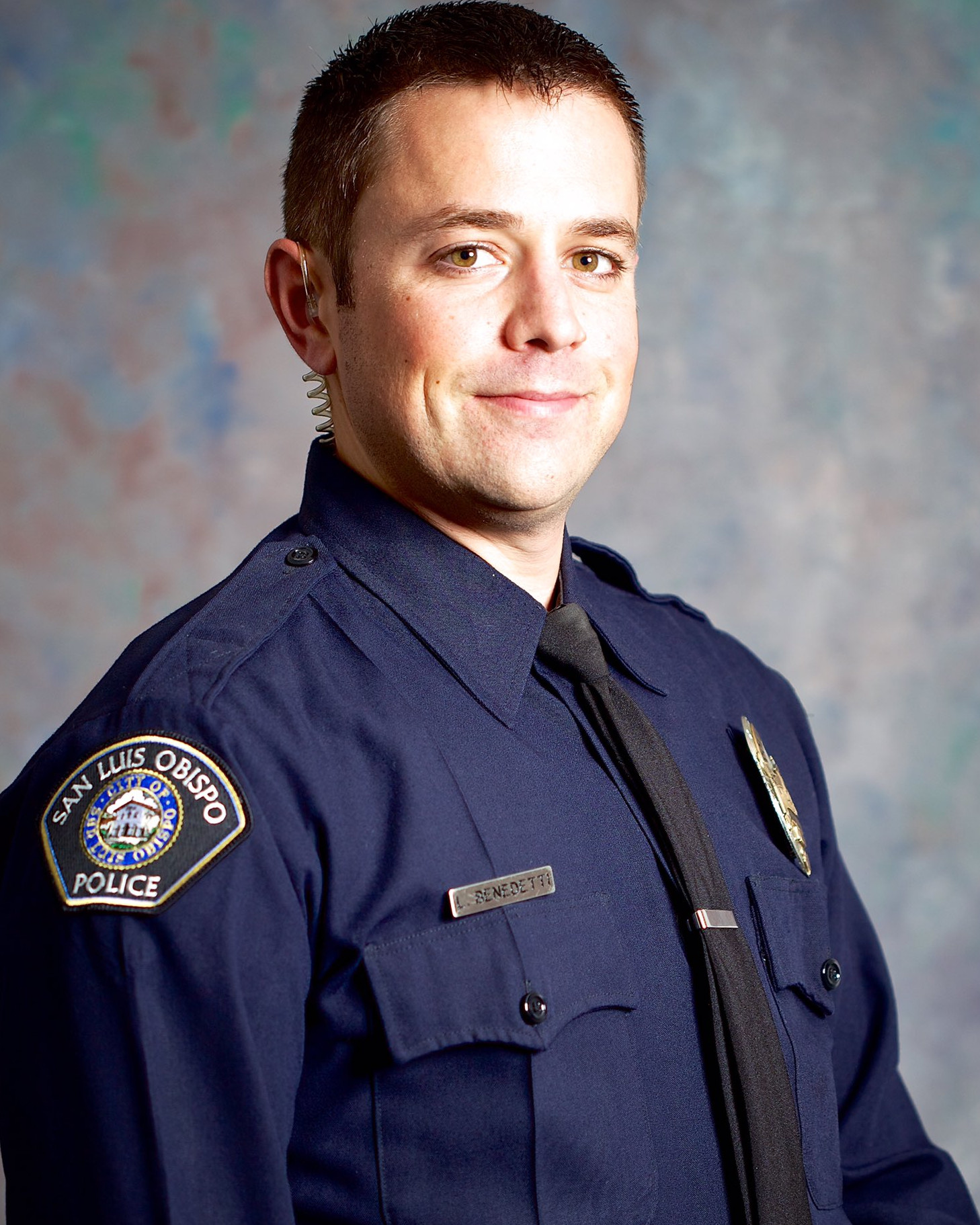 Following the murder of Detective Benedetti, the SLOPD hung two Thin Blue Line flags outside of police headquarters to honor the fallen officer. Locals paid respects by tying blue ribbons around trees in the area as well.
However, Cal Poly music professor Scott Glysson is among those offended by the display of the Thin Blue Line flags, proclaiming that they're a "racist" symbol.
Taking to Facebook, Glysson proclaimed the following about the flags:
"The flag with the blue line is not a sign of community support for police. It is a racist symbol. It was popularized at the same time and in direct response to the Black Lives Matter movement."
Obviously, the Thin Blue Line flag and phrase are not direct responses to the "Black Lives Matter movement," considering that the flag and phrase goes back decades before the term "black lives matter" was ever coined.
Pop culture references in terms of films relating to the Thin Blue Line date as far back as 1988 with the documentary "The Thin Blue Line" – which was a documentary about someone wrongfully convicted of murdering a police officer in Texas.
In the 1970's, the National Law Enforcement Memorial Foundation adopted the thin blue line flag as meant to honor those officers who have given their lives in the line of duty.
But even prior to those examples, the Oxford English Dictionary records use of the term back in 1962 by "The Sunday Times" mentioning the police presence at an anti-nuclear demonstration.
And decades prior to that, the phrase "thin blue line" was mentioned in a 1911 poem by Nels Dickmann Anderson, aptly titled "The Thin Blue Line".
Needless to say, the phrase nor the flag are some sort of direct response to the Black Lives Matter movement.
However, Glysson's Facebook proclaimed that he couldn't fathom what "a person of color" must go through when they see that flag out in the open:
"I can't even imagine what a person of color must feel when they drive by a police station displaying this flag. Even if unintended, it tells a person of color their struggle is not important."
A Thin Blue Line flag honoring a fallen officer is not telling a "person of color" anything of the sort.
Want to make sure you never miss a story from Law Enforcement Today? With so much "stuff" happening in the world on social media, it's easy for things to get lost.