CHICAGO, IL – According to reports, Mayor Lori Lightfoot (D) stated that she wants to test a basic universal income-style program by paying $500 a month to 5,000 low-income families.
https://twitter.com/toms_carolyn/status/1441179816590397447
Lightfoot pitched the idea during her budget address on Monday, September 20th. The program, which would last a year, would be part of the city's proposed $16.7 billion budget.
The mayor reportedly described the $31.5 million "cash assistance program" as a way to help "hard-hit, low income households in need of additional economic stability." The report stated:
"The idea has been discussed before in Chicago, including earlier this year by city aldermen. Similar pilot efforts, called universal basic income, have been tested elsewhere including in California and New York."
During her budget address, Lightfoot said city services won't be reduced and there won't be any layoffs.
The city is slated to receive nearly $1.9 billion federal relief funds, which she wants to use to plug budget holes in the coming years as Chicago sees increasing pension costs.
The proposed spending plan and federal relief funds also include more money for police, boosting affordable housing, efforts to clean vacant lots and planting 75,000 trees. According to U.S. Census Bureau estimates, between 18 percent and 20 percent of Chicagoans lives in poverty.
Chicago's Lightfoot pitches $500-per-month universal basic income for poor https://t.co/3QhgtbRfAA

— Unapologetic Fun (@stevewells11) September 23, 2021
However, other governmental financial assistance in the city, especially welfare, has been accused of exacerbating the city's poverty problem. The Chicago Policy Review reported:
"The research suggests that future anti-poverty policies will be most successful if they directly incentivize labor force participation."
The Illinois Policy Institute went as far as to say that welfare can disincentivize people from finding better-paying jobs because they would no longer qualify for government assistance.
Days after her budget address, Lightfoot was accused of blocking the universal basic income proposal only to commander the idea and use the $31.5 million test program to sweeten the pot of her 2022 budget.
Aldermen Gilbert Villegas (36th), chairman of the City Council's Hispanic Caucus, said 5,000 of Chicago's neediest families would have been collecting $500 monthly checks since spring if only Lightfoot hadn't dragged her feet on the ordinance he championed. He said in a statement:
"It's frustrating because this could have been done back in April, in May. It could have been done, quite frankly, through an executive order. So that way, we would do it as quickly as possible to get money into the hands of people [who] have been devastated by this pandemic."
During a meeting, Lightfoot offered no explanation for the months-long delay and called the program urgently needed, even though neither she nor her financial team could pinpoint the eligibility requirements.
Chicago Mayor Lightfoot pitches $500 monthly payments to poor families

Universal Basic Income, have been tested elsewhere including in California and New York.https://t.co/0qDs9wZ19N

— JOHN NOBLE (@JOHNNOB35752453) September 21, 2021
At one point, she even described it as a $3 million program, but the actual cost is $31.5 million. She said she was motivated by her own family's struggle growing up, adding:
"I have such vivid memories of parents sitting around our little kitchen table with the bills out and trying to figure out what they were gonna pay and how they were gonna pay and how they were gonna pay it and that constant juggling."
She added:
"That is the life that many people in our city are living right now today. So addressing that real and urgent pain point is something that I think we have not only an opportunity to do, but an obligation to do."
Critics of universal basic income have warned recipients would stop working. Naysayers also fear some would spend the monthly stipend on drugs and alcohol.
Do you want to join our private family of first responders and supporters? Get unprecedented access to some of the most powerful stories that the media refuses to show you. Proceeds get reinvested into having active, retired and wounded officers, their families and supporters tell more of these stories. Click to check it out.
Chicago got nearly $13 million and federal support to stop expressway shootings. They are skyrocketing.
July 26th, 2021
CHICAGO, IL – Following two shootings that occurred on interstates in Chicago on the same day earlier in July, reports show that the number of expressway shootings in 2021 have already surpassed the total that occurred in 2020 and nearly tripled the number of occurrences in 2019.
Chicago expressway shootings continue to surge, as authorities search for answers following the latest two incidents on the same day at different areas across the city last week. https://t.co/rAPFj0zEkU

— FOX 32 News (@fox32news) July 26, 2021
Expressway shootings with regard to 2021 is looking grim for Chicago, as after the two shootings incidents that occurred on July 22nd, the city has now played host to 137 expressway shootings as of July 26th.
For the sake of context, there were 128 expressway shootings that occurred throughout all of 2020 and 52 that transpired throughout all of 2019.
The first of the expressway shootings on July 22nd happened during the morning traffic along the I-290. Police say that an unidentified male driver had witnessed a robbery occurring on the Chicago Transit Authority platform and had exited their vehicle and opened fire.
Police say no injuries occurred as a result of that shooting.
The second expressway shooting on July 22nd occurred o the I-94 near Old Orchard. Authorities say that a 22-year-old passenger inside of a vehicle traveling southbound on the interstate was shot by an unidentified individual in another vehicle.
Officials say that the victim in that case suffered non-life-threatening injuries as a result of the shooting.
Reportedly the Dan Ryan expressway, which runs from Circle Interchange with I-290 near downtown through the South Side, is among the most dangerous in Chicago in terms of shootings that occur on the roadways.
On July 21st, a Jeep Wrangler was hit with a myriad of bullets near 37th Street on the Dan Ryan Expressway, which served as the 43rd shooting to have occurred on that expressway since the onset of 2021.
Chicago expressway shootings continue to surge despite $12.5M grant, federal interventionhttps://t.co/sdZlFxy4vN

— Fox News (@FoxNews) July 26, 2021
Dr. Joe Schwieterman, an expert in transportation and urban planning, commented on the issues plaguing the Dan Ryan Expressway, noting that Chicago has enough stigma to not be further compounded by concerns of random shootings on the roads:
"The Dan Ryan, in particular, has certain intervals where it's probably repeat offenders here. We have enough problems right now with our image with crime without this sort of drive-by motorist risk."
These sorts of shootings have continued to surge in 2021, despite the Illinois State Police receiving a $12.5 million grant in February from the Illinois Department of Transportation to acquire the likes of license plate readers and programs, as well as specialized cameras.
In a statement from the Illinois State Police regarding the matter, the agency said that they "proactively patrol and saturate the Chicagoland expressways with the goal of ensuring public safety" and that they're working to increase manpower and continue to strengthen strategic partnerships with state and federal agencies:
"We are reallocating additional troopers from around the state to combat gun violence and future cadet classes are committed to District Chicago to increase manpower to fight gun violence on the expressways."
"We are also working with our state and federal partners on gun enforcement details to keep those who are prohibited from carrying weapons from having them. We continue to work with our state and federal partners to share intelligence on gun violence and gun trafficking."
Do you want to join our private family of first responders and supporters? Get unprecedented access to some of the most powerful stories that the media refuses to show you. Proceeds get reinvested into having active, retired and wounded officers, their families and supporters tell more of these stories. Click to check it out.

A prime example of one of the brazen expressway shootings involved two ATF agents agents and a Chicago Police officer being shot at back in early July while on the I-57.
We at Law Enforcement Today reported on the shooting incident and the suspects that was subsequently arrested in connection to the incident. And according to officials, the suspect fired at the agents and officer due to him mistaking them for gang members.
Here's that previous report.
_
CHICAGO, IL – A 28-year-old man has been charged in connection with the non-fatal shooting of two ATF agents and a Chicago Police officer that occurred on July 7th in Morgan Park.
Officials say that the agents and officer were fired upon while inside of a vehicle after the suspect allegedly pulled up alongside their car and opened fire.
BREAKING: Charges filed against 28 year old Chicago man in connection with assault on federal agents and CPD officer yesterday. Prosecutors say Eugene McLaurin was tracked after the officers jotted down the license number of the car where the shots originated. pic.twitter.com/0myhzF8SOM

— Phil Rogers (@nbcphilrogers) July 8, 2021
On July 7th at approximately 5:50 a.m., two ATF agents and a Chicago Police officer were working as part of an ATF task force and were driving in an unmarked vehicle on a ramp near northbound I-57 and 119th Street.
Officials say that a man, identified as 28-year-old Eugene McLaurin, driving a Chevrolet Malibu sedan was following the unmarked vehicle, later pulling up beside the agents and the officer and shooting into the vehicle.
One of the ATF agents was struck in the hand, while the other agent was struck in their torso. The Chicago Police officer was said to have suffered a graze wound to his head. All three of the injured officers were reportedly treated at an area hospital and subsequently released the same day.
Following the shooting, officials say that police first located the Chevy Malibu and later caught up with McLaurin on July 7th and placed him into custody.
According to the criminal complaint lodged against McLaurin, he'd apparently thought the agents and officer he allegedly fired upon were rival gang members:
"McLaurin stated that he began following the Chrysler because he believed that it was a vehicle driven by 'opps,' referring to members of a rival street gang."
"Specifically, McLaurin explained that on or about July 6, 2021 — the day before the shooting — a friend told McLaurin that there was a white Chrysler 300 surveilling the area."
McLaurin has since been charged with one count of using a dangerous and deadly weapon to assault an ATF agent, according to a press release from the Department of Justice. The suspect faces up to 20 years in federal prison if convicted.
McLaurin was scheduled to have his first appearance in federal court on July 8th before U.S. Magistrate Judge Heather K. McShain.
We at Law Enforcement Today found that the suspect allegedly behind the shooting has quite the arrest record in Chicago.
Back in May of 2014, McLaurin was arrested for unlawful participation in streetgang related activity. Not even two weeks after that arrest, McLaurin was arrested again for drinking in public. And five days after his drinking in public arrest, McLaurin was arrested again for unlawful participation in streetgang related activity.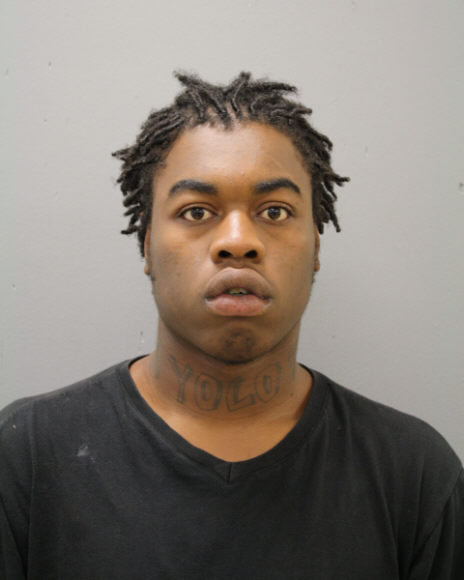 Then in August of 2014, McLaurin was arrested for felon in possession of a firearm and possession of ecstasy.
McLaurin wouldn't be arrested in Chicago again until April of 2017, in that case catching a charge for domestic battery.
McLaurin would then be arrested in December of 2018 for a gun offender registration infraction and then issued a warrant for his arrest in February of 2019 under 725 ILCS 5.0/110-3 (which relates to warrants issued for breaking terms of bond/bail).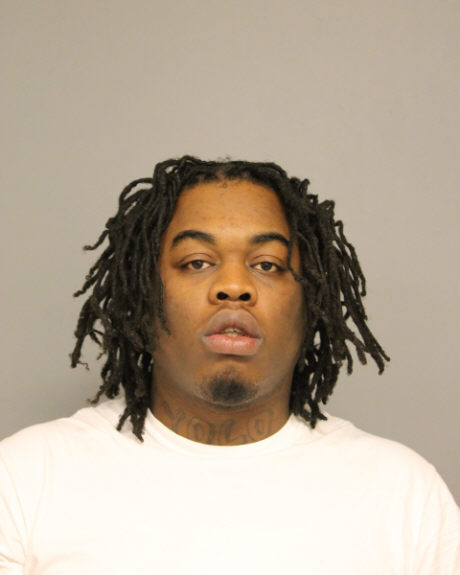 McLaurin's most recent arrest in Chicago, prior to the federal charges, occurred back in December of 2020. In that December 2020 arrest, McLaurin was charged with a moving violation, driving without a license and possession of a controlled substance.
This is an ongoing investigation.
Please follow Law Enforcement Today as we continue to gather further details on this developing case.
Do you want to join our private family of first responders and supporters? Get unprecedented access to some of the most powerful stories that the media refuses to show you. Proceeds get reinvested into having active, retired and wounded officers, their families and supporters tell more of these stories. Click to check it out.

In other news coming out of Chicago, the Fourth of July celebrations were marred with officers being injured in various incidents. We at Law Enforcement Today recently reported on the two officers injured reportedly by fireworks.
Here's that previous report.
_
CHICAGO, IL – Chicago police made dozens of arrests after an unruly group of mostly teens became unruly and violent in the Loop during Fourth of July celebrations Sunday night.
More than 60 arrests, at least 2 cops hurt as "large groups" overtake the Loop | CWB Chicago. Imagine that…in Chicago of all places. Man I never knew there were so many dangerous Southern right-wing extremists who travel to Chicago for the 4th https://t.co/0YtWwRY3L7

— SouthernbythegraceofGod (@UniqueApertures) July 5, 2021
The violence resulted in more than 60 arrests and at least two Chicago police officers being injured.
According to police sources, the hour-long disturbance resulted in one officer losing his hearing after a large firework exploded near his head.
The mayhem began around 6:30 p.m. when a large firework was detonated near Millennium Park, which was followed by similar incidents throughout the downtown throughout the night.
Police moved to break up the large crowd that had gathered at Millennium Park, which caused many of the celebrants to move in large groups onto downtown streets. The crowd turned violent, jumping on police cars, and running through the streets as police struggled to keep control.
Radio broadcasts throughout the night reported fireworks being used as weapons and officers, citizens, and other members of the crowd being physically assaulted.
Millennium Park closed two hours early in response to Chicago teens converging there for #FourthofJuly

MP security says, "some had fireworks so we had to escort people out." pic.twitter.com/0u6v2PhukX

— Vashon Jordan Jr. (@vashon_photo) July 5, 2021
A police supervisor reported that 18 arrests had been made by 8:30 p.m., but that number increased dramatically to over 60 by the time Police Superintendent David Brown provided the overnight numbers.
The scene where police attempted to control a group of hundreds, mostly younger people, in the Loop during the Fourth of July holiday weekend Sunday in Chicago. According Superintendent David Brown more than 60 arrests were made and two officers were injured in the incident. pic.twitter.com/gXkEY6Td9P

— armando l sanchez (@mandophotos) July 5, 2021
During the chaos, the Chicago Police Department reassured the public in a media brief saying:
"The Chicago Police Department had sufficient resources deployed to manage the crowds and ensure public safety."
Other than the two injured police officers, officials did not have any information about how many people were injured during the incident or how many police vehicles were damaged by the crowd.
At approximately 10 p.m., police announced a curfew and began making arrests. Several juveniles were taken into custody. There were reportedly so many juveniles taken into custody that the 1st District police station ran out of room and ordered officers to transport juveniles to other districts.
The Fourth of July weekend did not give the city a break from its gun violence either.
Between Friday night and Monday morning, a total of 12 people have been killed by gun violence in the city. At least 40 more people were wounded in shootings in Chicago during the same time period. Final totals for the weekend will not be released until Tuesday because of the holiday weekend.
Chicago has suffered a spike in gun violence this year and 33 Chicago police officers have been either shot or shot at since January 1. Last year at this time, 22 officers were shot or shot at.
Two Chicago officers were shot and wounded while breaking up a large group firing off fireworks early Monday morning.
Mass shootings are becoming commonplace in Chicago. In a mass shooting in Washington Park, police said two men died, a 12-year-old girl was in critical condition, a 13-year-old boy was in stable condition and a woman was in good condition.
Another woman was treated for a grazing bullet wound at the scene.
There have been no arrests in the mass shooting.
_
Want to make sure you never miss a story from Law Enforcement Today? With so much "stuff" happening in the world on social media, it's easy for things to get lost.