PORTLAND, OR- Antifa, the alt-left protest mob group is at it again in Portland.
On Saturday, a "demonstration" in downtown Portland turned into what such events usually turn into…a riot, during which a war memorial was vandalized, according to police.
The Portland Police Bureau reported that the protesters had gathered to counter another demonstration outside the Multnomah County Courthouse that was abruptly canceled.
Law enforcement authorities in the city did not provide details about the other planned demonstration, however Oregon Live reported that it was rumored to be a KKK white supremacy rally at a downtown park. The counter-protesters, including members of Antifa showed up even though police said the original event was canceled.
Initially, the rally was peaceful, and Portland police officers stood down.
"While the rally was being held and was peaceful, Portland Police officers stayed away," the bureau said. "However, some people in the group began acting in a violent, threatening manner against attendees who were legally capturing photos and videos."
Some individuals wearing all black have been observed throwing projectiles and using pepper spray on others near Lownsdale Square. If you are a victim of a crime, call 9-1-1. PPB will arrest those identified as engaging in criminal acts.
— Portland Police (@PortlandPolice) February 8, 2020
Police said that some people had used metal-tipped umbrellas to "jab toward people and chase them down the street." Others used object such as rocks, concrete, batons, cans and food were thrown at members of the public, as well as police officers.
Police also said that at least two incendiary devices, believed to be flares, were thrown into nearby traffic. The riot lasted nearly four hours and required a "large police response" that limited the department's ability to respond to other calls in the city.
Three of the Antifa "heroes" were arrested. They are: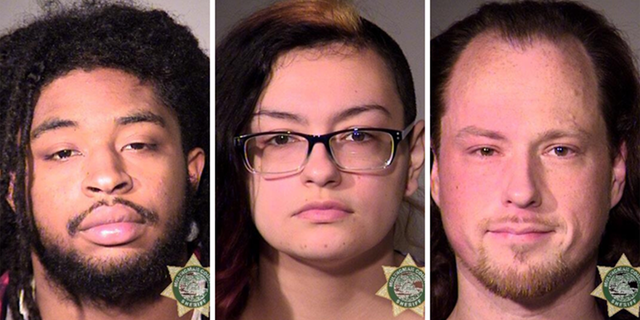 Willy Cannon, 25 Heaven Davis, 19 Brandon Farley, 31
Cannon was charged with criminal mischief and abuse of a memorial to the dead (the hero that tagged the war memorial); Davis was charged with criminal mischief; Brandon Farley was charged with criminal mischief.
Messages that read "Punch Cops," "Kill Cops," and "All Cops are Bastards" could be seen painted on the memorials, in pictures released by the police.
We assume Cannon wouldn't have the gonads to actually put on a uniform and go to war. It's much easier to wear a mask, hide your face, and deface memorials to heroes who made the ultimate sacrifice.
---
Portland Fire and Rescue personnel had to treat three people for exposure to pepper spray used by the rioters.
The police department was sure to make sure that people know that no use of force was used against the rioters during the event.
"Law enforcement officers did not use force against anyone during the event," the police bureau said.
LET has a private home for those who support emergency responders and veterans called LET Unity. We reinvest the proceeds into sharing untold stories of those patriotic Americans. Click to check it out.
Police also said that a pedestrian was struck by a vehicle and transported to the hospital with non-life-threatening injuries. The driver remained on scene and cooperated with police officers.
Portland Police Chief Jami Resch said that the actions of the rioters "negatively impacted public safety of the entire city because resources had to be diverted to this event."
"I want to acknowledge the community members who came down to peacefully assemble and exercise their freedom of speech rights," Resch said in a statement. "Unfortunately, a group of people chose to engage in dangerous, illegal behavior. I appreciate the thoughtful, measured response by our officers and law enforcement partners."
The website "OregonLive" said:
"Most of the 200 or so mask-wearing people at downtown Portland's Lownsdale Square late Saturday morning were there to tap their feet to the live band that was playing. And to eat pizza, boxes of which were delivered shortly after police made and arrest of someone 'engaging in criminal activity.'"
Yes, because people who are going to "tap their feet to the live band that was playing" often show up with masks over their faces. Please.
Once the police dared to their jobs and make an arrest, the "heroes" in masks started to protest.
"Criminals!" screamed one brave soul, his face hidden by a bandana.
"Fascists!" yelled another.
A tweet by something called PopMob were having none of the police making arrests.
Pointing weapons at a group of people on the sidewalk is NOT de-escalating the situation.
The Portland Police are intentionally provoking a fight.
It's time to go home and declare today a win. There's SO MUCH more work to be done together. https://t.co/zrRD69oKcY

— PopMob (Popular Mobilization) (@PopMobPDX) February 8, 2020
"Pointing weapons at a group of people on the sidewalk is NOT de-escalating the situation. The Portland Police are intentionally provoking a fight. It's time to go home and declare today a win. There's SO MUCH more work to be done together."
The website said that Portland police had reported that some of the "partiers," before they started "partying" used pepper spray at others at the park, and when police arrived, they were met by a hail of thrown objects.
"Some demonstrators possess weapons, including bats and pepper spray," Portland police tweeted as the event got underway. "Criminal activity will not be tolerated."
In case you are not familiar, these are some of the tactics that Antifa thugs use:
Dear Voters,

If you want your children walking the streets in a world where this is acceptable then vote for Democrats.

This is actually happening in their cities and they are doing NOTHING about it.

Sincerely,

A Better Future 🇺🇸#AntifaTerrorists pic.twitter.com/wC8mG8YyEt

— Patriot D 🇺🇸🏁 Text TRUMP to 88022 (@oUSA_JEDIo) February 9, 2020
The fact that no use of force was used by Portland police is either a testament to the restraint of the officers, or an indictment of the use of force policies of the department. We have a feeling it is likely a combination of both.
Last June, former Police Chief Danielle Outlaw was roundly criticized after a much-publicized assault of conservative journalist Andy Ngo being punched and kicked by multiple demonstrators went viral. The Ngo assault drew national attention and criticism from people such as Sen. Ted Cruz (R-TX) and Donald Trump Jr.
Cruz criticized Portland Mayor Ted Wheeler and asked for a federal investigation into the allegation that Wheeler ordered Outlaw to have her officers stand down in any altercations with Antifa.
To federal law enforcement: investigate & bring legal action against a Mayor who has, for political reasons, ordered his police officers to let citizens be attacked by domestic terrorists. https://t.co/5xyCDARICl https://t.co/c0Tf3SsKEf

— Ted Cruz (@tedcruz) June 30, 2019
Trump Jr. said, in an opinion piece for the Daily Caller that:
"No responsible journalist would support a domestic terrorist organization that assaults the members of the press, yet here we are again with another clear example of the liberal media's complicity in Antifa violence."
Outlaw denied that Wheeler had told her to have her officers stand down. At the time she said, "The officers have been called 'cowards' or there's a perception that they 'ran away' from confrontation, and that couldn't be furthest from the truth," she said.
Outlaw said that the "rules of engagement" said that any intervention should be done carefully, to protect the safety of demonstrators as well as the officers. She then called for more "resources," including officers and support from partner law enforcement agencies.
Outlaw has since left to become police commissioner in Philadelphia.
Meanwhile, new police chief Jami Resch is left to pick up the pieces.
—
Want to make sure you never miss a story from Law Enforcement Today? With so much "stuff" happening in the world on social media, it's easy for things to get lost.
Make sure you click "following" and then click "see first" so you don't miss a thing! (See image below.) Thanks for being a part of the LET family!