ANNAPOLIS, MD – Police say a 29-year-old man who had removed his house arrest ankle bracelet is responsible for the fatal shooting of a 57-year-old woman in June, which the woman was visiting Annapolis to drop her son off at the Naval Academy for Induction Day.
Police arrested an Annapolis man in the June 29 killing of Michelle Cummings, a Naval Academy mom struck by a bullet near an Annapolis hotel. https://t.co/OJ0LzQw14U

— Capital Gazette (@capgaznews) July 14, 2021
On June 29th, 57-year-old Michelle Cummings was sitting at a patio area outside of the Graduate Hotel when a single, stray bullet struck and killed her.
Cummins and her husband were visiting from Houston to watch their son's, Leonard Cummings III, induction ceremony.
Investigators deduced that Cummings wasn't the intended target of the shooting, saying the bullet came from a nearby street where two victims were non-fatally shot while sitting inside of a parked car.
Following the fatal shooting of Cummings, Annapolis Mayor Gavin Buckley delivered the following statement:
"There is no circumstance where this can be tolerated. My sympathies go out to the family. We are focused on getting guns off the street, but it only takes one criminal with a gun for the results to be tragic. This was a horrific outcome for the kind of everyday gun violence that many cities across America see. Annapolis is sadly not immune."
On July 14th, Annapolis Police Chief Ed Jackson announced the arrest of 29-year-old Angelo Reno Harrod in connection with the fatal shooting.
The police chief stated that video and photographic evidence led to identifying Harrod as a suspect but didn't elaborate any further on said evidence.
Chief Jackson stated during the July 14th press conference that Harrod's arrest serves as a promise made and kept to the family and community:
"What should have been a fantastic celebratory time for their family just turned into the worst due to somebody else's recklessness. I gave my word as the chief of police that we would do everything we could to arrest the person responsible for the tragic death of Ms. Cummings. That promise was kept today."
Annapolis Police officers working patrol arrested Harrod at a gas station parking lot located at the intersection of Forest Drive and Tyler Avenue.
The officers were reportedly running a "routine" warrant check on Harrod and found he had two outstanding warrants.
Michelle Cummings was sitting on a hotel patio when she was shot multiple times, Annapolis Police Chief Edward Jackson said. https://t.co/O2AewAizp3

— ABC News (@ABC) June 30, 2021
Apparently, the warrants appear to be connected to two prior cases that are still pending against Harrod. On February 10th, Harrod was charged with assault and firearm possession, and, on April 12th, he was charged with firearm and drug possession.
Prosecutors had requested that Harrod be held without bond, but the court instead placed him on house arrest.
Harrod reportedly cut off his ankle bracelet on May 3rd, police say, and had been on the run from authorities since.
Chief Jackson said that on the evening of Harrod's arrest, he shoved one of the officers and fled the gas station parking lot on foot, before twisting his ankle and being apprehended.
In total, between the shooting, fleeing from house arrest, and the shoving of the officer during his arrest, Harrod has been charged with murder, attempted murder, manslaughter, firearms charges, assaulting an officer, resisting arrest and escape in the second degree.
The widower of Michelle Cummings, Leonard, gave the following statement at the news of Harrod's arrest:
"My family and I are elated that an arrest has been made in the senseless murder of my beloved wife, Michelle Cummings."
"We hope and pray that this arrest will start the healing process by providing answers to the many questions that my family has about the circumstances surrounding her senseless death."
Harrod is currently being held at the Jennifer Road Detention Center without bond.
Do you want to join our private family of first responders and supporters? Get unprecedented access to some of the most powerful stories that the media refuses to show you. Proceeds get reinvested into having active, retired and wounded officers, their families and supporters tell more of these stories. Click to check it out.
In other reports regarding suspects charged with multiple felonies being released while awaiting trial, a woman was fatally shot and her child was non-fatally shot in Houston earlier in July, with police saying the suspect was out on multiple felony bonds during the shooting.
Here's that previous report.
_
HOUSTON, TX – Houston Police say that a man who was out on seven felony bonds fatally shot a woman, said to be the mother of his child, and also non-fatally shot his 1-year-old boy.
The suspect is at-large initially, but was later apprehended on July 14th.
Still, the family of the slain women are angry over the fact that the man accused of shooting his own child and the child's mother managed to be free from jail on seven felony bonds.
The woman's 1-year-old son is recovering in the hospital after being shot. Police say the man who killed her, the boy's father, was out on 7 felony bonds. https://t.co/98y1viPTYo .@JanelleKHOU

— KHOU 11 News Houston (@KHOU) July 2, 2021
Houston Police officials say the shooting occurred on July 1st at approximately 10:30 a.m. at an apartment complex within the 11200 block of Westpark Drive.
Witnesses told police that they could hear a man and a woman arguing in the parking lot of the apartment complex, with several gunshots ringing out thereafter.
HPD Assistant Chief Patty Cantu briefs media on shooting of mother and child https://t.co/ewMwQpmkPW

— Houston Police (@houstonpolice) July 1, 2021
The woman fatally shot was identified as 24-year-old Layla Steele, who was reportedly holding her 1-year-old son Zeus during the time of the shooting, which the child was said to have suffered a gunshot wound to the ankle.
While authorities didn't initially release the name of the suspect, investigators later identified the suspect to be the father of the young boy and former significant other of Steele, 27-year-old Zacchaeus Rashad Gaston.
July 1st is reportedly the birthday of Zeus, which he was last reported as being in stable condition following the shooting.
The family of Layla Steele says she was shot several times while protecting her son, Zeus, who was also shot in the ankle. His 1st birthday is today. How heartbreaking that now his birthday is also the anniversary of his mother's death. 💔 More from the family on @KHOU at 10. pic.twitter.com/4fNhA4xOfW

— Janelle Bludau (@JanelleKHOU) July 1, 2021
Authorities have not detailed what exactly the felonies pending against the at-large suspect are, but did confirm that the suspect was out on bond for seven felonies and was fitted with an ankle monitor during the time of the shooting.
Shirley, Steele's mother, spoke about how much her daughter loved her son:
"Everybody that knew Layla knows that she loves her son."
The victim's sister, Jazz, laments knowing that from here on out, every birthday that Zeus will have will also be a day of mourning the loss of his mother:
"Every year we celebrate his birthday, we have to celebrate losing my sister…The only thing we can do now is be strong for Zeus, because he lost his mom."
Shirley said that she was on the phone with her daughter when the shooting occurred:
"He's telling her in the background go in the house. Go in the house. We both told her no, don't go in the house. And the next thing you know, she was like, 'Mom, Mom!' And the phone hung up."
Jazz says that those responsible for seeing the suspect's release from jail on multiple bond her "sister's blood" on their hands:
"We would say the only way we could get him away from her is if he's in jail. She was scared of him. She was in love with him, but she was scared of him. There's no way that that should've slipped, where seven felony bonds, a person was out, and I feel like, my sister's blood is on their hands."
According to the victim's family, Steele even had a protective order against the at-large suspect, which clearly wasn't adhered to.
What also upsets Jazz is that since the suspect had an ankle monitor on during the time of the shooting, it should've been monitored accordingly:
"He was on an ankle monitor and told to stay away from her, but was that ankle monitor being monitored?"
Shirley noted that in her daughter's final moments, she still placed her son over her own life:
"She died protecting him, and all she ever did was protect her son, want the best for him. All she lived for was her son."
Houston Police's Westside Patrol Division Tactical Unit arrested Gaston on July 14th, where he has since been charged with murder and aggravated assault with a deadly weapon in connection to the July 1st shooting.
A announcement on Twitter from Houston Crime Stoppers indicated that it was an anonymous tip that led authorities to arrested Gaston:
"UPDATE: This arrest was made thanks to an #anonymous tip to the Crime Stoppers of Houston Tip Line! Thank you to the tipster who did the right thing & reported to our Tip Line so this suspect could be found & taken into custody. As always, our Tip Line is open 24/7!"
UPDATE: This arrest was made thanks to an #anonymous tip to the Crime Stoppers of Houston Tip Line!

Thank you to the tipster who did the right thing & reported to our Tip Line so this suspect could be found & taken into custody.

As always, our Tip Line is open 24/7! #hounews https://t.co/nYIIq6lc7s

— Crime Stoppers HOU (@CrimeStopHOU) July 15, 2021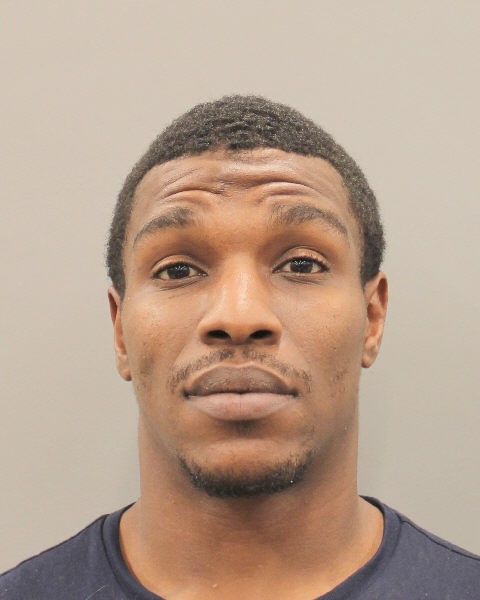 Bail for Gaston was reportedly set at $8 million, which was raised from the original bail set at $1.5 million. Reports indicate that Gaston was being disruptive during his July 15th court appearance and had to be removed from the courtroom.
Gaston was reportedly yelling in the courtroom that he's "innocent until proven guilty", which was what led to him being escorted out.
—
Want to make sure you never miss a story from Law Enforcement Today? With so much "stuff" happening in the world on social media, it's easy for things to get lost.
Make sure you click "following" and then click "see first" so you don't miss a thing! (See image below.) Thanks for being a part of the LET family!