TAMPA, FL – An officer was one of the victims in a shooting spree Thursday night.
It all started when someone called 911 for a reported active shooter. They said he was actively shooting from his vehicle on I-275 in Tampa.
Thankfully, social workers had not replaced police yet and the Tampa Police Department responded to six totally random incidents that lasted roughly 40 minutes.
Police identified the alleged shooter as Antonio Cruz Ortiz and advised that he began shooting at people while he was driving down the interstate. Two of the people who were shot at by Ortiz were struck according to Tampa Police Department.
Thankfully, the children in the vehicle were not hit and both of the victims are expected to survive.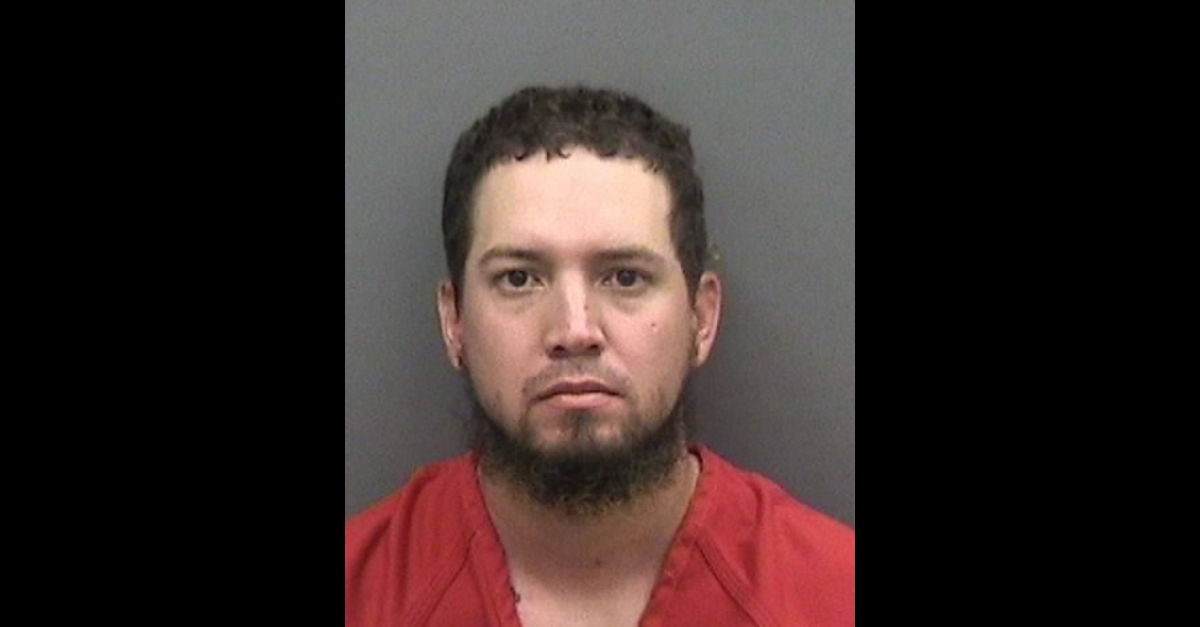 Credit Tampa PD
Ortiz, after he left the interstate, began driving over to an area known as the Egypt Lake-Leto area and allegedly began to fire on a group of children playing at a park.
While he was firing onto the children, people in the area advised that the shooter was shouting in a language which they did not understand.
Thankfully, none of the children he allegedly fired upon were struck by the bullets. Police say he continued driving until he began shooting at two people who were driving in their car near North Habana Av and West Sligh Ave.
Both of these victims were hit, but their wounds appeared to be non-life threatening.
After this, police say Ortiz continued driving around in the area and began firing upon occupied vehicles in the area of Lambright St and N Dal Mabry Highway. The rounds that were fired struck the tires of vehicles, but the occupants were not hit.
In one of the vehicles shot at, a 2 and 4-year-old were in the backseat that thankfully were not injured during the incident.
A Tampa Police officer in the area attempted to stop Ortiz (something a social worker cannot do). When the vehicle stopped, Ortiz allegedly exited his vehicle and began firing upon him.
The bullets fired went through the windshield of the police vehicle and shattered the rear window. The officer was struck in the arm as a result of the shooting, his wounds appear non-life threatening.
After shooting the officer, Ortiz allegedly fled the scene on foot and tried to hide in a local apartment complex. Officers were able to find him as he was hiding on the third floor and placed him under arrest without incident.
Ortiz was charged by police for attempted first-degree murder of a law enforcement officer, three counts of shooting at an occupied vehicle, four counts of attempted second degree murder, and seven counts of aggravated assault with a firearm according to the Tampa Bay Times.
The Tampa Police Department, the Hillsborough County Sheriff's Office and the Florida Highway Patrol are all investigating the shootings.
Hillsborough County Sheriff Chad Chronister told WFTS:
"We are thankful that through coordinated efforts with the Tampa Police Department, we were able to locate this dangerous individual who put so many lives at risk by shooting at random. We are working to determine why this person acted in such a violent manner. The pain he has caused his victims, including a Tampa Police Officer, and his reckless disregard for human life is unacceptable."
It's official: Berkeley City Council slashes police budget, eliminates traffic stops by officers
BERKELEY, CA – In yet another ridiculous move in response to "defund the police" movement, the Berkeley City Council has moved to slash the police budget by 50%. They've also reportedly pulled traffic enforcement officers off the streets.
Traditionally known for its far-left radical culture, Berkeley has been the hotspot for civil disobedience and questionable policies since the hippy movement of the 1960's. This move seems to solidify its spot among the top spots for head-scratching actions.
The progressive California city of Berkeley is moving forward with a plan to replace police with unarmed civilians during traffic stops in a bid to curtail racial profiling. https://t.co/6AgL4sIDoW

— The Associated Press (@AP) July 16, 2020
In an 8-0 vote (with one abstention), the council passed a motion that cuts personnel and other budget categories in half, essentially firing half of the police force and slashing the remaining force's training funds.
Berkeley is just the latest in a string of cities joining the defunding movement in the wake of the George Floyd incident in Minneapolis. Seattle is looking at defunding measures, as are other major and minor cities caught up in the hysteria.
The San Francisco Chronicle reported that the meeting started off on a contentious note, including a vote of no confidence against Berkeley Police Chief Andrew Greenwood.
The newspaper reported:
"At a June council meeting, when asked about how the Police Department responds to Black Lives Matter protesters, Greenwood said, 'Firearms. We can shoot people. If you are being attacked with lethal force, if we don't have less-lethal that can drive it back, then we're absent a tool. That's my concern. I'm not trying to be overly dramatic and I apologize.'
"Greenwood's comments did not sit well with council members, including Cheryl Davila, who said the chief's comments were 'not merely a gaffe, but inexcusable.' However, Davila's motion did not get council support, as no other members voted for it to come up for a body-wide vote."
Berkeley Moves Forward With Replacing Police With Unarmed Civilians For Traffic Stops https://t.co/E7U9FPlE6L

— Daily Caller (@DailyCaller) July 16, 2020
In a town controlled by its university, UC Berkeley Law Professor Franklin Zimring weighed in, calling the proposed budget cuts a "wish list" that would incur significant costs, the Chronicle reported.
Zimring is known for his left-leaning tendencies, including a book he published blaming guns for the rise in mass shooting rather than holding the shooters accountable. So it is a bit surprising that Zimring urges temperance when it comes to slashing the police budget so dramatically.
According to Breitbart, Zimring said:
"What would be unprecedented is not the nature of the wish list, or even its magnitude, but whether it happens at any scale close to the numbers flying around in policy conversations in a lot of cities right now."
Zimring went on to explain:
"It's an iron law of public employee negotiations that those kinds of transitions cost money. Fifty percent is the end of a very, very, very long rainbow."
In addition to the sweeping and drastic budget cuts, all traffic stops by police will no longer be allowed either.
According to the Chronicle, a special section of the Department of Transportation will be set up to maintain traffic order. Details of this new department structure have not yet been released, but it is unlikely employees of this new division will have any legal authority beyond enforcement of traffic laws.
Berkeley High student organizers watching videos of racist Berkeley cops projected onto the walls of the police department. #DefundThePolice pic.twitter.com/NWiLbbsadv

— Majority (@EastBayMajority) July 14, 2020
While this new structure may seem innocuous, even helpful, at first, the policy actually removes an important tool for law enforcement, as many traffic stops result in arrests for other crimes the drivers have committed previously.
Historically, traffic stops have been a large source for discovering wanted felons who are on the loose and placing them behind bars. By removing traffic stops, the Berkeley City Council is placing the city and surrounding area in great danger by not only allowing the violation of laws originally put in place to protect drivers and passengers but also by taking away a valuable method for law enforcement to remove criminals from the street.
Do you want to join our private family of first responders and supporters? Get unprecedented access to some of the most powerful stories that the media refuses to show you. Proceeds get reinvested into having active, retired and wounded officers, their families and supporters tell more of these stories. Click to check it out.
Here's Law Enforcement Today's original report on Berkeley's intent to take traffic stops away from police.
City Council leaders are discussing a move which would end traffic enforcement of any kind by the police.
The new plan moving forward would have unarmed employees from their public works division conduct the task. The reasoning behind the plan is to decrease the public's interactions with police.
Berkeley Councilman Rigel Robinson, the author of the new plan said:
"If we're serious about transforming the country's relationship with police, we have to start by taking on America's most common interaction with law enforcement – traffic stops.
"Driving while black shouldn't be a crime."
Berkeley may be 1st U.S. city to propose eliminating police from traffic stops, enforcement..should work out well https://t.co/M9pfu0AZog

— FXHedge (@Fxhedgers) July 10, 2020
The move also comes as the city council recently removed a large portion of funding from the police department. Recently, the new budget cut $9.2 million from the agency, a 12% reduction overall. Berkeley Mayor Jesse Arreguin said the reduction was "a down payment on reimagining public safety in Berkeley."

During the council meeting when the budget was approved, the mayor said:
"The overwhelming message (from the public) is that we do need to defund the police and we need to reinvest money from our police department budget into other community priorities, including expanding mental health, outreach and treatment, services for our homeless, housing and services that specifically address the needs of our Black and brown communities."
What was not specifically addressed is exactly how much the reduction in the police budget would affect the number of officers for the city.
During a July 14th meeting, the city council will discuss exactly how the plan will work which would prohibit police from conducting "routine" traffic stops and pass that responsibility onto unarmed public works employees.
Our movement to de-police traffic stops is in the New York Times!
"Philando Castile…broken light
Sandra Bland…failed to signal"
"[Cops] use minor offenses as pretexts to pull people over", said researcher. Berkeley plan "the kind of innovation we need"https://t.co/35YDNxZpO2

— 𝔇𝔞𝔯𝔯𝔢𝔩𝔩 🍫 𝔒𝔴𝔢𝔫𝔰 (@IDoTheThinking) July 9, 2020
Police would no longer be allowed to stop vehicles for any type of traffic infractions, starting next fiscal year.
People who are in support of this point out deadly interactions between police and the people they pull over. It appears that their belief is that the police, not the person who is pulled over, who are the reason the stop turns deadly.
Darrell Owens, a co-executive of a local housing and transit activist organization said:
"There's this cultural fear among Black people that it's the traffic stop that's going to get them killed. Why does it always escalate into these violent situations?"
A researcher at Central Connecticut State University said that data has not shown any evidence of racial bias on the part of the police overall in the country. However, he believes that the issue with traffic stops is when officers use what is considered to be minor traffic offenses as a way to search vehicles.
His belief is that these types of stops are done at a greater rate with minorities.
What none of these people take into consideration is what leads up to a deadly interaction with police. First and foremost, obey the laws if you do not want to get pulled over by police. If you are speeding, weaving in and out of traffic, have a cracked windshield, or any other type of issue with your vehicle, you run the risk of getting pulled over.
Second, if the person who gets pulled over by the police acts complies with the lawful requests from the officer, the likelihood of police resorting to use of force is reduced. These should be common sense points for most, if not all, law-abiding citizens.
What is also not taken into consideration as it relates to traffic stops, aside from those cases were the police are actively watching specific people and have probable cause to make the top due to past criminal behavior, it is virtually impossible to determine someone's race when the officer decides to pull over a vehicle, especially at night.
In response to nationwide calls for police reform, Berkeley is considering a proposal to ban officers from conducting traffic stops. Instead unarmed public works officials would stop drivers. The city council will debate the plan next week. pic.twitter.com/q9QcWSzqvm

— Alex Savidge (@AlexSavidgeKTVU) July 10, 2020
Seeing inside a vehicle to determine a person's race at night, without Superman powers, is virtually impossible.
Another fact is that there is simply no such thing as a 'routine' traffic stop.
Thousands of traffic stops occur all of the country on any given day and none of them are the same. Officers pull over vehicles not knowing (in most cases) if the person they have stopped is a threat or not.
When a police officer stops a vehicle, the person being stopped has the advantage. The officer has no idea of knowing if the person simply committed a traffic violation or was fleeing from a violent crime.
Diagnosing an issue, as the Berkeley City council has done, without facts and merit are dangerous and may end up in costing their public works employees their lives.
They are not taking into consideration what the root causes of deadly encounters with the police are, which is, of course, the violence presented by the person pulled over.
Another matter not being considered is that under most state laws, a person would not be obligated to stop for a non-sworn civilian.
But hey, what are pesky little things like laws and Constitutional rights?
——————————————————————————————————————
Want to make sure you never miss a story from Law Enforcement Today? With so much "stuff" happening in the world on social media, it's easy for things to get lost.
Make sure you click "following" and then click "see first" so you don't miss a thing! (See image below.) Thanks for being a part of the LET family!