BROWARD COUNTY, Fla. – Parkland school shooter Nikolas Cruz became a registered Florida voter behind bars in Broward County, angering the father of one of his victims.
"He's a mass murderer, he's already confessed and he shouldn't have the right to vote," Andrew Pollack, 52, told Fox News Saturday.
Is this a flaw in the system? If so, was it further exacerbated by restoring the rights of convicted felons to vote, which occurred Tuesday in Florida?
Cruz, 20, has been charged with walking into Marjory Stoneman Douglas High School in February with an AR-15 and opening fire. As a result, he is accused of murdering 17 people including Pollack's daughter. Meadow Pollack would have turned 18 in October and could have voted for the first time, said her father.
"To allow him to register to vote when my daughter can't, it's like sticking a big knife in my heart," Pollack said.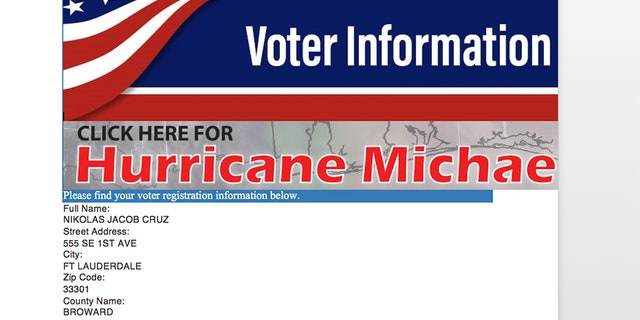 Pollack said he found out that Cruz was a registered voter as he monitors the ongoing vote count in Broward, a process that has brought considerable controversy.
Republican Florida Gov. Rick Scott was holding a razor-thin lead over Democratic incumbent Bill Nelson in the race for U.S. Senator as votes were still being tallied in Broward and Palm Beach Friday. Florida's Secretary of State ordered a machine recount in the Senate and governor's race.
"I didn't believe it myself until I went online," Pollack said.
Not Going to Let These Unethical Liberal Democrats Steal this Election @RonDeSantisFL @ScottforFlorida #fixit pic.twitter.com/utUNRqPqYa

— Andrew Pollack (@AndrewPollackFL) November 10, 2018
The Florida Secretary of State's website shows that Cruz was registered to vote in July with the Broward jail as his home address. However, Cruz' voter information was blocked from public view later Saturday.
As a registered voter in jail, Cruz would have been eligible to vote by absentee ballot. It's unclear if he applied to vote absentee or if he voted, according to the report.
I'm sick to my stomach. 18-1958 murdered 17 students & staff, including my daughter Meadow. Yet in July, Broward Sheriff @ScottJIsrael let people into the jail to get him & other animals registered to vote.The Despicable Democrats have no shame.Can't let them steal this election. pic.twitter.com/qWisidEpek

— Andrew Pollack (@AndrewPollackFL) November 10, 2018
The man accused of mass murder listed his party affiliation as Republican.
Under Florida law, men and women being held in pre-trial detention and those serving time for misdemeanors have been allowed to vote.
Prior to Tuesday, Florida permanently barred convicted felons from voting. But on Election Day Florida voters approved an amendment giving the potential right to vote back to over one million felons. The amendment passed with 64 percent of the vote. The newly restored voter rights take effect Jan. 8, 2019.
Cruz, who has admitted the killings, is awaiting trial for 17 murders. Hence, the mass murderer has offered to plead guilty if prosecutors don't pursue the death penalty. Nevertheless, prosecutors have refused.
Pollack tweeted about Cruz Saturday morning, lashing out at Broward Sheriff Scott Israel and Broward Elections Supervisor Brenda Snipes.
Emails to representatives of both from Fox News seeking comment were not immediately returned.
My daughter was murdered and buried. She can't vote.

Inexcusable that the Sheriff & SOE would proactively go into the jail to make sure that 18-1958 is registered to vote for the election.

Beyond disgraceful. https://t.co/5q63UbNuLa

— Andrew Pollack (@AndrewPollackFL) November 10, 2018
"This election would have been my beautiful Meadow's 1st election, but she wasn't able to vote because 18-1958 murdered her during the Parkland shooting," Pollack said in one tweet, referring to Cruz by his inmate number. "If she can't vote because of that monster, why should he be allowed to register to vote? Shame on Sheriff Israel & SOE Snipes!"
Moreover, in another tweet he accused Israel of letting people into the jail to get Cruz and "other animals" registered to vote.
"The Despicable Democrats have no shame," the tweet said.
In response one tweeter said, "As distasteful as this is, is it the fault of 'despicable Democrats?' People in jail awaiting trial are allowed to vote. You can't pick and choose who you allow to register."
Pollack's reply said in part, "My daughter was murdered and buried. She can't vote."