NEW YORK, NY- The New York Times has hit a new low. Who knew that was even possible?
The far-left media outlet's opinion section recently ran an article from an actual terrorist.
Sirajuddin Haqqani, who is a leader of the Taliban and has been credited with killing several Americans, was featured in the magazine last Thursday in his article titled "What We, The Taliban, Want."
Haqqani is a leader of the Taliban's Haqqani Network, which is tied closely to Al Qaeda.
According to the National Counterterrorism Center:
"The Haqqani Network is responsible for some of the highest-profile attacks of the Afghan war.
The US Government in 2012 designated the Haqqani Network as a Foreign Terrorist Organization because of its involvement in Afghan insurgency, attacks on US military and civilian personnel…and because of its ties to the Taliban and al-Qa'ida."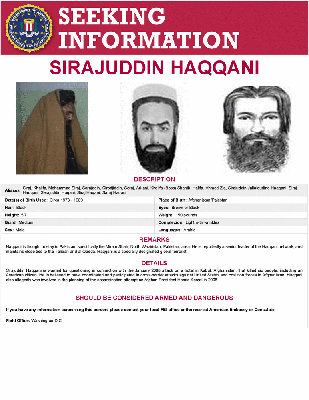 So, yeah. To be perfectly honest, I couldn't care less what the Taliban wants. It's disgusting that a major news source is allowing for a high-level member of the terrorist group that kills American citizens to post anything in their platform.
It's especially disgusting, however, that the outlet is allowing this particular article to run because it's a bunch of propaganda garbage designed to tug on the strings of the bleeding-hearted liberals and make the terrorist entity appear like they're just regular, average people who don't rule based on fear and hatred.
Those terrorist groups- Al Qaeda, the Taliban, the Haqqani Network- all hate America. They hate everything we are. Everything we stand for.
Wow:

The New York Times just published a total fluff piece by Taliban leader, Sirajuddin Haqqani—a terrorist with a $10 million bounty on his head

It's not enough to just call them "austere religious scholars"

Now the media is publishing their work

Whose side are they on?

— Charlie Kirk (@charliekirk11) February 20, 2020
And now they're allowed to have their words circulated among our population? The far-left media won't even report things that might possibly make a conservative look like he knows what he's talking about, but they'll print articles from literal terrorists?
I absolutely hate to spread any of their words, but it's important for patriots to be kept updated on the complete and utter rubbish people are reading from the Haqqani Network.
THREAD:
Siraj Haqqani is a violent extremist & what he says in this article cannot be trusted.
My platoon fought the Haqqani Network for 485 days. They bombed schools, kidnapped & tortured children. Targeted civilians. They terrorized the Afghan people.https://t.co/3BPHFUzxnV

— Sean Parnell (@SeanParnellUSA) February 21, 2020
From the article:
"For more than four decades, precious Afghan lives have been lost every day. Everyone has lost somebody they loved. Everyone is tired of war. I am convinced that the killing and the maiming must stop.
We did not choose our war with the foreign coalition led by the United States. We were forced to defend ourselves."
Imagine the 18 to 20-year-old college students being force-fed the New York Times articles by liberal professors.
They haven't paid attention to the intricate details of the United States and Afghan relationship, because they've been too busy being young and innocent. This is the information they are given on the subject matter by their brainwashing colleges, and then what do they think?
America must be bad. These poor Afghan terrorists, all they want is peace and to be left alone.
Never mind that they want to be left alone so they can oppress their women and anyone who dares disagree with the holy notion of Islam.
Never mind that they want to be left alone to enforce their radical beliefs by murdering innocent people, by attacking nearby nations who defy their ideals, by attacking citizens of the greatest country in the world for aiding those who suffer at the violent hands of the terrorists.
The article is full of passive-aggressive comments against the United States and assumes that the majority of the American people give two craps about what "their side" of the story is.
It's the type of thing that would have been mostly acceptable had it been written and published after peace talks were finalized, after our own leaders were first afforded such an opportunity to tell the nation that peace is imminent with the Afghan people, including the terrorists, and after they have proven for a time that they are even capable of the peace with which Haqqani claims they want so badly.
Congratulations @nytimes you just gave a propagandizing platform to Seraj Haqqani, a terrorist who still celebrates the 9-11 attack in NYC.

— Ben Collins (@BenCollins1776) February 20, 2020
Until this person and his affiliate group are no longer on our country's list of terrorists, they should not be given any opportunity to say anything at all to our general population, much less an entire woe-is-me, BS article full of lies.
Even members of the New York Times staff are not happy about this ridiculous opportunity the outlet gave to the enemy of our country. Mujib Mashal is the New York Times's senior correspondent in Afghanistan.
On Twitter, he posted:
"The piece by Siraj Haqqani in @nytopinion — which's independent of our news operations & judgment — omits the most fundamental fact that Siraj is no Taliban peace-maker as he paints himself, that he's behind some of most ruthless attacks of this war with many civilian lives lost."
The piece by Siraj Haqqani in @nytopinion – which's independent of our news operations & judgment – omits the most fundamental fact: that Siraj is no Taliban peace-maker as he paints himself, that he's behind some of most ruthless attacks of this war with many civilian lives lost

— Mujib Mashal (@MujMash) February 20, 2020
Florida Representative Michael Waltz also posted on Twitter following the article's release. He said:
"The Haqqani and Taliban are responsible for the death of dozens of American soldiers and atrocities against Afghan civilians. @nytimes should be ashamed of itself for enabling this blatant propaganda from a designated global terrorist, all in the name of 'diverse reviews.'"
Indiana Representative Jim Banks tweeted:
"Appalled @nytimes has given leader of the Haqqani network and leader in Taliban room in their editorial pages to espouse his views. Haqqani network is responsible for 1000s of Americans killed in Afghanistan and provides shelter to al Qaeda operatives … they sheltered Bin Laden."
According to the FBI website, the reward for information leading to the arrest of Haqqani is $5 million. You know, because he is a "specially designated global terrorist."
Says the FBI:
"Sirajuddin Haqqani is wanted for questioning in connection with the January 2008 attack on a hotel in Kabul, Afghanistan, that killed six people, including an American citizen.
He is believed to have coordinated and participated in cross-border attacks against United States and coalition forces in Afghanistan. Haqqani also allegedly was involved in the planning of the assassination attempt on Afghan President Hamid Karzai in 2008."
LET has a private home for those who support emergency responders and veterans called LET Unity. We reinvest the proceeds into sharing untold stories of those patriotic Americans. Click to check it out.
The New York Times has taken bashings from average American citizens to politicians to leaders of other countries. Even so, they defend their association with the high-level Taliban leader. Eileen Murphy, a spokesperson for the Times, said in an email to The Washington Post:
"We know firsthand how dangerous and destructive the Taliban is. But, our mission at Times Opinion is to tackle big ideas from a range of newsworthy viewpoints.
We've actively solicited voices from all sides of the Afghanistan conflict, the government, the Taliban and from citizens.
Sirajuddin Haqqani is the second-in-command of the Taliban at a time when its negotiators are hammering out an agreement with American officials in Doha that could result in American troops leaving Afghanistan.
That makes his perspective relevant at this particular moment."
In light of the Sirajuddin Haqqani oped in the @NYT, a look at some of the killing and maiming he and others are responsible for: https://t.co/8ID5hKNTNW

— Patricia Gossman (@pagossman) February 20, 2020
How about you tell that to David Rohde? David worked for the Times when he was kidnapped by the Haqqani Network.
Or to the other US citizens that were kidnapped, tortured, and/or killed by the terrorist group.
Tell that to the families who lost their loved ones at the hands of the Haqqani terrorist Network.
If you so choose, you can find the offending article here.
—
Want to make sure you never miss a story from Law Enforcement Today? With so much "stuff" happening in the world on social media, it's easy for things to get lost.
Make sure you click "following" and then click "see first" so you don't miss a thing! (See image below.) Thanks for being a part of the LET family!