NEWARK, Del. – A 10-hour manhunt ends with the capture of a man accused of multiple murders. The search across state lines for the homicidal suspect ended in Delaware. Authorities announced the apprehension of a man who shot six people in Maryland Wednesday, killing three, reported usnews.com.
Radee Labeeb Prince, 37, was arrested Wednesday evening near a high school in Newark, Delaware.
"There's an individual out there on the loose who committed one of the most heinous acts we've ever seen in our county," Harford County Sheriff Jeffrey Gahler told reporters after the shooting. He confirmed that Prince has a criminal history and said he remained "armed and dangerous."
Prince, of Elkton, Maryland, is accused of shooting five people Wednesday where he worked at Advanced Granite Solutions in Edgewood, Maryland. A short time later, he drove to Wilmington, Delaware. It was there that police say he shot an acquaintance in the head at a used-car dealership, the Associated Press reported.
Wilmington Police Chief Robert Tracy said at a news conference Wednesday night that police and federal agents arrested Prince after they spotted him in the Glasgow neighborhood. He'd left his SUV near a high school and a civilian notified authorities. Officers found him nearby, and he ran about 75 feet, throwing away a gun, before being arrested. No one was hurt in the capture.
"I even get chills talking about it because I know what it's like when we do hunt individuals that are desperate," Tracy said.
Furthermore, Prince knew his victims, according to the chief, and the shootings were not random. "This is a person with no conscience," he said.
Tracy said investigators have not yet determined a motive.
The acquaintance who was shot in the head survived and identified Prince to police; authorities then issued a description of Prince and his SUV. Police and FBI agents found Prince after he left his SUV near a high school and a bystander called authorities. Police chased him on foot and he threw away a gun before he was arrested, according to AP.
Moreover, Prince has a history of felony charges and workplace violence.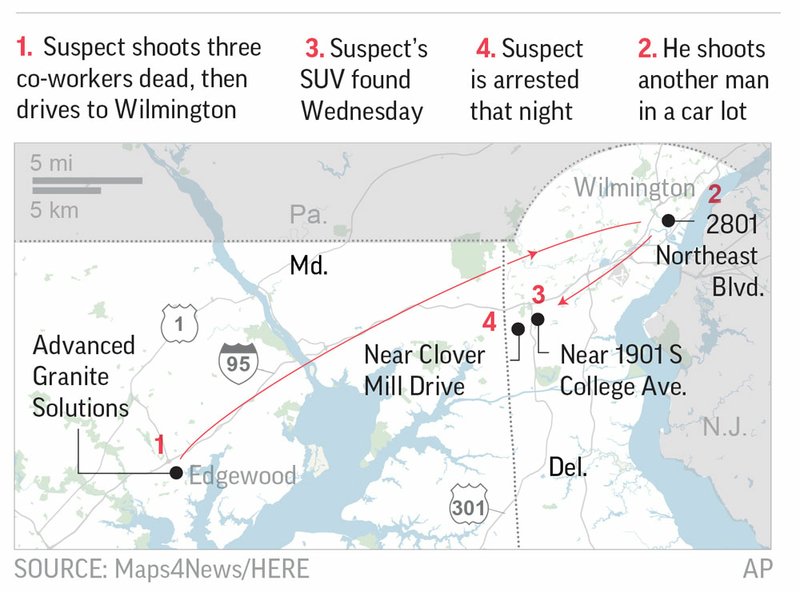 According to AP, Prince has been arrested 42 times in Delaware, where he has been a resident in the past. He was fired from a job earlier this year after reportedly punching a co-worker; a former employer tried to get a restraining order against Prince after he "cursed and yelled" at his boss. The former employer told AP he "felt very threatened."
Prince also faced charges of being a felon in possession of a gun.
Prince is believed to have acted alone, reported ABC News.
"We do not believe anybody else is connected to the shooting," Gahler said.
SEARCH for SUSPECT:
RADEE LABEEB PRINCE 11/5/79
2008 Black Chevy Acadia DE Tag PC064273
Call 911 if you see the suspect. pic.twitter.com/v8y18FOEUi

— Harford Sheriff (@Harford_Sheriff) October 18, 2017
The Harford County Sheriff's Office is working with the FBI to investigate the shooting. An FBI official told ABC News that the agency is treating the shooting as "workplace violence" and there are no indications of terrorism at this time.
(Photo: Screenshot WJZ13 News broadcast)