PHOENIX, AZ- In April of 2018, Jairo Adair Contreras Quintero killed a Phoenix Police Department K9, Bane.
Quintero, a 27-year-old man with a lengthy criminal history and who carjacked 2 people at gunpoint and led police on a long pursuit, hid in a home he broke into, engaging police in an hours long standoff. Bane was sent in to find Quintero, but he never came out.
Officers found Bane stuffed into a cabinet in the home. It was later determined that Bane's cause of death was asphyxiation.
Rest in peace, Bane. You will be missed. EOW 4/17/18 pic.twitter.com/gwr8WQ2tWH

— Lt. Vince Lewis (@SgtVinceLewis) April 17, 2018
Police first attempted contact with Quintero when they observed him driving a stolen vehicle. He had been known to flee from police in the past, and that April day in 2018 was no different. Quintero was driving with a female passenger, later identified as 24-year old Laura Dagnino.
After driving for hours, Quintero and Dagnino stole a different car and fled in that. At this point, police were loosely following the suspects on the ground, and backed up by air support.
The two carjacked another person at gunpoint. At this point, police closed in on Quintero, who pointed his gun and shot at the officers. Police fired back, but Quintero remained uninjured. He fled in the vehicle and led police on a chase.
During the chase, he crashed into another car but was able to continue driving. Quintero drove up onto sidewalks and also across light rail tracks.
Eventually, an officer was able to get ahead of Quintero and deploy spike strips, which deflated his tires. Quintero crashed into the yard of a residence.
Dagnino was arrested at the scene of the crash on a drug related warrant.
Quintero jumped over a fence and broke into a home. He barricaded himself into the attic of the home. After ignoring several orders to exit the home, K9 Bane was sent in to retrieve him.
Officers heard Bane breathing in a "shallow" and "unusual" way, so the handler called him back out. When Bane didn't come out, officers entered and found Quintero hiding under a pile of insulation from the ceiling, which he had fallen through. He had been bitten by Bane multiple times.
Bane was found in a cabinet that Quintero was leaning against.
Life saving efforts were attempted, but unfortunately Bane was found to be deceased due to asphyxiation.
Quintero was arrested and charged with animal cruelty, killing a service animal, burglary, unlawful flight, weapons violations, armed robbery, trespassing, and theft of a motor vehicle.
This week, he was sentenced to 25.75 years in prison for the above listed crimes.
Dagnino had been offered a plea deal and accepted a 3-year sentence.
After the incident, Phoenix Police Department Chief Jeri Williams said:
"We sent Bane in to do what the dogs do. They are our protectors, they are our partners and it's definitely with heart that we lost Bane. The loss of a K9 is no different than the loss of an officer, and we are devastated…Bane, you're a hero that was taken too soon, and you'll be missed. Rest in Peace."
Bane was 3-years-old, a Belgian Malinois who had served with PPD for 2 years.
A local NBC affiliate news outlet reported having seen a police vehicle with its window shot out following the incident. No officers were hurt during the shootout or pursuit.
Quintero's history with law enforcement was already very involved prior to this incident.
In 2012, he escaped an inmate work crew in Maricopa County Jail by hiding in an oversized laundry cart. Police received a tip on the type of vehicle he was driving, and spotted him later the same day in said vehicle. He led police on a pursuit at that time as well and eventually abandoned the car and fled on foot.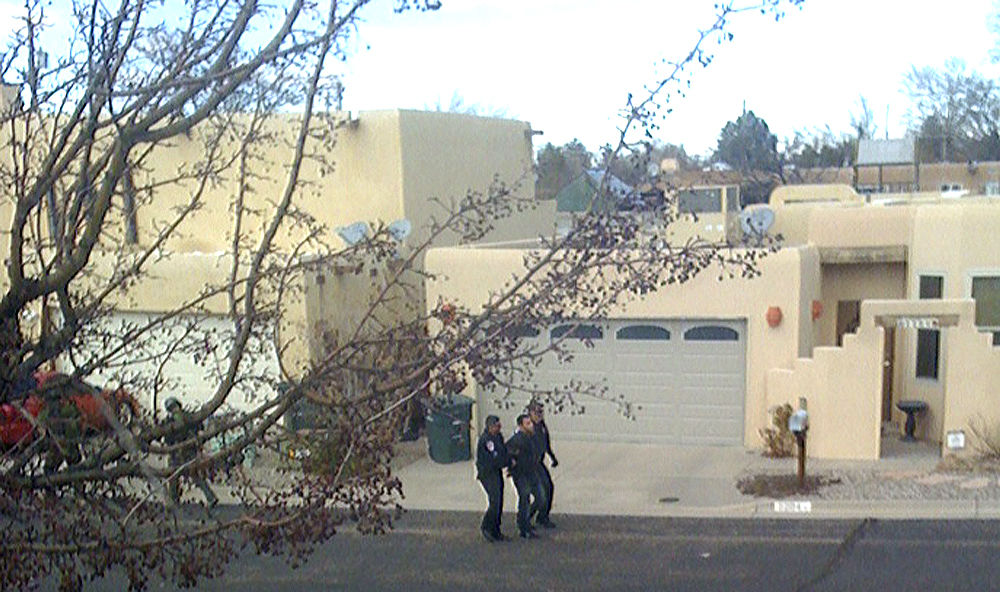 Melting snow was still on the ground and police followed footprints to locate Quintero. Due to the fact that he was known to be armed, local schools were placed on a short lockdown. Quintero was located in his girlfriend's home and taken into custody.
Prior to escape, Quintero was serving time at Tent City, which is the minimum-security, open-air prison where inmates wear pink underwear and a traditional black and white striped jumpsuit.
Obama-appointed judge released felon who then went and murdered an Alabama police officer
CULLMAN, ALABAMA- Last October, several time loser Preston Johnson was arrested in Cullman, Alabama and charged with drugs, a stolen car and an AR-15. As a convicted felon, he should have been locked up for a long time.
However, when he was arrested, he was released the same day. Apparently, a federal injunction had been handed down by District Court Judge Madeline Haikala that mandated all bond-eligible inmates had to be released without bond.
He was released on a written promise to appear in court.
Shockingly (or not), Haikala was appointed to the court by one Barack Hussein Obama. Unlike President Trump's judicial nominees, she was approved by the senate in a 90-0 vote.
In 2015, Johnson had been arrested for two counts of possession of a controlled substance, and possession of drug paraphernalia. In that case, Johnson had meth, cocaine, and a scale at the time of his arrest.
Johnson was sentenced to six years in prison after pleading guilty to one count of drug possession. It is unknown how much time he served, but obviously not six years.
Johnson is a six-time convicted felon and among other charges include first-degree theft and gun charges. Sounds like a peach.
Now, an Alabama police officer is dead. Officer Nick O'Rear of the Kimberly Police Department, a one-year veteran was shot and killed by Johnson. Officer O'Rear is the father of two young children, and his wife is expecting their third child.
O'Rear and another officer were involved in a chase on I-65 in Alabama when the shooting occurred. Officer O'Rear was taken to the University of Alabama at Birmingham Hospital where he succumbed to his injuries.
A manhunt ensued and eventually Johnson, 37, and three others were taken into custody, after a BLUE Alert was sent asking for the public's assistance in locating Johnson.
LET has a private home for those who support emergency responders and veterans called LET Unity. We reinvest the proceeds into sharing untold stories of those patriotic Americans. Click to check it out.
Bail Bondsman Sam Liles is livid. Liles was on a bail recovery in the town of Pinson when he heard about the death of Officer O'Rear.
"We saw cops headed that way and, I mean, it is very alarming. And then the next morning when we found out who the defendant was, it infuriates me."
"It is my understanding, he was on parole or probation out of Morgan County so he should have stopped somewhere along the lines. He addressed Haikala's injunction."
"My thoughts are, he probably should have still been in jail," Liles said. "Distributon charges, first-degree theft charges, gun charges. There's been quite a few," he said."
Liles believes that if the injunction had not been in place that there might have been a better outcome.
"He would have been slowed down enough to maybe where he could have detoxed, got off his drugs and maybe cleared his mind up."
He continued that he wanted to express his condolences to the Kimberly community and hopes that no other community has to suffer this type of loss again.
Alabama governor Kay Ivey expressed her condolences in a tweet.
"I have just spoken with the fallen Kimberly Police officer's family and offered them my deepest sympathies for their traffic loss. See my full statement below. #ThinBlueLine #alpolitics
I have just spoken with the fallen Kimberly Police officer's family and offered them my deepest sympathies for their tragic loss. See my full statement below. #ThinBlueLine #alpolitics pic.twitter.com/JREmDpiLIU

— Governor Kay Ivey (@GovernorKayIvey) February 5, 2020
This is Officer Nick O'Rear. RIP Brother. We'll take it from here.
Prayers for the family of this Kimberly, Alabama officer killed last night while assisting Warrior PD in a chase. He had young kids and his wife is also pregnant. 😢 🇺🇸🇺🇸🇺🇸
PLEASE pray for them and our communities. #RIP #Hero #Bluelivesmatter pic.twitter.com/PVLXAAHDM1

— SpeakTruth (@SpeakTr84007341) February 6, 2020
Powerful: 11-year-old boy runs in honor of fallen trooper, leads other officers. We can't stop crying.
Editor note: The powerful video can be watched below.
FLORIDA- In Martin County, Florida, Florida Highway Patrol Trooper Joseph Bullock was shot and killed while attempting to assist a stranded motorist along the I-95 near Stuart this past Wednesday.
While police do have a named suspect in the case, Franklin Reed III, we wanted to share the story about how an 11-year-old boy wanted to pay tribute to this fallen trooper.
Zechariah Cartledge was just 10-years-old when he founded the non-profit called Running 4 Heroes.
The young boy has an avid appreciation for first responders, and has dedicated Running 4 Heroes to raise awareness of the officers that have died in the line of duty.
Cartledge pays homage to the fallen by running one mile for every first responder that doesn't make it home to their loved ones. During these runs he hoists a flag in-hand during the entirety, and upon completing his run, presents the flag to the family members of the fallen.
On February 6th, Cartledge made the emblematic run in honor of Trooper Bullock's passing earlier in the week.
On the Running 4 Heroes Facebook page, Cartledge delivered meaningful words regarding the passing of the trooper on a livestreamed video of his run.
Cartledge stated prior to the run:
"I'm running for one that is close to home for me, from the Florida Highway Patrol. Tonight, I'm running for Trooper Joseph Bullock.
He worked for the Florida Highway Patrol and his end of watch was February 5th, 2020. He lost his life after being shot and killed after encountering a disabled vehicle on I-95."
The young Cartledge noted the 19 years of service that Trooper Bullock dedicated to the FHP prior to passing.
While holding the Blue Line flag, Cartledge noted the local show of support by various law enforcement agencies who attended to honor the life and service of Trooper Bullock. The flag that Cartledge carried during his run was then later presented to one of the partners of Trooper Bullock.

During the run, various police vehicles and cruisers from several agencies followed Cartledge, and the other officers, during the seven laps. The father of Cartledge, Chad, named some of the many agencies that attended his son's run.
Among those mentioned were the Orange County Sheriff's Office, Seminole County Sheriff's Office, Florida Fish and Wildlife Conservation, Longwood Police Department, Winter Springs Police Department, Maitland Police Department, Sanford Police Department, as well as the Seminole County "Citizens on Patrol".
After Chad noted the amazing career of Trooper Bullock, the Orange County Pipes and Drums began to play "Amazing Grace" to commemorate the fallen trooper. Sirens blared sporadically during the display of appreciation to Trooper Bullock until the run came to a close.
Cartledge delivered thoughtful words upon completion of his run, noting his desire of a 2020 that hosts no more police deaths:
"I pray that no more troopers, or officers, or deputies – especially from the Florida Highway Patrol – get shot and killed this year. [Trooper Bullock] was doing a very nice gesture for this man in the car, but unfortunately he was shot and killed."
Inspiring words to heed from this young man, as he can see the selfless dedication that comes from our first responders daily.
As for the suspect in the case, Reed was fatally shot by Officer Jemel Headings of the Riviera Police Department following the gunning down of Trooper Bullock.
There are still many questions unanswered as to what happened that led to Reed allegedly shooting Trooper Bullock that day.
The Martin County Sheriff's Office, state prosecutors and the Florida Department of Law Enforcement are currently investigating the case.
Last year, we brought you the story of another young lady who is also paying tribute to the fallen.
Megan O'Grady is 17-years-old. She's one of three amazing kids . . . and her dad has been in law enforcement for 25 years.
Her greatest fear is her dad not coming home . . . and her young heart breaks each time she hears the story of a kid who lost their parent.
The attack on the officers in Dallas, Texas was the breaking point for her. She decided she needed to do something to help kids. And so she started a company called Blue Line Bears.
It's a non-profit organization and it's incredibly simple and powerful. Megan makes teddy bears out of the uniform shirts of fallen officers and gives them to their children.
It's heartbreaking . . . and yet incredibly touching. A young girl dedicating part of her own heart to help protect the hearts of other boys and girls.
There's only so much that needs to be said by me about this incredible young lady. And so I'm going to simply leave you with HER words. This is an essay she wrote for her English Honors course. I hope you'll SHARE her words when you're done reading them.
This I Believe
Growing up as a daughter of a police officer was fun as a child.
I got to tell stories about how my dad arrested guys twice his size and wasn't even scared or I could tell anyone who was mean to me on the playground, that my dad would arrest them for being mean.
Of course he never did, but it always intimidated people. I have always looked at my dad as a role model. On Dr. Seuss Day, my dad would come in uniform and read to my class wearing his red and white hat every year.
I thought he was the coolest dad ever. Sometimes he would surprise me and come to school and eat lunch with me and my friends while he was in uniform.
I thought it was so sweet of him to use his lunch break to spend time with me. He once let my Girl Scout troop visit the police department and he gave us a tour and he let the police dog attack him when he had a protective suit on. I thought he was the bravest guy in the entire world.
I used to always hug him goodbye without fear, but now when he leaves for work I worry about him being safe.
As I have grown older, my views have changed drastically. It turns out, as a kid, I thought the world was filled with people singing "Kumbaya" in a giant circle, but it's not.
The world has somehow developed a negative attitude towards the people like my dad. While I was watching the news one day there was a clip that showed a man with a megaphone and a crowd surrounding him.
The man with the megaphone yelled, "What do we want?" then the people yelled, "Dead cops!" and then he yelled, "When do we want them?" and the crowd replied, "Now!" I started crying immediately.
These people were out to kill people like my dad. People don't realize that there is a fine line between good and evil and the police are the ones standing on that line and holding back the evil so that the good can live without fear.
After seeing instances where police have started to get killed because of their occupation, I realized that my dad walks out the door and into work with the knowledge that the hug I just gave him might just be the last.
Yet, he would still jump in front of a bullet without hesitation if it meant he was saving someone, even someone who might hate him. Unfortunately, there are people who don't see him as a human being with feelings and a family at home.
They only see his uniform and automatically assume that he is a heartless and brutal person. But instead, he is my dad who tells me I can't date until I'm 95 and still tucks me in at night even though I'm 14.
I believe people should respect police officers more, because of the sacrifices they make. Each has parents and most have a spouse and kids that they risk losing daily.
Cops don't just wake up and think, "Hey why don't I just kill some people so I can have more people hate us?" They wake up thinking that they have to go to work and it will be a good day, but a person can change that day into the day where that police might have to take someone's life in order to protect others.
They are all human. I believe that society should start treating them like humans.
Don't look at the badge, but instead look at the person. Look at the person who coaches their son's baseball team, walks his daughter down the aisle, and goes to Mass on Sundays.
I believe they should not be discriminated against. All cops have goals and ambitions, they love others, and they have good and bad days, just like everyone. I believe the police should be appreciated.
I want my dad to see me graduate, see me at my wedding, and even hold my future child. I believe police should be judged on their actions, not their occupation.
You can learn more on her Facebook page @Blue Line Bears.
---
Want to make sure you never miss a story from Law Enforcement Today? With so much "stuff" happening in the world on social media, it's easy for things to get lost.
Make sure you click "following" and then click "see first" so you don't miss a thing! (See image below.) Thanks for being a part of the LET family!