NEW YORK, NY- Report: Hunter Biden audio released that reveals him discussing business dealings with a "spy chief of China," while also complaining about his business partner, Devon Archer, naming him and his father Joe Biden as witnesses in a SDNY criminal case.
In this audio, Joe Biden appears to be implicated not only in a criminal investigation, but also reveals his likely involvement with the Chinese Communist Party (CCP).
From Taheem Kassam of The National Pulse:
"Hunter Biden—in an audio file labelled "Most Genius Shit Ever"—appears to be referencing Patrick Ho, who was a former Secretary for Home Affairs in Hong Kong, as a "spy chief of China" while lamenting how his business partner Ye Jianming of CEFC China Energy had disappeared.
"He was also involved in the CEFC venture, as originally reported by the New York Post and suppressed by the media and Big Tech firms.
"The audio breaks the mainstream media's narrative that the hard drive is somehow "fake" or does not implicate Hunter or Joe Biden in criminal investigations and/or business deals with the Chinese Communist Party.
In addition, Hunter Biden complains about Devon Archer, identifying him and his father in a criminal case.
In addition, Hunter complained that his father Joe Biden refused to take calls from the New York Times and continually sent calls to another former business partner, Eric.
"I get calls from my father to tell me that the New York Times is calling but my old partner Eric, who literally has done me harm for I don't know how long, is the one taking the calls because my father will not stop sending the calls to Eric.
I have another New York Times reporter calling about my representation of Patrick Ho—the fucking spy chief of China who started the company that my partner, who is worth $323 billion, founded and is now missing.
The richest man in the world is missing who was my partner. He was missing since I last saw him in his $58 million apartment inside a $4 billion deal to build the fucking largest fucking LNG port in the world.
And I'm receiving calls from the Southern District of New York from the U.S. Attorney himself. My best friend in business Devon has named me as a witness without telling me in a criminal case and my father without telling me," Hunter Biden said.
The audio appears to debunk the narrative being put forth by the Biden campaign, as well as the mainstream media, that the hard drive released by the New York Post is so-called "Russian disinformation" and does not implicate the Biden's in any type of nefarious business dealings or for that matter criminal investigations.
Of course, the mainstream media and big tech have been doing their best trying to cover for the Biden's. For a recent article on how Wikipedia is trying to run interference for the Biden's, we invite you to:
DIG DEEPER
It's with little surprise that the reports stemming from the New York Post relating to Hunter Biden has caused various entities to go into damage control mode.
Do you want to join our private family of first responders and supporters? Get unprecedented access to some of the most powerful stories that the media refuses to show you. Proceeds get reinvested into having active, retired and wounded officers, their families and supporters tell more of these stories. Click to check it out.
But what is all the more interesting is that Wikipedia seems to be referring to the Hunter Biden allegations as something linked to conspiracy theories.
In an astonishing show of political bias, extreme-Left Wikipedia is using its massive power across Big Tech and search engine results to further smother the blast radius of the bombshell Biden family foreign corruption scandal revelations. https://t.co/s4D3hxSqeN

— Breitbart News (@BreitbartNews) October 22, 2020
In a Wikipedia article titled "Biden–Ukraine conspiracy theory", Wikipedia users can have an opportunity to look into the online encyclopedias details on the New York Post allegations – while also never linking any of the New York Post articles because Wikipedia claims it to be an "unreliable" source.
Per Wikipedia's summary of the New York Post pertaining to it being unreliable to source or cite information from, Wikipedia states the following:
"There is consensus that the New York Post is generally unreliable. A tabloid newspaper, editors criticise its lack of concern for fact-checking or corrections, including a number of examples of outright fabrication."
Wikipedia Editors Censor Hunter Biden Bombshell, Call New York Post 'Unreliable' Source https://t.co/ahdM0v576C via @BreitbartNews

— Allum Bokhari (@LibertarianBlue) October 15, 2020
Which, based upon that characterization from Wikipedia, makes sense as to why they'd then only make mention of the Post's allegations in an article dubbed as a "conspiracy theory".
According to the article that mentions the New York Post's reporting on Biden, it opens that section with the following:
"On October 14, 2020, the New York Post published articles containing purported emails of unknown authorship which suggested that Hunter Biden provided an "opportunity" to Vadym Pozharskyi, an advisor to the board of the Ukrainian natural gas firm Burisma Holdings, to meet his father, then-vice president Joe Biden."
Do you want to join our private family of first responders and supporters? Get unprecedented access to some of the most powerful stories that the media refuses to show you. Proceeds get reinvested into having active, retired and wounded officers, their families and supporters tell more of these stories. Click to check it out.
The article continues to then cite all sorts of "reliable" sources that allege that the Post's allegations are untrue, and then caps those various statements aimed at discrediting the New York Post with mentioning:
"The New York Post published images and PDF copies of text that purported to be emails, but their authenticity and origin have not been determined."
For those not hip to how Wikipedia works, behind every article of notable interest there's a team of editors and a lot of discourse behind the scenes.
This area within Wikipedia is known as the "talk" section of every article.
And those editors who were trying to source the New York Post articles within another Wikipedia entry titled "Conspiracy theories related to the Trump–Ukraine scandal", there was some back and forth over directly linking to the Post.
One Wikipedia editor that goes by the username "Soibangla" was telling another Wikipedia editor that goes by "Elijahandskip" to not only remove any citations from the New York Post – but also from Fox News:
"Fox News is now deprecated for political news…Elijahandskip, please revert your edit…Elijahandskip, Simply removing the reference is inadequate. The content based on the reference must be removed as well."
What this "Soibangla" editor was telling "Elijahandskip" to remove from the article was the mentioning of Hunter Biden being featured in photos with an alleged crack pipe.
Another editor that goes by "Valjean" piggybacked off that instruction, responding with "Yes, and do it COMPLETELY."
I wonder who User:Soibangla at @Wikipedia is?

— Roy Batty (@RoyBatty010816) August 24, 2020
And funnily enough, this "Soibangla" Wikipedia editor has been known to proclaim that anything related to Hunter Biden and Ukraine dealings that are reported on are false.
Well, more specifically that editor claims they've all been debunked according to the edit made on the Hunter Biden article that reads:
"He and his father have been the subjects of debunked right-wing conspiracy theories pushed by Donald Trump and his allies concerning Biden business dealings and anti-corruption efforts in Ukraine."
I say it's still BUNKED

— Judgmental Shoelace ?? ?? ?? ?? (@DocKilmer) October 20, 2020
Well, I guess if Soibangla says its debunked, then it must be so. pic.twitter.com/p412U2cwsY

— Judgmental Shoelace ?? ?? ?? ?? (@DocKilmer) October 20, 2020
And this same "Soibangla" editor was among those trying to scrub any connections between Jeffrey Epstein and Bill Clinton from a Wikipedia entry, which was reported last year by RT.com:
"Clinton's denial of the "26 flights" number was added to the article on Tuesday night by user 'Soibangla,' a known quantity in the American politics topic area, who also tweaked a Clinton quote praising Epstein, noting there was "no evidence [Clinton and Epstein] were 'friends.'"
Strange how Wikipedia is trying to cover things up.
Twitter refuses to unlock New York Post account unless media outlet deletes Hunter Biden posts
Recently, Law Enforcement Today has reported on the bombshell emails that dropped this past week showing Hunter Biden's overseas business dealings, in addition to showing Joe Biden's alleged involvement when he was the Vice President of the United States.
Many news outlets have chosen to sweep this story under the rug, however, the New York Post chose to do their job, and report on the eye opening emails, that the country deserves to know about.
The two major social media platforms, Twitter and Facebook, chose to censor this particular information however, and now they are both coming under fire.
AMERICA WILL NEVER FORGET WHEN THE MAIN STREAM MEDIA FELL ON ITS SWARD TO PROTECT A CRIMINAL. https://t.co/RBM4jeXfx2

— ?? Antoine Tucker for Congress NY-14 (@montaga) October 17, 2020
The New York Post posted information that allegedly shows communication between Joe Biden's son, Hunter Biden, and an adviser to a Ukrainian energy company on its social media accounts.
Both Twitter and Facebook did not appreciate the "anti-Biden" posts.
On Wednesday October 14th, Twitter went as far as to lock The Post's primary account at 2:20pm, deleting six of the tweets, and no longer allowing people to share the information. Those six particular tweets were replaced with "This Tweet is no longer available. Learn More"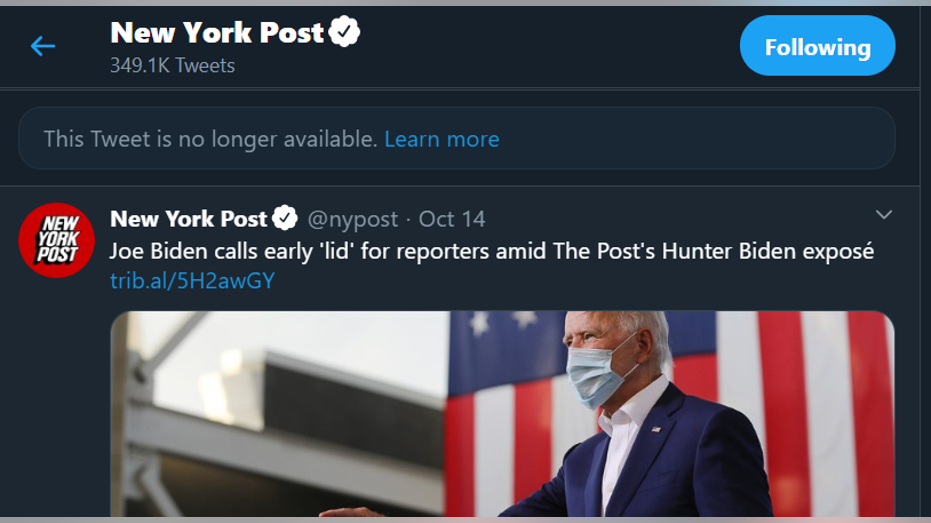 "Anyone who looks at The Post's Twitter feed can't even see the tweets about the Biden stories, which have been replaced by messages saying, 'This Tweet is no longer available,'"
One would think that Twitter would try to hide their blatant violation of the First Amendment, however, in a statement released to Fox Business, Twitter confirmed that:
[The Post] "has been informed what is necessary to unlock their account."
Twitter is claiming that the Post has violated their "Hacked Media Policy" against displaying "hacked" information when tweeting about the Hunter Biden stories. The Post of course says there is no merit to this claim.
Twitter updated that policy on Friday, October 16th, saying it will start labeling content that violates its rules rather than remove it altogether, "unless it is directly shared by hackers or those acting in concert with them." Fox Business reported.
Our work to limit the spread of misleading information goes beyond elections. Starting today, before you Retweet or Quote Tweet any labeled Tweet that breaks our misleading information rules, you'll see a prompt.

It'll provide more context on why the Tweet breaks our rules. pic.twitter.com/KjQSnDk8cC

— Twitter Support (@TwitterSupport) October 16, 2020
Twitter wrote in a statement to the Post:
"While we've updated the policy, we don't change enforcement retroactively. You will still need to delete the Tweets to regain access to your account,"
Facebook was actually the social media platform to get the ball rolling. According to the New York Post, Facebook said they would limit the spread of The Post's story on its own platform. The social network added that the story would be eligible for review by independent fact-checkers.
Obviously this enraged many, including Republican law makers, who called on the CEO's of both companies to justify their actions.
Republican Senator Josh Hawley of Missouri sent a letter to Facebook's CEO, Mark Zuckerberg saying in part:
"The seemingly selective nature of this public intervention suggests partiality on the part of Facebook,"
"And your efforts to suppress the distribution of content revealing potentially unethical activity by a candidate for president raises a number of additional questions, to which I expect responses immediately."
Hawley then wrote a similar letter to Twitter's CEO, Jack Dorsey, saying in part:
"I ask that you immediately answer these questions and provide the necessary justifications so that your users can feel confident that you are not seeking to influence the outcome of the presidential election with your content removal decisions,"
Not surprisingly, the Post is not the only account that was shut down for sharing the information on Hunter and Joe Biden. President Trump had a similar experience when Twitter shut down his campaign account for sharing the story.
Law Enforcement Today reported that according to Mike Hahn, Twitter locked down the Trump campaign account for sharing the story about Hunter Biden.
Accompanying a screenshot of the Team Trump account showing that it has been locked, Hahn wrote the following:
"Twitter has suspended [the Team Trump account] for posting a video calling Joe Biden a liar who has been ripping off our country for years, as it relates to the [New York Post] article. 19 days out from the election."
—
Want to make sure you never miss a story from Law Enforcement Today? With so much "stuff" happening in the world on social media, it's easy for things to get lost.
Make sure you click "following" and then click "see first" so you don't miss a thing! (See image below.) Thanks for being a part of the LET family!