CHICAGO, IL – In the ongoing investigation into the murder of 65-year-old retired Chicago firefighter Dwain Williams, a fourth suspect has been arrested.
The attempted carjacking turned murder from December 3rd, that was captured on surveillance video, has been has been an ongoing investigation in order to track down the numerous assailants involved.
Fourth suspect arrested in connection to shooting that killed retired Chicago firefighterhttps://t.co/Q7IoQ1SFV0

— Roseanne Tellez (@RoseanneTellez) January 1, 2021
According to officials, the fourth suspect arrested for the Chicago murder was located by the FBI in Pennsylvania, reportedly taken into custody under a separate warrant.
The City of New Castle Police Department identified the suspect as 19-year-old Jaylen Saulsberry, which he's currently being held in the Lawrence County Jail according to officials.
Chicago Police Supt. David Brown stated noted on Twitter that the suspect's extradition is being sought as of this time:
"The 4th suspect in the 12/3 murder of the ret. CFD firefighter has been arrested on a separate warrant in PA by [the FBI] & is currently being held on a $2M murder warrant. We're seeking his immediate extradition back to Chicago. Great work by CPD detectives & federal law enforcement."
The 4th suspect in the 12/3 murder of the ret. CFD firefighter has been arrested on a separate warrant in PA by @FBI & is currently being held on a $2M murder warrant. We're seeking his immediate extradition back to Chicago. Great work by CPD detectives & federal law enforcement.

— Chicago Police Superintendent David O. Brown (@ChiefDavidBrown) January 1, 2021
It's currently unclear as to what that separate warrant was in relation to that led to Saulsberry being arrested in Pennsylvania. However, this now marks suspect number four arrested in this crime, with two other adults and one juvenile having been arrested for the murder of Williams.
We at Law Enforcement Today have been keeping up with the investigation into the fatal shooting of Williams. Here's our previous reporting on the case.
_
CHICAGO, IL – A third arrest has been made in the ongoing investigation into the murder of retired Chicago Fire Department Lt. Dwain Williams that occurred on December 3rd.
Third person charged in murder of retired Chicago firefighterhttps://t.co/KRvPNe04w0

— rebecca sifuentes (@rebeccasifuent1) December 29, 2020
Prior to that, two suspects – aged 15 and 18-years-old – were already arrested, with both of them facing murder charges.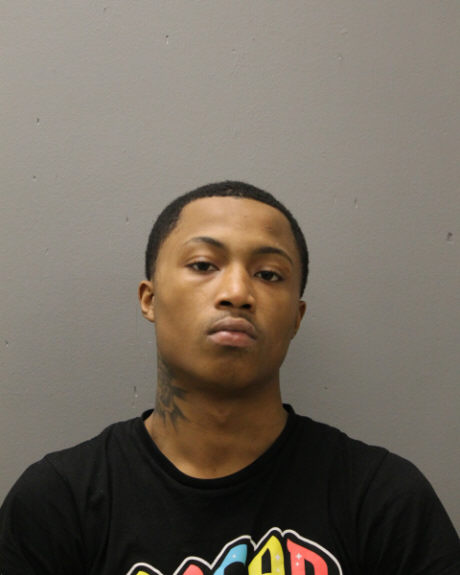 Dwain Johnson was identified as the 18-year-old arrested earlier in December, but the juvenile has neither been named or officially charged yet.
However, on December 26th, police arrested 20-year-old Devin Barron, and investigators believe that Barron may be one of the two gunman to have pulled the trigger on Williams during the attempted carjacking.
Police have reason to believe that the three suspect in custody were part of a "carjacking crew" that may be responsible for numerous other crimes reported in the general area.
During the day that Williams was murdered, he'd just left the Let's Get Poppin' popcorn store located at 11758 S. Western Ave., when three suspects – two of which were armed – exited a vehicle that pulled up to where Williams was about to enter his vehicle.
Williams, who was concealed carrying at the time of the encounter, fired at the assailants in self defense. The two suspects, as seen on video, fired several shots at Williams, striking him in the abdomen.
The retired firefighter had only enjoyed his retirement for two years at that point and was even slated to return working as a civilian employee at the Office of Emergency Management and Communications.
Investigators reportedly caught up with Barron at a hotel in south suburban Lansing on December 26th, with police believing he is one of the gunman featured on the captured footage.
Barron was said to have been found in possession of three guns when he was arrested on December 26th, but prosecutors didn't say if any of the three guns on the suspect were one of the ones used in Williams' murder.
Additional evidence against Barron alleges that his cellphone was at one point synced with the Bluetooth that was inside of the getaway vehicle featured in the video of Williams' death.
Police had discovered the getaway vehicle – later found out to have been stolen days before the murder – in southwest suburban Tinley Park sometime after the murder.
Barron's fingerprints were also allegedly found to be on a food wrapper that was found in the rear of the recovered vehicle.
According to officials, Barron also has a pending case linked to an October arrest for allegedly forcibly kidnapping a woman from her home and dragging her into a vehicle where he was alleged to have repeatedly struck the victim.
His next court date for the murder case is slated for January 15th.
Do you want to join our private family of first responders and supporters? Get unprecedented access to some of the most powerful stories that the media refuses to show you. Proceeds get reinvested into having active, retired and wounded officers, their families and supporters tell more of these stories. Click to check it out.
Earlier in December, we at Law Enforcement Today had reported on when the news first broke of Williams being murdered while trying to prevent himself from becoming a victim of a carjacking.
Here's that original report from the day following his murder.
_
CHICAGO, IL – A 65-year-old retired Chicago firefighter was killed in a gunfire exchange when he defended himself from being carjacked on December 3rd.
At around 2 p.m. on December 3rd, Dwain Williams of the Longwood Manor area of Chicago had just left a popcorn shop called Lets Get Poppin' at 11758 S. Western Ave in Morgan Park on the South Side.
As he approached his vehicle in the parking lot, a dark-colored sedan approached and four males got out. The men produced guns and Williams drew his firearm, there was an exchange of gunfire, and Williams was shot in the abdomen.
He was transported to Christ Medical Center in Oak Lawn where he was pronounced dead.
Dwain Williams was a Chicago Fire Department lieutenant who retired from the department about two years ago after joining the force in 1992, according to Chicago Fire Department spokesman Larry Langford.
His final assignment was with the Office of Emergency Management and Communications, where he was going to return to work as a civilian employee as soon as next week because "he really loved working in that environment," Langford said.
A 65-year-old retired Chicago firefighter was fatally shot Thursday afternoon during an attempted carjacking on the Southwest Side, according to police. https://t.co/wgR4LCGPlE pic.twitter.com/DolLlXmAZL

— Block Club Chicago (@BlockClubCHI) December 4, 2020
Matt O'Shea, Southwest Side Alderman stated that Williams was a decorated firefighter:
"I can tell you he was a hero. He spent his entire career working hard as a first responder for our great city. What a tremendous loss."
Brian McDermott, Chicago Police Chief of Operations, announced in a press conference on the incident:
"My heart goes out to the family of the victim and to the victim himself."
According to information obtained from the Chicago Sun-Times, Chicago police have responded to 1,229 carjackings this year through November 22, more than double the 514 carjackings in Chicago in all of 2019.
McDermott added:
"The Chicago police department is well aware of the increase in vehicle hijackings, we're doing our best right now to increase the capabilities of our citywide task force."
McDermott also stated that he understands the concerns of citizens on the subject.
"The message is we hear their concerns loud and clear, and that we understand the fears that they're going through. We all have people that we know that live in this community that shouldn't have to live in fear."
_
Want to make sure you never miss a story from Law Enforcement Today? With so much "stuff" happening in the world on social media, it's easy for things to get lost.
Make sure you click "following" and then click "see first" so you don't miss a thing! (See image below.) Thanks for being a part of the LET family!