CHICAGO, IL – Two men and two juveniles were charged with the attempted robbery of an off-duty police sergeant that was alleged to have happened on May 20th.
While the identities of the juveniles haven't be made public, one of the two adults alleged to be involved apparently has quite the criminal history.
One of the accused adults, a long time menace in the Boystown area, is on parole for robbery and for stealing the wallet of a dying man at the Loyola Red Line station.https://t.co/NwGaKx0xlp

— CWBChicago (@CWBChicago) May 21, 2020
According to the Chicago Police Department, 22-year-old Derrick Robie, 19-year-old Dhamarquis Lee, and a 16- and 17-year-old juvenile were the four charged with the attempted robbery of the 40-year-old police sergeant.
Apparently, there was also a fifth subject involved that police have not yet identified.
The incident was said to have occurred outside of home located on the 900 block of West Addison at approximately 2:18 a.m. on May 20th. The suspects were alleged to have implied to the police sergeant that they were armed, and demanded him to give them money.
The tables were quickly turned when the intended victim produced his own sidearm and informed the five suspects that he was a police officer. That display apparently scared off the alleged miscreants.
The area where the robbery was said to have taken place is roughly 100 yards from 19th District police station, and officers were able to round up four of the five alleged robbers about 30 minutes after the incident.
Of the four charged in this crime, Robie apparently has had his fair share of run-ins with the police. Back in January of 2018, Robie was arrested for an alleged armed robbery. At the time, when facing Judge Stephanie Miller under the accusations, Robie was released on his own recognizance after making bail.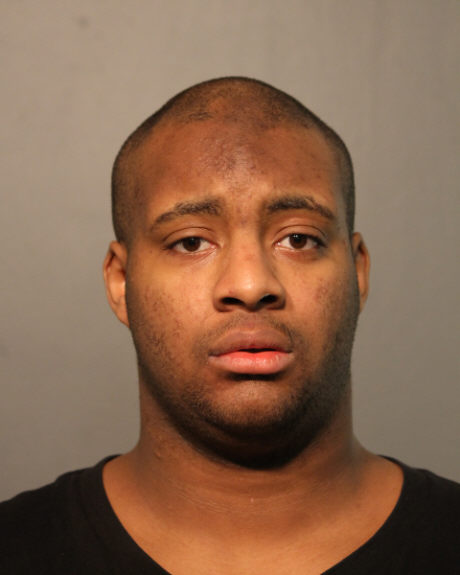 Mere days after being released on his own recognizance, Robie was arrested again. This time is was for allegedly stealing a man's wallet right from his own pocket.
Authorities say Robie stole the man's wallet while he was literally on the ground dying at the time. Police said that CTA footage captured showed Robie with an accomplice, Calvin Greyer, going through the man's pants pockets after he had slipped and fell while walking down the CTA station's staircase.
While Robie did serve time in prison for the aforementioned crimes in 2018, he was only given a three-year sentence in total. However, after the state took into account time served in concurrence with the standard 50% reduced prison time for "good behavior," Robie served a grand total of 16 days in prison before getting paroled.
Hopefully this time around, if found guilty, they'll consider perhaps a slightly longer sentence.
Chicago seems to have some issues when it comes to releasing individuals prior to trial.
LET has a private home for those who support emergency responders and veterans called LET Unity. We reinvest the proceeds into sharing their untold stories. Click to check it out.
Chicago's "affordable bail" is yielding results that have failed more than someone's 1990's investment in Beanie Babies.
Some recipients of the infamous lower-bail initiative have managed to find themselves back in custody while out on their original bonds – with some now facing murder charges.
Now posted: Even more cases of men accused of committing murder while free on affordable bail. Like the man who's accused of severely beating a woman with a pipe while on bail.https://t.co/tbBafUmVnI

— CWBChicago (@CWBChicago) May 17, 2020
Back in November of 2019, police arrested 21-year-old Dequawn Little when he was found in possession of a gun while roaming through Benjamin Franklin Park. The day following Little's arrest, his sister posted a $2,000 bond for his release and he was subsequently placed on GPS monitoring.
Flash forward to April of 2020, prosecutors are now alleging that Little managed to get his hands on yet another gun.
This time though, he allegedly used this newly found weapon to murder 15-year-old Demetrius Hardy. Witnesses informed the CPD at the time that they'd seen Little gun down the teenage boy while he was standing on a porch located within the 700 block of South Kilbourn.
The child reportedly died at the scene.
Going back to 2018, 19-year-old Eduardo Venegas wound up getting charged with two murders that were said to have happened within a four-month period while he was out on affordable bail. Police had first arrested Venegas in July of 2018 after police were said to have witnessed him exiting a stolen vehicle.
He was subsequently released on a recognizance bond under that charge.
In August of 2018, police say that Venegas gunned down 18-year-old Dylan Davala. However, police wouldn't make the connection to Venegas in Davala's death until February of 2019. Yet, Venegas was arrested again in November of 2018 under charges nearly identical to his July 2018 arrest.
He was, once again, released on a recognizance bond.
Come December of 2018, Venegas allegedly committed another murder. Police said that Venegas shot and killed 23-year-old Rigoberto Rodriguez while in the commission of robbing the victim for his jewelry. At that point in time, police arrested Venegas for that murder and later charged him with Davala's while in custody.
Going back to February of 2020, you have the case of 46-year-old Dionte Young who police say beat a 31-year-old woman with a metal pipe while he was out on bond for an October 2019 arrest for manufacture/delivery of heroin and cocaine.
When Young was arrested back on October 30th of last year, it was already the sixth time that he faced criminal charges within a 10-month period.
However, a mere $500 saw him released from custody for that October arrest, and police are saying he's the man responsible for the February 2020 victim who suffered a fractured skull.
Now, while all three of these upstanding citizens are being currently held without bond, some might say it's too little, too late.
—
Want to make sure you never miss a story from Law Enforcement Today? With so much "stuff" happening in the world on social media, it's easy for things to get lost.
Make sure you click "following" and then click "see first" so you don't miss a thing! (See image below.) Thanks for being a part of the LET family!