PRINCE WILLIAM COUNTY, VA- Law Enforcement Today has learned from sources that a former deputy assistant secretary for the State Department has been arrested in connection with child molestation that occurred between 2011 and 2013.
The Washington Post reported that the official headed former Secretary of State John Kerry's security detail, and headed diplomatic security training until 2018.
Scott Moretti, 58, was arrested in Prince William County, Virginia after special victims detectives concluded an investigation into the sexual assault of a girl aged between 10 and 11 at a home in the Manassas, Virginia area.
The victim knows Moretti and the incidents were reported to police in 2019. He is charged with indecent liberties and forcible sodomy, according to Prince William County police spokeswoman Renee Carr.
According to mysanantonio.com, Moretti served as deputy assistant secretary of state for training for the Diplomatic Security Service from 2015 to July 2018, according to his archived State Department biography, as well as his LinkedIn page.
He joined the Diplomatic Security Service in 1986, and rose up the ranks to deputy assistant secretary of state in 2015. He previously served in Iraq and Afghanistan.
The victim told investigators that she was sexually assaulted at the address in Manassas on more than one occasion. Another spokesman for the Prince William County Police, Sgt. Jonathan Perok, said the complainant was not a family member of Moretti's.
The former special agent in charge of U.S. Secretary of State John Kerry's protective detail.
John Scott Moretti, 58, was arrested without bond for sexual assault of a girl between the ages of 10 and 11 at a residence in the Manassas area.#SAVETHECHILDERN pic.twitter.com/ZdWaoNbtGL

— Jaco Booyens (@BooyensJaco) May 11, 2020
Moretti was arrested by the Virginia State Police, and he was ordered held without bond. There was no information on whether he had retained an attorney, or if one had been appointed for him.
The website noted that during the time when the assaults allegedly occurred, Moretti was stationed in Washington up until July 2012 as the director of the Office of Mobile Security Deployments, according to his biography.
The office serves as the on-call response force used by the State Department in order to counter threats against U.S. interests and personnel overseas.
Afterward, he spent five months in Iraq as the deputy regional security officer for protective operations at the U.S. Embassy in Baghdad. It was between January 2013 and April 2015 when he headed Kerry's security detail.
As an interesting aside, Moretti's name was brought up during the Congressional hearing into the Benghazi attack, when then Secretary of State Hillary Clinton was being questioned.
In a transcript of the hearing, Rep. Jeff Duncan (R-S.C.) is questioning Clinton about the denial of additional assets for the consulate in Libya. During questioning, Duncan brought up the fact that there was in fact correspondence between Ambassador Stevens and Scott Moretti (referred to in the transcript as John), wherein he asked for an additional MSD (Mobile Security Deployment) team, to which Moretti denied the request:
 And I think you misspoke earlier when you said that you 
didn't know of any requests that were denied for more security. 
June 7 e-mail exchange between Ambassador Stevens and John 
Moretti, when he requested for one MSD team, or, actually, an 
additional MSD team. And the reply from John Moretti said, 
unfortunately, MSD cannot support the request. There was a 
request made for more security, and it was denied on June 7.
Interesting how these things sometimes come back around.
For more on former Secretary of State and U.S Senator John Kerry, we invite you to:
DIG DEEPER
I hate to be nitpicky, but if you're going to go in front of a bunch of people and say something, don't you think you should know what the hell you're talking about?
For me, when I write anything that people may actually read, I over-research and fact check probably double the amount I need to.
One reason for this is because I don't want my editor to yell at me about causing Law Enforcement Today to get sued, and another is because I don't want to look stupid.
Enter John Kerry.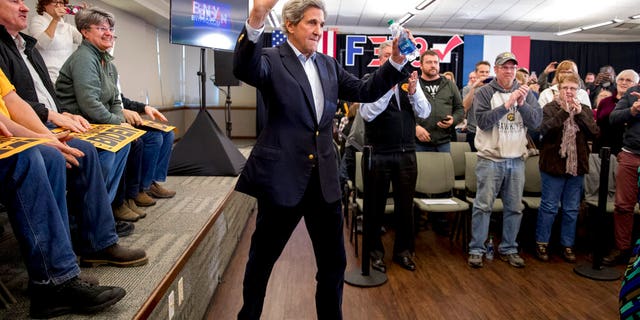 He apparently doesn't feel the need to do as much research, or any research really, before a speaking event. Which is surprising given how the media picks apart just about every single thing that a politician says and he should be very familiar with this fact.
So when he spoke about his support for Joe Biden as presidential candidate at a campaign event in Iowa on Saturday night, saying that Biden will be able to do the work needed to get all those pesky AR-16's with long clips out of Americans' hands, I thought my gun knowledge was lacking.
AR-16? I thought. Where have I been?
Well, not in the 1960's, that's for sure. Which is when the AR-16 was introduced, but never actually brought into production.
For someone who is a military veteran of the Vietnam war and who claims to be an avid hunter, you'd think Kerry would have a little more knowledge on a very popular rifle in our country, the AR-15.

Not to keep picking on the ill-preparedness of the man, but the prototypes for the AR-16 used magazines. Not clips. So, there's that.
It's just very frustrating that, like so many other democrats, he can go rile up a crowd saying whatever the hell he wants, whether it's accurate or not, but flip that script to republicans and heads will roll.
Names will be called.
Incompetency will be claimed.
Curse words will be tweeted.
Again, enter John Kerry.
Sunday, an NBC News analyst overheard Kerry on the phone in the lobby of the Renaissance Savery Hotel in Des Moines. The analyst reported hearing Kerry say:
"Maybe I'm fucking deluding myself here," and then listing the steps he would have to take to run for president. Keep in mind this is after the Biden campaign event where he announced support for the candidate.
Did you know that Law Enforcement Today has a private new home for those who support emergency responders and veterans? It's called LET Unity, and it's where we share the untold stories of those patriotic Americans. Every penny gets reinvested into giving these heroes a voice. Check it out today.
Kerry said to run, he'd have to step down from the Bank of America board, give up getting paid to make speeches (like for Biden?), and "raise a couple million, what with donors having "the reality of Bernie" gaining ground in the polls.
Kerry also mentioned the "possibility of Bernie Sanders taking down the Democratic Party — down whole."
A reporter asked Kerry about the phone call, to which he replied that he is "absolutely not" considering running for the 2020 democratic presidential candidate.
Rather than leaving it at that, and wanting to be sure to put any rumors to rest, Kerry took to twitter and emphasized rather harshly his position on the matter.
Kerry allegedly tweeted:
"As I told the reporter, I am absolutely not running for President. Any report otherwise is fucking (or categorically) false. I've been proud to campaign with my good friend Joe Biden, who is going to win the nomination, beat Trump, and make an outstanding president."
John Kerry, why'd you delete this tweet? pic.twitter.com/PUh0gku6eN

— Steve Guest (@SteveGuest) February 2, 2020
Well that settles it, I suppose.
Now we have no way of confirming independently whether this tweet was truly sent from Kerry, as it's since been deleted.
Some argue he didn't want to again "delude" himself, this time on the amount of heat he would take for dropping an f-bomb on Twitter. We do know the same words were then posted again later, minus the expletive.
Kerry did not deny any of the comments about Bernie Sanders.
Later, he told NBC news:
"This is a complete and total misinterpretation based on overhearing only one side of a phone conversation.
A friend who watches too much cable called me wondering whether I'd ever jump into the race late in the game if Democrats were choosing an unelectable nominee. I listed all the reasons I could not possibly do that and would not — and will not under any circumstances — do that."
Well maybe not now that his plan has been leaked.
I don't know who needs to hear this, but the lobby of the Renaissance Savery in Des Moines the day before the Iowa caucuses is *not* the place to have private conversations. This has been a public service announcement. https://t.co/E0Y7dqSFS0

— Brianne Pfannenstiel (@brianneDMR) February 2, 2020
A month ago, Kerry had told NBC in response to them asking whether he regretted not entering the presidential race:
"I'd be a liar if I didn't say I don't come out here and have fun and your juices don't get going," he said. "But right now, they're entirely focused on helping Joe Biden become president, and I'm very happy doing what I'm doing."
Interestingly, even mainstream media sources are reporting that Kerry even talking about entering the race points to democrats fearing that none of their current candidates would stand a chance against President Trump come November.
John Kerry apparently reconsidered his language. pic.twitter.com/ftXsjYJU9i

— Matt Viser (@mviser) February 2, 2020
Also interestingly, Kerry's comments, deleted or not, were made the day before the first 2020 caucus in Iowa, which may point to Kerry's real faith in his "good friend Joe Biden," and said good friend's ability to secure votes.
For John Kerry, I offer the same advice I give to my teenage son and his friends: Be careful what you do or say in the world of the internet- nothing is every really deleted.
Want to make sure you never miss a story from Law Enforcement Today? With so much "stuff" happening in the world on social media, it's easy for things to get lost.
Make sure you click "following" and then click "see first" so you don't miss a thing! (See image below.) Thanks for being a part of the LET family!