The following contains editorial content written by a retired Chief of Police and current staff writer for Law Enforcement Today. 
—
AUSTIN, TX- You had one job to do, Mr. Adler. One. And that did not include falling asleep.
Adler refers to Austin mayor Steve Adler, who on Monday appeared to fall asleep during a funeral for a fallen Austin police officer, Anthony "Tony" Martin, who was tragically killed in an automobile crash last month, Fox News reports.
According to Justin Berry, a member of the Texas Commission on Law Enforcement who also serves as a senior officer with the Austin Police Department, he looked at Adler and it appeared he was "nodding off" during the service for Martin, a suspicion which was later confirmed when he received a photo of Adler who indeed appeared to be asleep.
If you're going to defund and destroy a police department as their mayor then attend a highly respected officer's funeral, perhaps do not continue to disrespect that officer's family, friends, and other officers by falling asleep. pic.twitter.com/YDZglVzyIM

— Justin Berry (@realJustinBerry) October 3, 2022
"It's very disheartening to have the Mayor of the City of Austin—who was one of the ones that spearheaded all the defunding of [the] Austin Police Department by a third of our budget, who voted to take away officers' pay stipends back in 2017, which had a huge financial impact on our families—to go down a pathway that shows nothing but the utmost disrespect and contempt," Berry said to Fox News Digital.
After getting caught in his act of total disrespect, Adler offered a lame apology after Monday's funeral.
"I want to express my deepest apologies to the family of Officer Martin. Officer Martin died 10 days ago and will forever be honored as a hero. This moment should be about him and his family, including his two daughters  whose words today pierced my heart as a father," he told Fox News Digital in a statement.
"I hold Officer Martin in the highest regard. May his memory be a blessing to his family and to the city he served."
Adler famously during COVID ordered Austin citizens to remain home while he jet-setted off to Cabo in a private jet.
Tony Martin honorably served the Austin Police Department for sixteen years, joining the agency in 2006 after twenty years of service in the United States Air Force.
Martin was on his way home on Sept. 23 after working the night shift and was involved in a car crash, leaving behind his wife, three children, one granddaughter and both his parents. That crash remains under investigation.
During the ceremony, his daughter Ashley spoke of his father, calling him her inspiration.
"I have endless memories that I hold in my heart, but sadly that's all I have now," Ashley said of her dad. "My dad was always my hero, my protector and my inspiration. He was my fearless leader. No matter how scary the path was, I knew I could follow him."
With the realization it's an "obligation" for the mayor of a city to show up at the funeral of one of his officers, sometimes the gesture feels empty, and that is especially the case with Adler, who has had, to be mild, a contentious relationship with his police force during his eight years in office.
In August 2020, in response to the George Floyd overdose death and the subsequent riots which led liberal cities such as Austin to kowtow to the radicals and slash their budgets, Austin followed in kind, cutting its budget by about one-third.
One year later, the city council gave back about $133 million to the police department's budget because they were basically forced to do so, not out of their good graces. That was subsequent to a law passed by the Texas legislature which forced their hand.
In restoring those funds, the police department's budget soared to a record high $442.8 million. However under Adler's administration, police academy classes have either been canceled or delayed, even as a record number of sworn officers have chosen to either retire or quit outright.
The 2020 defunding is blamed for widespread morale issues, Fox News reports, many of them connected to officers being overworked as the department currently has some 250 vacancies as of the end of last  month.
"It was really a one-two punch, with COVID hitting in March of 2020 and then the George Floyd incident happening in May," Austin Police Chief Joseph Chacon said on Sept. 24 at the Texas Tribune Festival. "Between those two, I saw a record number of people resigning and retiring."
The issues in Austin are a microcosm of the same issues facing police departments across the country in liberal cities such as Portland, Oregon, Seattle, Washington, New York City, and Chicago, among numerous others.
The morale issues were reflected in a "Listening to the Workforce Study of city workers conducted in September, which found only 20% of police department employees responded their department was well managed, while only 11% believe that "change is managed well" in the city.
"We just had a massive survey done that showed how highly displeased officers are towards the city…and then, less than a week later, he does this stuff," Berry, who was one of 19 officers who were indicted earlier this year for having the audacity to break up a Black Lives Matter riot in 2020, said on Monday.
Meanwhile, Charley Wilkinson, executive director of the Combined Law Enforcement Associations of Texas, said Adler's actions at Officer Martin's funeral show "his contempt for officers working extra shifts, risking their lives to protect their community."
Cabo-California Dreaming during a hero's funeral. After DEfunding the police department, destroying the public's safety, the Reimagineer in Chief shows his contempt for officers working extra shifts, risking their lives to protect their community. The worst ATX Mayor of all time pic.twitter.com/zq1pd7lyCA

— Charley Wilkison (@charleywilkison) October 3, 2022
It is unclear if Wilkinson was alleging Officer Martin had been working an extra shift and was on his way home when he was killed.
As for yet another reason why Greg Abbott needs to be elected the next governor of Florida, we present the below reminder:
FLASHBACK
AUSTIN, TX – Texas Gov. Greg Abbott this week came to the defense of 19 Austin Police Department officers who have been indicted on charges of using excessive force during the George Floyd riots in May 2020.
In a statement suggesting the indictments are politically motivated at the hands of a radical, leftist district attorney, Abbott stated that Texas supports law officers and does not defund nor denigrate them. Abbott said:
"In Texas, we do not defund and denigrate our law enforcement officers. Instead, we support them for risking their own lives and safety to protect our communities from people who endanger and attack our communities."
In 2020, Texas experienced violent protests that wreaked havoc on communities throughout our state.

In Austin, many officers were physically attacked.

Those officers should be praised for their efforts, not prosecuted.

In Texas, we ALWAYS back the blue. pic.twitter.com/74t4YbSrTk

— Greg Abbott (@GregAbbott_TX) February 23, 2022
Abbott spoke of the riotous protests in the Texas state capital that were sparked by the death of George Floyd in Minneapolis:
"In 2020, Texas experienced violent protests that wreaked havoc on our cities. In Austin, law enforcement officers defended the state Capitol from criminal assault, protected the Austin Police Department headquarters from being overrun, cleared the interstate from being shut down, and disrupted criminal activity in areas across the city. Many officers were physically attacked while protecting Austin.
"Those officers should be praised for their efforts, not prosecuted. Time will tell whether the accusations against the courageous Austin police officers is a political sham. Time will also tell whether I, as Governor, must take action to exonerate any police officer unjustly prosecuted."
The Republican governor alluded to concerns that Travis County District Attorney José Garza, a Democrat who campaigned on a vow to prosecute police, is making good on his promise to criminally charge as many police officers as possible. Garza announced the indictments last week, saying:
"Our community is safer when our community trusts enforcement. When it believes law enforcement follows that and protects the people who live here."
The Greater Austin Crime Commission is calling on Travis County District Attorney Jose Garza to step aside and recuse himself from involvement in the indictment of 19 Austin Police Department officers for th… https://t.co/nISLX0o5UC

— SkyNet Platforms: #TheBrain (@SkyNetPlatform) February 23, 2022
A grand jury indicted each of the 19 unidentified Austin police officers on first degree felony charges that carry sentences of 5 to 99 years in prison.
The charges of excessive force likely stem from the use of less-lethal munitions used by APD during protests, during which dozens of protesters and more than a dozen officers sustained injuries. Several officers were struck by bottles, rocks, frozen water bottles and other improvised weapons.
Austin Police Chief Joseph Chacon, who was not chief during the Floyd protests, said that some of the beanbag rounds did not perform "in the manner anticipated" and the officers should not be held criminally liable for using equipment they were provided. Chacon said at a press conference to address the indictments:
"I am not aware of any conduct, that given the circumstances that the officers were working under, would rise to the level of a criminal violation by these officers."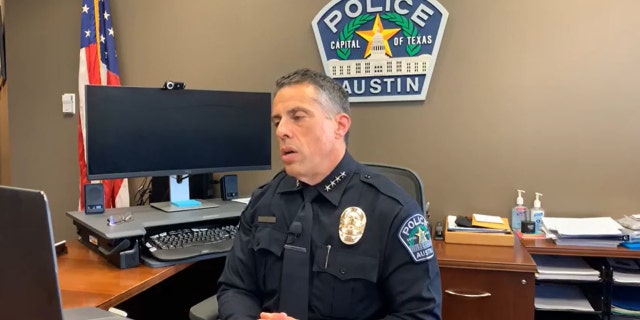 Attorneys for the officers have also claimed the beanbag rounds were defective. Attorney Doug O'Connell explained:
"The department issued these officers old and deteriorated beanbag rounds. So rather than coming out as a soft beanbag they came out as a hardened projectile…so you had rioters who were seriously injured by these beanbags. And it shouldn't have happened but it's not the officers' fault, it's management's fault."
The officers' names will not be released until they have been arrested, in accordance with Texas law. One of the indicted officers has come forward and revealed himself to be Justin Berry, who is a Republican candidate for Texas House District 19, west of Austin. He spoke with FOX News:
"This has nothing to do with justice, has nothing do with any wrongdoing. This is simply about politics and a political agenda that has taken place with these radical liberal district attorneys."
Berry said Garza was using the indictments to strip local law enforcement of the power to enforce the law. He said:
"If they can't defund us and get rid of us that way—now they're going to try and de-police us by sending us to prison and indicting us."
As riots escalate, Austin Police Department gets defunded by one-third of its budget
August 14, 2020
Austin, Texas – The city of Austin managed to "defund" the police, thanks to the Austin City Council. That cut into police funding is said to be one-third of the overall police budget for the city.
We did it!! Austin City Council just reduced APD's budget by over $100 million *and* reinvested resources into our community's safety and well-being. Tens of thousands of you have called, emailed, and testified. You made the impossible into a reality. #blacklivesmatter pic.twitter.com/trrYSDEOK6

— Greg Casar (@GregCasar) August 13, 2020
On August 13th, a unanimous vote by the City Council cut police funding by $150 million for the 2020-2021 fiscal year. This effort not only cuts funding overall, but certain divisions like Internal Affairs and the Forensics lab are going to become separate entities instead of falling under the Austin Police Department.
Some of the other funds removed from the APD are alleged to be heading toward things like social services and "alternative" public safety initiatives. Council member Greg Casar, who was instrumental in this effort coming to fruition, stated the following as the impetus for said action:
"This moment has been born out of a lot of hurt in the community. We know we have a long way to go."
After digging into the $434 million budget from the APD by one-third, the department budget is getting an immediate slashing of $21 million.
That will eliminate three police cadet classes that were planned this year.
Those funds that were immediately cut are going to go toward violence prevention programs, "food access" and abortions. Well, technically it's coined as "abortion access" but that literally means funding more abortions.
Senator Dawn Buckingham commented on the funding of abortions by way of slashed funding of the APD. Buckingham  explained that there's no rational connection between abortions and Austin becoming "safer" to live in:
"In what world would increasing access to killing unborn children make Austin a safer place to call home? Increasing access to abortion services will not help fix the fact that Austin had the largest increase of homicides of any large city in [the] nation."
Please see below for my statement on @austintexasgov's reckless proposal to cut @Austin_Police's budget by up to $150 million in order to fund abortions in the name of progressivism.I strongly urge they reconsider and focus on using our tax dollars to protect its citizens.#txlege pic.twitter.com/VmB6uGj1pG

— Dawn Buckingham (@DrBuckinghamTX) August 13, 2020
The City Council is also implying that there may not even be cadet classes for the police academy for the first quarter of 2021. If the cadet curriculum isn't revised and a "more appropriate recruitment program," isn't crafted, then the APD can likely forget about hiring new officers in the onset of next year.
Andy Tate, a city spokesperson, stated the following about the likelihood of cadet classes resuming in 2021:
"The possibility of holding a cadet class in FY21 is dependent on numerous factors and will be reassessed throughout the year."
Many people are not a fan of the move in Austin, including Texas Governor Greg Abbot. He stated on August 13th that this passing by the City Council showcases how political agendas are usurping overall public safety:
"Austin's decision puts the brave men and women of the Austin Police Department and their families at greater risk and paves the way for lawlessness. Public safety is job one, and Austin has abandoned that duty."
Texas Attorney General Ken Paxton also commented on the enormous cut to the APD budget, saying the following:
"Unfortunately, the targets of this 'cancelling' are the brave men and women who selflessly put their lives on the line to keep our families safe. The city council's action to slash funding disregards the safety of our capital city, its citizens, and the many guests who frequent it."
The Austin Police Association also chimed in on the defunding nonsense on Twitter, posting the following:
"The council's budget proposals continue to become more ridiculous and unsafe for Austinites. They are going to ignore the majority who do not want the police defunded. The community will need help @ the Capitol."
Thank you for supporting the Austin Police Department. The council's budget proposals continue to become more ridiculous and unsafe for Austinites. They are going to ignore the majority who do not want the police defunded. The community will need help @ the Capitol. @gacc97 https://t.co/mBhDZRmWxT

— Austin Police Association (@ATXPOA) August 13, 2020
Of all the places to have such a cut, which appears to be the largest cut proportionally within the nation, the last place anyone would expect that would be in Texas.
—
Want to make sure you never miss a story from Law Enforcement Today?  With so much "stuff" happening in the world on social media, it's easy for things to get lost.