WASHINGTON, DC- During a Supreme Court confirmation hearing Senator Amy Klobuchar claimed that President Trump "refused to condemn white supremacists." This statement is, of course, ridiculously false.
Klobuchar, a member of the Senate Judiciary Committee, gave a statement on Monday and repeatedly bashed President Trump in a long winded rant. The Minnesota senator used her speaking time to make multiple false claims against the president saying:
"We have a president who divides our country each and every day. He has called our military suckers and losers. He's refused to condemn white supremacists, and he has the gall to hold up a Bible as a prop in front of a church instead of heeding its words, to act justly."
The first allegation made by Klobuchar accuses the president of calling the US military "suckers and losers." This stems from a single piece by The Atlantic where four anonymous sources claim that the president called the Americans dead in a World War I military cemetery in Europe "suckers" and "losers."
Breitbart fact checked this claim in September and reported it as false. No other news outlet could confirm the allegations which effectively leaves it debunked.
Breitbart also reported that multiple officials, even critics of Trump, have denied the accusation:
"More a dozen current and former Trump administration officials have publicly and demonstratively denied the claims in the Atlantic article — including former National Security Adviser John Bolton, who has become a Trump critic."
The senator's second accusation is both egregious and false as President Trump has condemned white supremacy multiple times. ABC News previously fact checked this claim in September and found no merit to it.
ABC News uses two examples of President Trump condemning white supremacy with the first being in 2017. Following violent clashes between white supremacists and protestors in Charlottesville, Virginia, the president stated:
"Racism is evil and those who cause violence in its name are criminals and thugs, including the KKK, neo-Nazis, white supremacists, and other hate groups."
ABC News also reported that only a month after his comments in Charlottesville, the president signed a congressional resolution condemning white supremacy.
Then, the fact checking piece also brings up the 2019 El Paso and Dayton shootings when the president stated:
"In one voice, our nation must condemn racism, bigotry and white supremacy."
He continued:
"These sinister ideologies must be defeated. Hate has no place in America. Hatred warps the mind, ravages the heart, and devours the soul," he added.
Despite President Trump denouncing and condemning white supremacy multiple times during public speaking events, Klobuchar pretends that he "refuses" to. The president even said that he was prepared to condemn white supremacy when asked during the first presidential debate.
Debate moderator Chris Wallace asked President Trump:
"But are you willing tonight to condemn white supremacists and militia group and to say that they need to stand down and not add to the violence in a number of these cities as we saw in Kenosha and as we've seen in Portland?"
The president then responded with:
"Sure, I'm prepared to do it."
The last allegation made by Klobuchar accuses the president of using the Bible as a "prop". This claim is made in poor taste as President Trump chose to walk to St. John's Episcopal Church after it was almost burnt down by Black Lives Matter protestors. The Minnesota senator conveniently left out the reasoning for President Trump's trip to the church and the devastation caused by rioters.
Klobuchar went on to claim:
"We are dealing with a president who doesn't think truth matters."
Oddly enough, it seems that she is the one with no regard toward the truth.
Watch Klobuchar's full speech here:
Do you want to join our private family of first responders and supporters? Get unprecedented access to some of the most powerful stories that the media refuses to show you. Proceeds get reinvested into having active, retired and wounded officers, their families and supporters tell more of these stories. Click to check it out.

Here's another recently published article by LET:
SALT LAKE CITY, UT– At the Vice Presidential debate on October 7th, Vice President Mike Pence claimed that President Donald Trump condemned the neo-Nazis and white supremacists in Charlottesville, which has been proven to be true.
It was clear at the debate that Harris' intention was to try to defame the president every chance she could.
First, Harris brought up the false claim that President Trump failed to condemn white supremacists on the debate stage, and then went on to bring up the false claim that Trump called neo-Nazis in the 2017 Charlottesville riots "very fine people."
Harris said:
"Last week, the President of the United States took a debate stage in front of 70 million Americans and refused to condemn white supremacists [sic]."
Harris then attempted to make President Trump look like a white supremacism who fully supports The Proud Boys, when in fact, his response was "stand back and stand by."
Harris then recited the hoax, saying:
"He called Mexicans "rapists" and "criminals" [sic]. He instituted, as his first act, a "Muslim ban" [sic]. He — on the issue of Charlottesville, where people were peacefully protesting [sic] the need for racial justice, where a young woman* was killed, and on the other side, there were neo-Nazis, carrying tiki torches, shouting racial epithets, anti-Semitic slurs, and Donald Trump, when asked about it, said: "There were fine people on both sides."
This is who we have as the President of the United States — and America, you deserve better.
Joe Biden will be a president who brings our country together and recognizes the beauty in our diversity, and the fact that we have so much more in common than what separates us."
When Susan Page of USA Today, gave Pence a chance to reply, he said:
"You know, I think this is one of the things that makes people dislike the media so much in this country, Susan, is that you selectively edit — just like Senator Harris did — the comments that President Trump and I and others on our side of the aisle make.
I mean — Senator Harris conveniently omitted, after the president made comments about people on either side of the debate over monuments, he condemned the KKK, neo-Nazis, and white supremacists, and has done so repeatedly.
You're concerned that he "doesn't condemn neo-Nazis"? President Trump has Jewish grandchildren! His daughter and son-in-law are Jewish. This is a president who respects and cherishes all of the American people."
President Trump said the neo-Nazis and white supremacists in Charlottesville should be "condemned totally", which makes Mike Pence 100% correct.
As Breitbart News has noted in numerous fact checks:
President Trump repeatedly condemned the neo-Nazis in Charlottesville in August 2017 — "totally."
Moreover, the neo-Nazis were not the only violent group in Charlottesville. The "clash" was not with those "standing against" hate peacefully, but with violent, black-clad Antifa extremists.
As to "very fine people," Trump had been referring to peaceful protests both for and against the removal of a statue of Confederate General Robert E. Lee.
He completely condemned the extremists — as the timeline and transcript confirm:
Aug. 12, 2017: Trump condemned "violence "on many sides" in Charlottesville, after neo-Nazi and Antifa clashes
Aug. 14, 2017: Trump condemned "neo-Nazis, white supremacists, and other hate groups" in White House statement
Aug. 15, 2017: Trump condemned neo-Nazis "totally," praised non-violent protesters "on both sides" of statue debate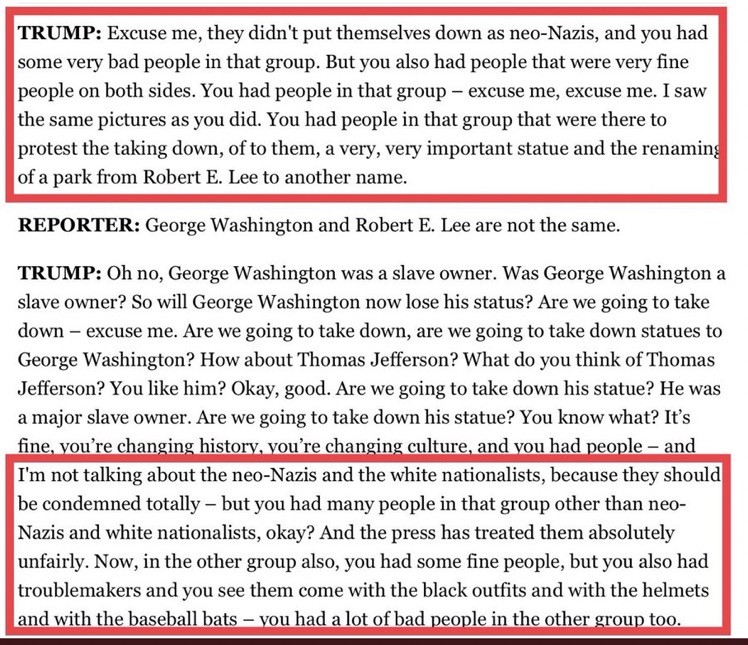 At the presidential debate on September 29th, Joe Biden again brought up the "very fine people" hoax, at which point President Trump attempted to respond, but did not have a chance to refute it fully.
—
Want to make sure you never miss a story from Law Enforcement Today? With so much "stuff" happening in the world on social media, it's easy for things to get lost.
Make sure you click "following" and then click "see first" so you don't miss a thing! (See image below.) Thanks for being a part of the LET family!