HARRIS COUNTY, TX – Police say 50-year-old Melvin Cross Jr. choked his girlfriend and stopped her circulation.
Yet he was quickly set free on a bond of $2.00.
Cross has an extensive criminal record that includes a murder conviction from 2001.
Records show the man's lengthy criminal history of assault dates back to 2009, as well as a murder conviction in Dallas County in 2001. https://t.co/gUfpCjrLCJ

— ABC13 Houston (@abc13houston) May 18, 2022
According to the bail order set by judge Ana Martinez who freed Cross:
"The reason he is out on such a low bond is that the state did not indict the case within 90 days."
Texas law states that if prosecutors are not prepared for a trial within 90 days, then the bond with someone who is charged with a felony must be lowered.
ABC 13 asked the Harris County District Attorney's Office why it took so long to try the case.
They did not provide a response but stated:

"We appreciate the hard work of grand jurors who indicted this defendant as soon as they could.
He is currently indicted for two felonies and faces trial in June.
Prior to him being released, he was required to be outfitted with a GPS monitor that tracks his location 24/7.
If prosecutors learn of him violating any of the several conditions of release, they will ask the court to have his bond revoked.
If fails to appear in court, they will ask that his bond be forfeited.
The entire criminal justice system remains under tremendous strain due to the building setbacks of the pandemic and, prior to that, Harvey.
There are now more pending criminal cases than ever before in the history of our county."
Seattle judge sets unbelievably low bail after drive-by shooting where officer was ambushed
RENTON, WA – A King County District Judge is under fire for setting shockingly low bail for two men arrested for ambushing a Renton officer during a drive-by shooting.
According to police documents, Frankie Taijon Robertson,24, is accused of firing 15 rounds at a Renton police officer as she waited at a stop light after pulling out of a car wash.
Lamonta Joseph Steward, 23, was allegedly driving the vehicle Robertson fired from in what police call a targeted shooting.
The veteran officer, whose name has not been released, had just driven out of the car wash and was waiting to turn left from Talbot Road South onto South Grady Way at about 4:50 p.m. Tuesday when shots were fired from a nearby gas station.
Detective Robert Onishi told the media that the officer ducked down in the patrol car and radioed for backup. A witness pointed out the suspects' red Kia fleeing from a Chevron gas station to responding officers.
Multiple officers arrived quickly to the scene because of an unrelated incident at City Hall and were able to stop the Kia after a brief pursuit.
The ambush was caught on surveillance video. Detectives said the video clearly shows the shooter firing at the officer.
No one was injured in the shooting, though one vehicle parked at the gas station was struck by gunfire and one witness was treated for a panic attack, Onishi said.
Prosecutors asked the judge for $1 million bail for Robertson and $250,000 for Steward. Despite finding probable cause for the arrests, King County District Judge pro tem David O set the bail at only $50,000 each.
King County Prosecutor's Office spokesperson Casey McNerthney called the low bail "inappropriate":
"At Mr. Robertson's first appearance, we asked the first appearance judge to set bail at $1 million.
"We believe that the bail set Thursday afternoon by a District Court judge ($50,000) was not appropriate given Mr. Robertson's dangerous actions posed to multiple people."
At a charging hearing in front of a separate judge, Robertson's bail was increased to $500,000, but Steward's bail remained the same.
The Washington Fraternal Order of Police, which represents over 2,500 law enforcement officers in the state, condemned the shooting and was upset by Judge O's for setting such low bail for an unprovoked and violent attack on a police officer.
WAFOP President Marco Monteblanco said:
"This is a vicious, unprovoked attack on a police officer by suspects who have a history of violence against law enforcement. Low bail for such an egregious act sends the wrong message and undermines the safety and good work of peace officers in the community.
"We are seeing more and more of these ambush-style attacks on peace officers and a low bail would have suggested there are minimal consequences for these actions. We cannot let these actions go unchecked."
Monteblanco said that attacks on police officers like this one are clearly intended to kill, and the justice system should respond appropriately:
"Frankly, we'd still like to see higher bail for both suspects given the circumstances of this act."
Several King County judges who tend to offer lighter sentences once worked as defense attorneys, however, they are supposed to leave biases outside the courtroom. Judge O, who is a Judge pro tem meaning he only serves on the bench part time, currently works as a defense attorney.
Contacted by local media seeking comment on this bail, Judge O failed to return a call.
Renton Police Chief Jon Schuldt released a statement saying the defendants should be treated fairly, but should have been given appropriate bail:
"They do deserve their due justice afforded them by our just system, but a high bail ensures that they would stay incarcerated pending that process. Both, through their actions, have clearly demonstrated a disregard or concern for the rights and safety of others."
Both suspects are still in custody as of this writing.
King County prosecutors charged Robinson Friday with felony charges of drive-by shooting, assault with a firearm and unlawful gun possession.
Steward was charged with rendering criminal assistance in the second degree and attempting to elude a pursuing police vehicle.
Making the low bail even more shocking is that Robertson is also a suspect in the shooting of another police officer in  March.
According to a probable cause statement filed by Renton police, Robertson is suspected of shooting at a Washington State Patrol trooper in March.
Trooper Rick Johnson, a patrol spokesman, said Friday that the shooting occurred on the northbound Interstate 5 ramp onto Interstate 405; the trooper's vehicle was not hit.
The shooter's hat fell out of the vehicle during the incident, and police said Robertson's DNA was found on it.
Do you want to join our private family of first responders and supporters?  Get unprecedented access to some of the most powerful stories that the media refuses to show you.  Proceeds get reinvested into having active, retired and wounded officers, their families and supporters tell more of these stories.  Click to check it out.
"Gun-controlled" Chicago: Man released on ridiculously low bail for felony gun charged arrested – for murder
CHICAGO, IL – Authorities were said to have arrested a purported gang member in late March for his alleged participation in the murder of a rival gang member back in July of 2020.
According to reports, the alleged murderer was out on bail at the time of the killing after having posted a $200 bond to get out of jail on a felony gun charge.
According to Chicago Police and prosecutors, 23-year-old Shevell Wilson was arrested on March 23rd after he was named as one of three gunmen who killed 25-year-old Anji Webster in the 3400 block of West Ohio on July 18th, 2020.
Assistant State's Attorney James Murphy alleged that Wilson and two accomplices, who are purportedly Conservative Vice Lord street gang members, targeted Webster, an alleged member of the rival gang the Traveling Vice Lords, to avenge the death of another CVL member.
According to ASA Murphy, surveillance video shows Webster standing on the corner of Ohio and St. Louis after having left a dice game, when a red Pontiac Grand Prix pulled up into a nearby alley.
Three men reportedly emerged from the vehicle, walked up to Webster, and fired off 15 shots, killing him.
After that, the three assailants raced away in the Grand Prix.
Wilson posted a video of himself at a party with his hair in dreads that hung to his mid-back, wearing a big white belt; blue, black, and white Nike Air Jordan 1 Retro High OG Royal Toe shoes; and a pair of dark jeans with whitewashing from the thighs that hung low enough to reveal blue underwear, less than 12 hours before the murder, according to ASA Murphy.
ASA Murphy told Judge Mary Marubio that one of the killers who was seen on surveillance footage had dreadlocks to his mid-back, wore the same exact clothing, down to the color the underwear seen on both the surveillance footage and the social media posting prior to the murder.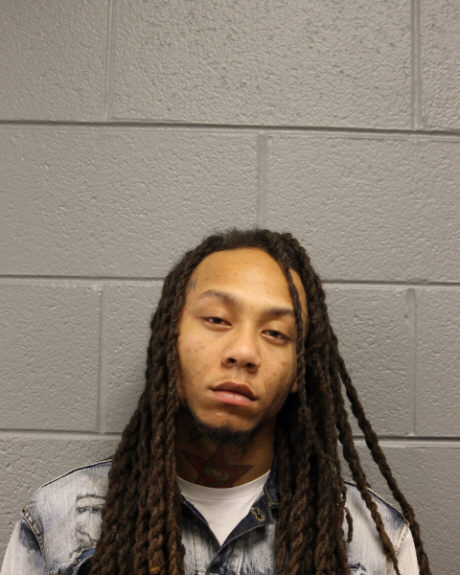 Wilson and his two accomplices allegedly had a succession of text and social media conversations before and after the murder in which they reportedly discussed aspects related to the murder, the motivations of it, swapping of firearms, and alleged intentions to carry out additional murders of gang rivals.
Wilson was within a mile of the murder scene before and after the killing, according to phone records, but his phone did not ping for roughly an hour within the timeframe of the murder due to the phone having been reportedly shut off during that brief period.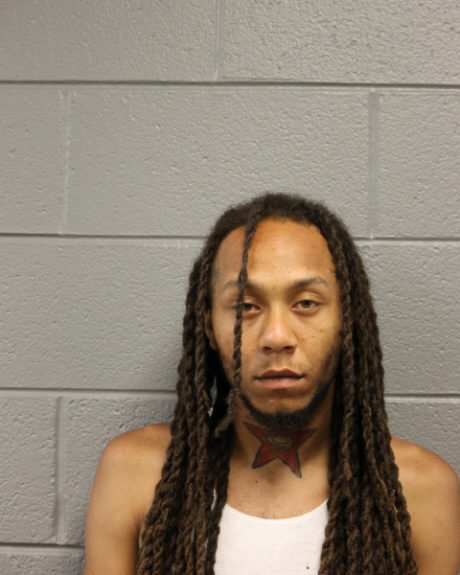 ASA Murphy also pointed out that Wilson has juvenile convictions for unlawful gun possession and theft.
As previously stated, Wilson was out of jail on bond at the time of the murder, having posted $200 on a felony charge of unlawful use of a weapon.
These charges stem from a traffic stop that occurred in June of 2019 when officers allegedly discovered a loaded weapon with an extended magazine under the driver's seat of a car Wilson was driving at the time of the stop.
To make matters worse, Wilson was arrested an additional three times after having posted bond for his June 14th, 2019 arrest.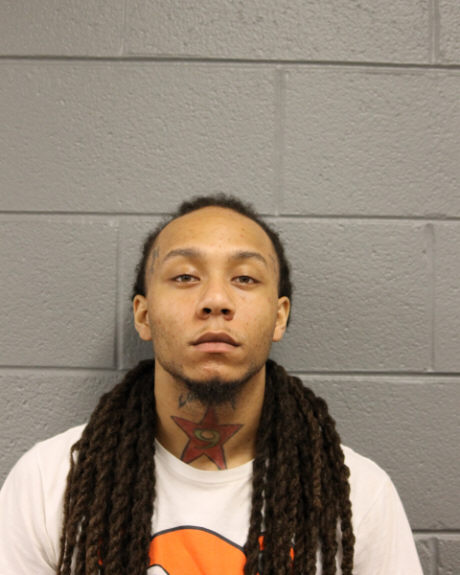 On July 3rd, 2019, Wilson was arrested for possession of barbiturates; on January 1st, 2020, Wilson was arrested for possession of a controlled substance; and four days after the alleged murder – Wilson was arrested on July 22nd, 2020, for criminal trespassing.
After taking all said information into consideration, to include a newly attained first-degree murder charge, Judge Marubio ordered that Wilson be held without bond while he awaits trial, specifically noting that "the nature of this offense indicates to me that additional murders were being planned."
Do you want to join our private family of first responders and supporters?  Get unprecedented access to some of the most powerful stories that the media refuses to show you.  Proceeds get reinvested into having active, retired and wounded officers, their families and supporters tell more of these stories.  Click to check it out.
Earlier in March, Law Enforcement Today reported on another case where a suspect reportedly committed additional offenses while out on multiple bonds in Texas.
Here's that previous report.
_
HOUSTON, TX – A 19-year-old suspect who was out of jail on 11 different bonds was alleged to have committed a string of armed robberies earlier in March while released.
With the suspect in custody, the issue at hand once again brings scrutiny to the practice of judges affording bond on new charges, when suspects are re-arrested while out on previous bonds.
Andy Kahan from Crime Stoppers described the case of 19-year-old Jose Perez as one he has "never seen" with regard to a suspect being re-arrested while out on 11 different bonds from other cases.
Kahan said:
"I have never ever seen since Jose Perez came along, someone with double digit bonds and that's 11."
Harris County 230th Criminal District Court Judge, Chris Morton, is reportedly the judge responsible for seeing Perez being afforded bond on his previous cases, before allegedly going on an armed robbery spree between March 2nd and 3rd.
The teenage suspect had allegedly knocked off three establishments at gunpoint point; which police say were a Circle K at 5091 FM 2351, a Chevron at 5450 FM 2351, and a Cindies Novelties Store at 18201 Gulf Freeway.
Houston Police Chief Art Acevedo rhetorically asked the following about the matter:
"Why is a person on 11 bonds going around robbing people?"
Kahan is also rightfully confused as to why a judge would even consider affording someone bond for an eleventh time, when the previous ten instances were obviously not effective.
He said:
"You would think that the court would say you know what Mr. Perez, this bond thing just ain't working."
While there are no reports of anyone being harmed in the cases related to Perez, the same cannot be said about a man whose bond was reinstated and then later arrested for a double homicide.
Back in July of 2020, 35-year-old Derrick Hayes reportedly had several bonds revoked after acquiring new criminal charges.
Yet – for reasons unknown – Hayes' bond was reinstated in November of 2020 and he was able to walk free from jail.
From what Kahan says, that jail release resulted in the lives of a child and a grandmother being taken.
Kahan said:
"That decision cost a grandmother and a 15-year-old boy their lives, no if, ands, or buts."
On March 2nd, Hayes was charged with the murders of 71-year-old Carmen Hayes and 15-year-old Alexander Bryce. According to reports, their deaths mark the 98th and 99th Harris County locals allegedly murdered by a suspect freed from jail on several bonds.
Chief Acevedo said it's a case that, "we should all be outraged about."
The HPD chief likens the practice of judges simply affording defendants bail after acquiring new charges while on previous bonds as being tantamount to "not caring about victims".
The Chief said:
"We now have members of the judiciary who absolutely are not caring about victims, aren't caring about speedy trials, aren't caring about justice.
"I'm not sure what they are caring about, because what they're doing is getting people killed and people victimized, and that's something we should all be concerned about."
—
Want to make sure you never miss a story from Law Enforcement Today? With so much "stuff" happening in the world on social media, it's easy for things to get lost.
Make sure you click "following" and then click "see first" so you don't miss a thing! (See image below.) Thanks for being a part of the LET family!