Editor Note: This story has just been updated on the suspect's capture. Details can be found here.
—
HAGERSTOWN, MD – He's wanted for multiple murders – and now police say he's believed to be in Maryland.
A massive mahunt has been underway for days for college student Peter Manfredonia.
WTTG reports he was first seen at a Sheetz in Chambersburg, Pennsylvania, and that a stolen Hyundai SUV that he was believed to be driving with the suspect was found nearby.
From there, he's believed to have taken an Uber to Hagerstown, Maryland.
On Tuesday, the Connecticut State Police held a press conference, urging him to surrender.
"We know this is not who you are," CSP Lieutenant John Aiello said. "Peter, we've talked to your family. We've talked to your friends and your roommates. All of them have said the same thing, that this behavior is out of the ordinary for you."
He said police are "ready to listen".
"We want you to be able to tell your story," Lt. Aiello added. "We are here to listen to you. Your parents, your friends, all of us back here in Connecticut want a peaceful end to this."
***WILLINGTON HOMICIDE UPDATE*** Looking for a stolen Black Hyundai Santa Fe, PA reg KYW-1650, NOT CONFIRMED that it's the suspect, but was stolen from the area he was last seen. DO NOT APPROACH, call 911 immediately https://t.co/0itfcvjEdF

— CT State Police (@CT_STATE_POLICE) May 26, 2020
MONROE COUNTY, PA – Pennsylvania State Police have released an image of who they believe is suspected killer Peter Manfredonia in East Stroudsburg.
🚨UPDATE🚨

SUSPECT was last seen yesterday (Sunday) afternoon in East Stroudsburg, Monroe County, PA. Description:
White Male, 23 years old, dark colored shorts, white t-shirt & carrying a large duffel bag.
If seen, DO NOT APPROACH, ARMED & DANGEROUS ➡️ CALL 911 IMMEDIATELY!
⤵️ pic.twitter.com/uuj3vTYBIB

— Trooper Petroski (@PSPTroopNPIO) May 25, 2020
There's a massive hunt underway for the 23-year-old college student, who is accused of murdering two people in three days in Connecticut before running from the state and being tracked to Monroe County.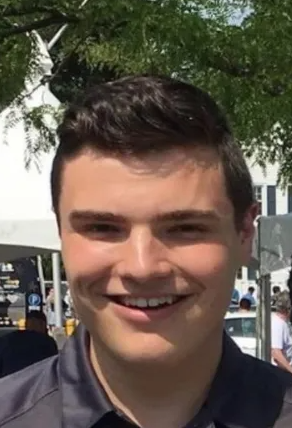 According to state police, the picture was taken along a stretch of railroad in the borough.
Monday afternoon, state police deployed its SERT team on the ground and worked with Stroud Area Regional Police to try and found him.
They were supported in their efforts by a police helicopter from Harrisburg, which allowed troopers to search by air.
Police believe the suspect is now in this Monroe County community.
Manfredonia is a senior at University of Connecticut and was reportedly last seen in East Stroudsburg, Monroe County wearing dark colored shorts, a white t-shirt, and carrying a large duffel bag. He's a white male and 6'3″ and 240 pounds.
The FBI & our law enforcement partners are working to locate Peter Manfredonia, wanted by @CT_STATE_POLICE, whose last known location was in #EastStroudsburg, Monroe County. Manfredonia is considered armed & dangerous. Anyone with info, please call 911 or FBI/215-418-4000 ASAP. pic.twitter.com/59NXin16TO

— FBI Philadelphia (@FBIPhiladelphia) May 25, 2020
They've issued an urgent warning to the public not to approach him, as he's considered armed and dangerous.
Also on Monday, police say his kidnapping victim was found uninjured in Patterson, New Jersey.
They told local media outlets that this person was in the home in Connecticut where a man was found dead.
Officers said they were notified that the victim had been found while they were trying to find the person and were putting together a Silver Alert. That victim has since been brought back to Connecticut and has positively identified their captor as Manfredonia.
Here's the back story, which police say started on Friday.
Neighbors from the original scene in Willington, Connecticut Manfredonia rode up to a house by motorcycle and asked two men for help.
They said he then violently attacked them with a machete., cutting off one man's arm, killing him, and leaving the other brutally maimed.
Reports from law enforcement Sunday morning indicate he then held a man against his will in Willington, Connecticut before making off with firearms and the victim's truck.
The truck was found near Osbornedale State Park. Police said they learned Manfredonia had an acquaintance nearby, and when they arrived, they instead found another dead body.
Police say that the body was that of Nicholas Eisele, also 23 years old. At that time, police said Nicholas' girlfriend was taken by Manfredonia against her will and later confirmed that she was found unharmed in Patterson, NJ.
Officers said Manfredonia had then stolen another car, which was found in New Jersey along the Pennsylvania state border Sunday.
That's what lead to the search still ongoing in Monroe County.
"All of our law enforcement partners are actively and continuously searching for this suspect. We know that he is armed and dangerous. If anybody has any information or if they see this individual, please do not approach him and call 911," Connecticut State Police Trooper Christine Jeltema said.
Police said they "can't stress enough that Manfredonia is considered armed and extremely dangerous".
Connecticut Police said that a lot of misinformation is being posted on social media and they are vetting it to make sure all available information is current and correct – which is understandable considering conflicting media reports, such as this one below.
Local news station WFSB reported:
"A neighbor of Eisele says he heard a fight early Sunday morning.
"'I heard a loud bang, I heard a loud scream, and then I heard two people arguing, I couldn't really decipher what it was,' said Jesse, a neighbor.
"Jesse said he heard the argument between 5 a.m. and 6 a.m.
"'When I heard the fighting and stuff going on, I didn't call [the police]. I heard everything upstairs, but I thought it was a young couple arguing, they argued before. To me it felt normal,' Jesse said."
The murdered man was identified as Tom DeMers. His wife, Cynthia DeMers, said that Tom and their elderly neighbor offered Manfredonia a ride to his motorcycle after seeing him walking on the road.
Cynthia said:
"It could have been anybody who offered him a ride. It could have been any of my neighbors' husbands. It just happened to be mine."
Manfredonia held Tom against his will from Friday until early Sunday morning, when he allegedly killed Tom, stole four guns, and took his truck and fled.
The suspect crashed the truck near Osbornedale State Park. Police discovered the crash and the empty truck around 6:45am Sunday. At this time the police discovered Manfredonia's acquaintance with Eisele in near by Derby, as both men are from Newton originally. They went to the home and located Eisele deceased.The suspect was not living on the University campus and was not taking summer courses.
The Hartford Courant reported:
"Manfredonia's LinkedIn account says he worked as a financial operations analyst and currently as a marketing coordinator for a nonprofit organization, raising money for Special Olympics and state law enforcement."
Just last week in Baton Rouge, Louisiana another manhunt came to a deadly ending.
What started as an attempted early morning traffic stop on May 17th escalated into a deputy being shot and a manhunt transpiring into a wooded area.
Authorities search for suspect who allegedly shot deputy during traffic stop in Baton Rouge – NBC News https://t.co/w4qWTRHGfa via @GoogleNews

— Gerald R. Laudermilk (@Rich_Laudermilk) May 18, 2020
Sources from the East Baton Rouge Parish Sheriff's Office are now saying that the hunt for the suspect ended with him being shot and killed during a confrontation with law enforcement after hours of searching.
The chain of events began when an EBRSO deputy had pulled over 39-year-old Bernard Ledlow at approximately 7:00 a.m. on May 17th around Pecue Lane and Airline Highway.
According to officials, the deputy attempted to pull the driver over as the deputy suspected Ledlow to be nodding off while driving.
Instead of pulling over, it was reported that the suspect lead police on a chase for several miles.
The chase abruptly ended after Ledlow was said to have crashed his SUV near Kendalwood and Hoo Shoo Too roads. From there, the suspect allegedly fired a rifle from his rear windshield towards deputies engaging, causing one of the deputies to be grazed by a bullet on his leg.
JUST IN: Name of man killed after shooting EBRSO deputy released https://t.co/GFj3fBKcs1

— WAFB (@WAFB) May 17, 2020
After firing his rifle, it was said that Ledlow fled from his crashed vehicle and ran off into the woods nearby.
A perimeter was established around the woods that rests nearby the Amite River, with several law enforcement agencies lending resources to aid in the search. This resulted in the likes of K9s and helicopters being deployed to expedite the capture of the suspect.
UPDATE: A man suspected of shooting a deputy during a routine traffic stop in Louisiana on Sunday was killed after a six-hour manhunt, authorities say. https://t.co/IiHPRUcE5g

— NBC News (@NBCNews) May 18, 2020
After roughly a six-hour search, a confrontation occurred between Ledlow and law enforcement that resulted in him being shot dead.
Sheriff Sid Gautreaux from the EBRSO didn't go into great detail regarding what exactly transpired during said confrontation, aside from noting that the suspect was killed by law enforcement.
A spokesperson from the sheriff's office, Casey Rayborn Hicks, stated that the deputy wasn't gravely injured and it was reported that he was released from the hospital shortly after receiving treatment.
As for the deceased suspect, reports have surfaced that he just recently served a 17-year prison sentence, and was just released in January of 2020. His prison term stemmed from a 2003 conviction related to possessing a gun with a shaved serial number and also the sale of narcotics.
https://twitter.com/lawn_sid/status/1262389536778313730
In addition to Ledlow's near-two-decade federal prison stint, he also reportedly racked up 13 various arrests prior to his convictions in 2003.
Things could have gone far worse for the deputy who was shot. We at Law Enforcement Today are glad to hear that he wasn't seriously injured during this attempted traffic stop gone terribly awry.
Last month in Louisiana, we reported on a stand-off with an armed suspect which resulted in an officer being shot. Thankfully, in that instance, the officer managed to survive the encounter as well.
LET has a private home for those who support emergency responders and vets called LET Unity. We reinvest the proceeds into sharing their untold stories. Click to check it out.
Police officials in Louisiana say that an officer was shot on April 6th and is was hospitalized as a result. From what officials say, the suspected shooter, who is in custody, is a 65-year-old man.
Officers arrested 65-year-old William C. Torrans minutes shy from 4:00 p.m. on April 6th after the armed suspect reportedly fired at police officers, who had been responding to a shots fired called. According to police, the entire standoff with Torrans all stemmed from his frustration with noisy groundskeepers at his apartment complex.
William Torrans – Shreveport Police Department
BREAKING NEWS: I am on the scene where a @ShreveportPD officer has been shot. Sources tell me the officer was serving a warrant when hit, but the officer's bullet proof vest may have prevented more serious injuries. According to my sources the officer is at a local hospital. pic.twitter.com/00XGwH6JV6

— Stacey Cameron (@StaceyTVJourno) April 6, 2020
The original call came in at around 11:40 a.m. on April 6th, when officers were alerted of a man shooting at individuals performing lawn maintenance at the Residences of SpringRidge apartments in Shreveport.
Torrans had allegedly became frustrated as workers were mowing the grass and edging, and started to shoot toward the workers performing the maintenance.
Investigators remain on the scene at Residences of Springridge in the 3200 block West Bert Kouns Industrial Loop. This story will be updated. https://t.co/3XAEA3fAIe

— The Shreveport Times (@shreveporttimes) April 6, 2020
When police arrived on the scene, the suspect's aggression turned to the first responders.
While gunfire was aimed toward responding officers on the scene, police Cpl. Angie Willhite stated that one officer was struck in the fray:
"He was struck in the chest area. He was wearing his vest. It actually traveled into his body very close to his vest."
Reports state that the officer is expected to fully recover. Cpl. Marcus Hines described the injured officer as a veteran with the department, with recent reports identifying the officer shot as Cpl. Robert Brice.
Shreveport Police investigators have charged 65-year-old William Torrans in a shooting which sent a veteran Shreveport Police officer to the hospital Monday morning. https://t.co/So3rCICbkj

— The Shreveport Times (@shreveporttimes) April 7, 2020
Torrans is now facing charges of attempted first-degree murder and aggravated assault with a firearm.
The latest updates on Cpl. Brice stated that his injuries were only minor, despite being shot. He has since been released from the hospital and is on the mend.
Now that is one tough police officer.
We at Law Enforcement Today would like to wish Cpl. Brice a speedy recovery and are thankful matters didn't turn out worse for all involved.
_
Want to make sure you never miss a story from Law Enforcement Today? With so much "stuff" happening in the world on social media, it's easy for things to get lost.
Make sure you click "following" and then click "see first" so you don't miss a thing! (See image below.) Thanks for being a part of the LET family!