ILLINOIS- With carjackings on the rise in Chicago and in other parts of the state, a South Side Democratic state representative has introduced a bill that would ban the sale of Grand Theft Auto and other violent video games.
Illinois Lawmaker Introduces Bill to Ban 'All Violent Video Games' https://t.co/F3Wnfbf7QU via @BreitbartNews

— bhappyil (@bhappyil) February 24, 2021
Democrat state Rep. Marcus Evans introduced bill HB3531, which aims to amend an Illinois law preventing violent video games from being sold to children, to an all-out ban on the sale of all "violent video games" to anyone at any age.
During a press conference on Monday, February 22nd, Evans mentioned Grand Theft Auto by name and put into his own words what he believes to be an example of a violent video game.
He said:
"A video game that allows a user or player to control a character within the video game that is encouraged to perpetuate human-on-human violence in which the player kills or otherwise causes serious physical or psychological harm to another human or an animal."
He added:
"The bill would prohibit the sale of some of these games that promote the activities that we're suffering from in our communities."
Evans continued:
"Grand Theft Auto and other violent video games are getting in the minds of our young people and perpetuating the normalcy of carjacking. Carjacking is not normal and carjacking must stop."
Insanity Wrap #153: Massive Increase in Carjackings Forces Chicago to… Ban a Videogame? https://t.co/jlwhL2JCsP // Wow! Great a idea!!

— Uncle Stevie 🇺🇸🇮🇱 (@stevietheuncle) February 24, 2021
Evans also insisted that games like Grand Theft Auto promote behavior similar to that which has been seen prominently in Chicago. Reportedly, in January, Evans was contacted by Early Walker, who started Operation Safe Pump to prevent carjacking's at gas stations and shopping centers.
Walker said he reached out to several state legislators to ban the video game after noticing similarities in local incidents of carjacking's and actions players can make in the video game.
He said:
"I feel like this game has become a huge issue in this spectrum. When you compare the two, you see harsh similarities as it relates to these carjacking's."
According to authorities, CPD officers responded to 218 carjacking's in January. Carjacking's in the city doubled in 2020 compared to previous years and juveniles, some of them as young as 11, have found themselves behind bars for felony crimes.
Illinois Rep. Is Proposing A "Grand Theft Auto Ban" Because Apparently A Video Game Is The Cause Of The Huge Spike In Carjackings In Chicago https://t.co/C9EQwUpfV2

— Barstool Chicago (@barstoolchicago) February 24, 2021
NBC's local affiliate in Chicago said that the city will see an estimated 1,800 plus car burglaries in 2021. Additionally, more than 40 law enforcement officers have been assigned to task forces aimed at curbing the theft.
More than 1,400 carjackings were reported across Chicago in all of 2020, more than double the amount in 2019 and the highest since 2001. Cook County State's Attorney Kim Foxx said earlier in the months:
"If you've got a 12-year-old or 11-year-old or 14-year-old engaging in this behavior, there is something wrong."
In a statement to IGN, the Electronic Software Association (ESA) disagreed with the proposed bill, saying:
"While our industry understands and shares the concerns about what has been happening in Chicago, there simply is no evidence of a link between interactive entertainment and real-world violence."
The statement added:
"We believe the solution to this complex problem resides in examining thoroughly the actual factors that drive such behaviors rather than erroneously ascribing blame to video games based solely upon speculation."
Chicago Faces 135% Increase In Carjackings… So Dem Lawmakers Plan To Ban "Grand Theft Auto"https://t.co/lhTdD1vlAh

— RSAN (@rsan37) February 24, 2021
The bill has yet to be voted on, but Chicago already imposes a $1,000 fine on retailers who are caught selling violent video games to anyone under the age of 18. On Monday, February 22nd, the bill was read and referred to the House Rules Committee.
Do you want to join our private family of first responders and supporters? Get unprecedented access to some of the most powerful stories that the media refuses to show you. Proceeds get reinvested into having active, retired and wounded officers, their families and supporters tell more of these stories. Click to check it out.
Chicago man out on bond for armed carjacking, firing 'at least 14 shots' arrested again on weapons charges
February 11th, 2021
CHICAGO, IL – An 18-year-old man who was arrested in August of 2020 under stolen vehicle charges was released on a recognizance bond following that case.
And guess what he was just busted for?
He was arrested months later for an alleged armed carjacking where he reportedly opened fire at the driver of the vehicle.
Prosecutor: 18-year-old fired "Not one. Not two. Not three. Not four, but at least fourteen shots" during a carjacking — while he was free on a recognizance bond for possessing a stolen motor vehicle.https://t.co/QDphliwIP0

— CWBChicago (@CWBChicago) February 11, 2021
Back in August of 2020, Anthony Blackburn was arrested under a charge of possessing a stolen motor vehicle.
In that case, police allege that Blackburn was pulled over in the Forest Park area after they'd seen him operating a vehicle that was reported as being stolen.
After Blackburn was pulled over, police say that he tried to flee from officers after he was stopped.
He was eventually caught up with and arrested after he allegedly sped down the Eisenhower Expressway and eventually abandoned the vehicle on foot, making his way onto Cicero Avenue.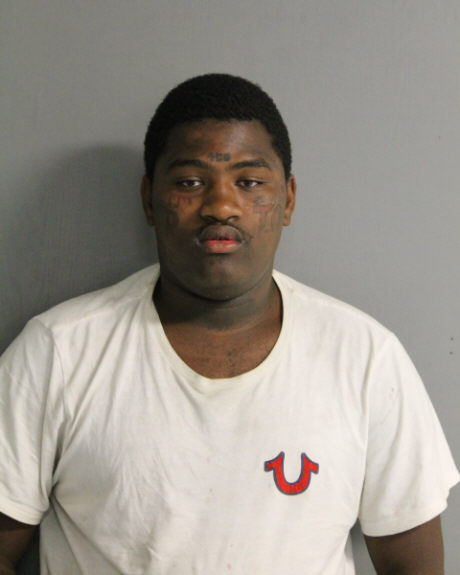 When that case was presented to Judge Charles Beach, the judge had ordered that Blackburn be released on his own recognizance and that he remain inside of his home between the hours of 7:00 p.m. and 7:00 a.m.
Three months later, the suspect would be arrested again.
According to Assistant State's Attorney Franka D'Antignac, Blackburn had allegedly been inside of a vehicle that cut a driver off within the 4700 block of West Polk at around 2:15 p.m. on November 16th.
Blackburn then allegedly exited the vehicle and held up the driver he cut off at gunpoint, reportedly demanding the victim's vehicle.
Said driver of the vehicle instead opted to hit the gas and drive off, with Blackburn allegedly firing at the victim's vehicle 14 times.
Thereafter, ASA D'Antignac says that Blackburn ran to another vehicle and ordered the occupants out at gunpoint – which said vehicle occupants did do.
Blackburn was alleged to have then stolen that second vehicle, with police later finding surveillance video from a Cicero-based motel that allegedly showed Blackburn exiting the stolen vehicle and entering a motel room.
Police would later respond to the motel and arrest Blackburn, with a search of the suspect's motel room producing a loaded handgun with an extended magazine.
At the time of his November arrest, prosecutors charged Blackburn for possession of a machine gun, possessing a stolen motor vehicle, and aggravated unlawful use of a weapon. Despite his previous case from August still pending, Blackburn was able to bail out of jail after posting a bond of $4,000.
Come January 12th of 2021, Blackburn was arrested again.
Police took Blackburn into custody in January after he was witnessed allegedly engaging in hand-to-hand drug transactions within Chicago's West Side.
Prosecutors say that he was later found to have been in possession of 56 baggies containing heroin and over $500 cash.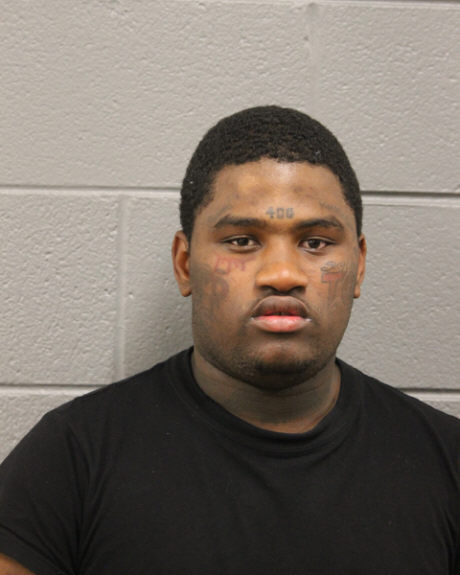 It wasn't until that case that bail was revoked for Blackburn for violating the terms of bond for his two previous cases.
Then, on February 10th, Blackburn's charges related to the November armed carjacking would get upgraded.
The reason being for the upgraded charges was that ballistics came back from the November carjacking case that wound up being a match with the gun recovered by police from the motel room months earlier.
The suspect is now facing additional charges of felony aggravated vehicular hijacking with a firearm, aggravated discharge of a firearm into an occupied vehicle, and attempted aggravated vehicular hijacking with a firearm.
Blackburn is reportedly due back in court on February 16th.
Do you want to join our private family of first responders and supporters? Get unprecedented access to some of the most powerful stories that the media refuses to show you. Proceeds get reinvested into having active, retired and wounded officers, their families and supporters tell more of these stories. Click to check it out.
We at Law Enforcement Today recently reported on some concerning statistics coming out of Chicago earlier in February with regard to shootings within the city.
Here's that previous report.
_
CHICAGO, IL – While people are being killed in the streets of Chicago at a staggering rate, over 500 Illinois National Guard members are being deployed to Washington DC through March. Since Democratic Illinois Gov. J.B. Pritzker announced the deployment, 288 people have been shot in Chicago and 58 of those have died.
Chicago Tribune: Illinois National Guard heads to DC to help with potential armed riots: 'It's surreal, but it's also not unplanned for'.https://t.co/hofPFi0oKd

via @GoogleNews

— RUTH ELLA OWENS (@ruthellaowens) January 14, 2021
Governor Pritzker deployed 500 National Guard members and airmen to Washington at the request of the Pentagon on January 28. At the time, the governor said it was necessary to fight "racism" and "disinformation." In his comments, he did not explain how the National Guard would fight disinformation:
"We must root out the dark forces of racism, white supremacy, and disinformation that have created this moment, but until we do that, our extraordinary Illinois National Guard troops will deploy with honor. Thank you for defending our democracy."
We must root out the dark forces of racism, white supremacy and disinformation that have created this moment, but until we do that, our extraordinary @IL_Natl_Guard troops will deploy with honor. Thank you for defending our democracy.https://t.co/DCrrDA8VaH

— Governor JB Pritzker (@GovPritzker) January 28, 2021
Daniel Greenfield, a Fellow at the Freedom Center, commented about the Governor's words in an article written for Frontpage:
"Soldiers don't root out 'disinformation.' Except maybe in China, Cuba, and apparently, Chicago."
As of this writing, 288 people have been shot since the Governor ordered the deployment. 81% of the shooting victims were black. 44 shooting victims were black, 7 Hispanic, and 2 were white or other race, according to Chicago violence tracking website heyjackass.com.
Explain this to me:
Why are there still more national guard troops in Washington DC, when they could be needed elsewhere such as Portland to control ANTIFA members and in Chicago to protect citizens from gangs causing crime and violence? #DemocratsAreDestroyingAmerica #democracy

— Alex Dewey (@benrocks_7) February 3, 2021
In Chicago, a person is wounded in a shooting about every three hours, and a person is murdered around every 14 and a half hours. Since the start of February, Chicago has seen 34 people shot and wounded and another 4 killed.
Greenfield argued that Governor Pritzker could have used National Guard troops to quell the violence at home:
"After the billionaire governor took a break from working on his Wisconsin mansion to dispatch 200 National Guard troops to protect Joe Biden from being attacked during the inauguration, 29 murders were perpetrated in Chicago.
"There was nothing for the Illinois National Guard to do in D.C. where the biggest threat to Joe Biden's safety remains pulling a dog's tail in the shower but deploying those troops could have been used to save lives back home in Chicago."
Seems like Gov. @JBPritzker should be sending the IL National Guard to Chicago instead of DC
21 murders & countless crimes so far this year. https://t.co/s5d9I2aQXe

— Patriot (@Patriot38881458) February 2, 2021
Greenfield pointed out that 18 people were shot in Chicago just last weekend:
"Instead of fighting Republican political opponents in D.C., the National Guard could actually stop real violence in Chiraq."
On December 3, then-President-elect Joe Biden revealed that he broke his foot tripping on a rug after a shower as he chased one of his dogs and grabbed its tail. The injury was a hairline fracture, and he had to wear a boot for several weeks.
The Illinois National Guard was deployed to DC because of intelligence chatter indicating a high risk of political violence since Biden's inauguration on January 20. DC is on edge since the January 6 attack on the U.S. Capitol.
Chicago's Black Criminals Whose Lives Matter put up some impressive homicide numbers. They continue to commit over 80% of the shootings and murders. Their carjacking stats are through the roof! 2021 is going to be horrible for law abiding citizens of all races. pic.twitter.com/ErOIoL5U1E

— Jimmy Lincoln (@Jimmy5XXX) February 2, 2021
In November, Gov. Pritzker mobilized the National Guard into Chicago to prepare for unrest associated with the 2020 general election. However, the guard members were staged at the McCormick Center and were not deployed into the city.
The Chicago Emergency Management office said at the time:
"The City has not made any calls to deploy the National Guard in Chicago. Similar to past emergency preparedness plans, the State has stationed personnel at McCormick Place to be ready to respond if needed, however, there are currently no plans for them to be deployed."
The City has not made any calls to deploy the National Guard in Chicago. Similar to past emergency preparedness plans, the State has stationed personnel at McCormick Place to be ready to respond if needed, however, there are currently no plans for them to be deployed. https://t.co/EoxZiw90Rs

— Chicago OEMC (@ChicagoOEMC) November 2, 2020
Greenfield argues that the National Guard of all states could be better served by quelling the rising tide of violence striking metropolitan areas across the country, rather than waiting in DC for a threat that may never materialize:
"The Biden banana republic theater in D.C. of soldiers, walls, and razor wire is sending a troubling message to Americans and to the rest of the world. But it's also costing lives in Chicago and in urban areas that could actually use some National Guard support.
"Murder rates have shot up by 50% in major American cities. Police departments are outmanned, outgunned, and are bleeding personnel at record rates as officers head for the exit."
Greenfield pointed to Michigan as another example of where the guard could be of use. Michigan Governor Gretchen Whitmer deployed 1,000 guard members to DC to join 7,000 from across the nation after an intelligence alert from Homeland Security said the January 6 attack could embolden further violence.
At the time of the deployment, all six of Michigan's Republican members of Congress sent a letter to House Speaker Nancy Pelosi requesting to be briefed on the reasons for the National Guard activation:
"It is critical that there remains due justification to send members of Michigan's National Guard back to Washington, D.C."
A shooting in Flint yesterday evening leaves 5 people shot. 1 person is dead, and 2 are in critical condition, including an 11-month-old baby girl.

#Flint Police Chief Terence Green and others in the community have reaction.

More on this story at 6 on @midmichigannow pic.twitter.com/AbONB413qt

— Remi Murrey (@rmurreytv) January 29, 2021
Citing one particularly heinous crime in Flint, Michigan, Greenfield questioned the governor's motivation for deploying guard members to DC:
"In one recent Flint shooting spree, a 57-year-old woman was killed, and four others, including an 11-month-old baby, were wounded. If only Governor Whitmer had cared as much about that baby as she does about bolstering the Democrat military occupation of Washington D.C."
He then went on to point out crime waves in Philadelphia and New York City. Both cities sent guard members to DC. Greenfield wrote:
"The only federal legislators to be physically assaulted by political extremists have been Republicans who were attacked by Democrats: Including at the infamous baseball charity shooting spree. Rep. Alexandria Ocasio Cortez, who claimed that she was nearly murdered, is perfectly safe. So is the rest of New York's delegation of grifters, radicals, and crooks.
"The same can't be said for New Yorkers who are under assault by the criminals set loose by Cuomo, De Blasio, and other Democrats who prioritized thugs over law-abiding citizens. The federal government is safe. New Yorkers aren't."
The biggest story in New York City today is public safety. Murders were up 40 percent in 2020. Shootings doubled. Pushing people in front of trains seems to be the new diversion for the deranged class, and random street violence has become the norm. One would think that at … https://t.co/MDl6V6peVM

— Gregory W. Chupa (@gregory_chupa) February 6, 2021
Greenfield went on to declare that the National Guard deployment to Washington DC needed to end. He said Democrats are using the guard to intimidate Americans rather than protect them:
"While their own people, men, women, and children, continue to die in Chicago, Philly, Detroit, and New York City, the only thing they care about is a military show of force in D.C. Their banana republic occupation persists in D.C. while the dying continues in their own cities."
While the National Guard from around the nation surrounds the National Mall and United States Capitol, people living in the city have not been protected by the National Guard. Greenfield wrote:
"Sadly, even the deployment of the National Guard to D.C. hasn't made the city any safer.
"While thousands of soldiers were deployed to protect Speaker Pelosi and Rep. Alexandria Ocasio Cortez, an 85-year-old man was violently beaten on the train, a 15-year-old boy was shot and killed, and a mass shooting killed 1 man and wounded 4 others."
Democrats Scramble to Save Face After National Guard 'Banished' to Parking Garage Following Biden Inauguration via @rustyweiss74 – https://t.co/DqIIzR2QmJ

— Thoolouse Le Startrek (@thoolou) February 2, 2021
Making a comment about National Guard members having to sleep in parking garages at one point, Greenfield summed up his point by saying that they could have been used to save lives throughout the country, but instead stand between the governed and the governing:
"The National Guard could have been used to actually save lives in D.C. Instead, Democrats used those soldiers to threaten Americans while making them sleep in cold parking garages.
"That's another reason why the D.C. occupation needs to end."
_
Want to make sure you never miss a story from Law Enforcement Today? With so much "stuff" happening in the world on social media, it's easy for things to get lost.