BLOUNTVILLE, TN- An Amber Alert has been issued by The Tennessee Bureau of Investigations (TBI) for 15-month old Evelyn Boswell.
The baby girl was last seen the day after Christmas. Almost two months ago. And she was reported missing February 18.
The TBI said:
"Evelyn was entered as a missing child on Tuesday February 18, 2020 but was reportedly last seen on December 26, 2019."
The agency also said that Evelyn's parents, Megan Boswell and Ethan Perry, are "involved" in the investigation. They did not disclose who reported her missing or who was the last person to see her, saying only that she was seen by "certain family members" at the beginning of December.
They did, however, say that Perry is on active military duty in Louisiana.
Sullivan County Sheriff's Office PIO Captain Andy Seabolt told reporters:
"Right now we're not sure of her exact location. It could be anywhere from what we know. We're conducting the investigation, and obviously we've been talking to as many people as we've come in contact with that knew about the child.
We have several others we will be speaking with as well, and we've also been receiving some leads we've been following up on… We want to know why the child was not reported missing earlier."
UPDATE: The search for Evelyn Boswell continues. We have another photo to pass along.

Investigators continue to follow-up on leads as they come in.

Please continue to share and help us get the word out.

Have information? Call 1-800-TBI-FIND. #TNAMBERAlert pic.twitter.com/bdBJ1YKz8k

— Tennessee Bureau of Investigation (@TBInvestigation) February 20, 2020
This is the only information being released about Evelyn at this time.
Anyone with information on Evelyn is urged to contact the Sullivan County Sheriff's Office at 423-279-7330 or the TBI at 1-800-TBI-FIND.
Social media, while it can be helpful at times, has spun its web of stories. One man, Hunter Wood, has spoken out about tales told against him in this case.
Hunter dated Evelyn's mother, Megan, and social media users have taken that and run with it. Hunter told his local news outlet, News 11, that he only dated Megan for a few weeks in December. Hunter said he met Megan when she applied to work at a restaurant he owns.
LET has a private home for those who support emergency responders and vets called LET Unity. We reinvest the proceeds into sharing their untold stories. Click to check it out.
The two dated "on and off," according to Hunter, and he never saw Evelyn at all during their casual relationship.
Megan reportedly told Hunter that she and Perry had 50/50 custody, and that Evelyn was supposed to be with Perry over Christmas.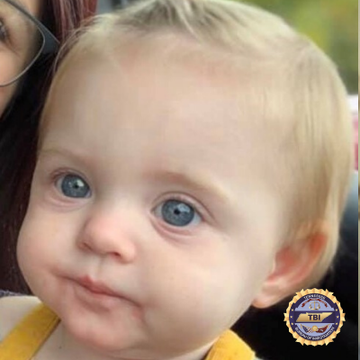 Hunter said:
"They have half custody to the best of my knowledge. It's not my business to dig further into that because we weren't that serious for me to dig further."
Hunter doesn't have contact with Megan anymore, and he hasn't seen her or talked to her since the Amber alert was issued.
He spoke out to reporters because his name was getting slammed.
"I'm not doing this to, you know, hurt this investigation because all in all the entire matter here of what's going on and what needs to be resolved is finding that baby."
Go Deeper
In the meantime, a family in South Carolina is in mourning after the search for their daughter came to a tragic end. And now we're learning more about the death of 6-year-old Faye Swetlik from Cayce, South Carolina.
Police are saying that there's a possible link between the corpse of a 30-year-old man that was found not far from the young girl's house.
After Swetlik went missing on Monday, February 10th, authorities both local and federal were on the hunt to locate the young girl.
Sadly, the search efforts culminated with the discovery of her body the following Thursday.
While the discovery of the deceased girl's body was heartbreaking, circumstances that revolved around another discovered body has left investigators trying to understand just what exactly happened.
The body of Coty Scott Taylor was located inside of his home shortly after police discovered the body of Swetlik in a wooded area. Apparently, Taylor's home is roughly 150 feet away from the young girl's house as well.
The 602 Picadilly Square house where Taylor lived was also in front of the wooded area where Swetlik's body was found.
PICTURED: Dead neighbor, Coty Scott Taylor, 30, who is linked to the killing of six-year-old Faye Swetlik after a 'critical piece of evidence' belonging to the child was found in his trash ☠️ Daily Mail Online #Pedophiles #Murder https://t.co/lV0QjiGCxZ

— TheCyberChick (@warriors_mom) February 14, 2020
Cayce Department of Public Safety Sgt. Evan Antley noted that there was a critical piece of evidence that was located inside of the trashcan outside of Taylor's home, which ultimately led police to finding Swetlik's body.
Sgt. Antley spoke with reporters about the connection of the two deaths:
"Evidence and our investigation does link these two together. I can confirm that he was a neighbor, that he was not a relative. He was not a friend. He was merely a neighbor."
Investigators had spoken to Taylor before his death, which the circumstances of his death have not been revealed in much detail.
Authorities noted that they'd been inside Taylor's home while Swetlik's search was still being treated as a missing person's case.
Police stated that Taylor had no criminal history or notable interactions with local law enforcement when they initially spoke with him.
LET has a private home for those who support emergency responders and vets called LET Unity. We reinvest the proceeds into sharing untold stories of those patriotic Americans. Click to check it out.
As for the critical piece of evidence linking the two deceased, police wouldn't say exactly what the evidence inside the garbage can was.
All authorities would reveal was that the evidence located was an item that would have been listed on a missing person's flyer that was circulating. Based upon that level of detail provided, one could reasonably deduce that the evidence located was perhaps some sort of article of clothing.
The Cayce DPS flyers that were circulating when searching for Swetlik listed her last known outfit which was a black shirt with neon colors, a flower print skirt, and polka dot rain boots.
While Swetlik's case is now being treated as a homicide, Sgt. Antley noted there's no active threat or hunt for possible suspects currently:
"At this time, I want to assure you, our community and all of our parents out there, that we have no reason to believe that there is an active threat in the community or the city of Cayce as a whole. We have no suspects at this time.
We have made no arrests and we are not seeking any persons of interest as of this time."
So, who exactly is this Taylor character? Well, is hard to really tell.
He graduated from Bluffton High School in 2007, and later enrolled at The University of South Carolina Beaufort that same year.
In 2008 he eventually transferred to the Columbia campus and according to the university he was a math major. Taylor had apparently withdrawn from the university in the spring of 2009 and there was no record of his graduation.
Taylor's Facebook page noted that he worked at Jimmy Johns, but the company stated he had not been employed there since 2015.
An autopsy was scheduled for Saturday, February 15th for Taylor. Once completed, investigators will be one step closer to understanding just what happened between these two connected deaths.
Another kidnapping this week thank God came to a happy ending. Police found a 3-year-old Florida girl after an Amber Alert was issued.
Editor note: Although our team uncovered pictures on social media tying the child to the kidnappers, we've chosen to not reveal those pictures in an effort to protect the child.
According to WXTL Tallahassee, the two suspects who were arrested for the kidnapping of 3-year-old Madeline Mejia have had their identities released by the Florida Department of Law Enforcement.
According to court documents, 19-year-old Kevin Olmeda-Velis and 18-year-old Tania Fortin-Duarte were arrested charges related to the kidnapping of the child and are currently being held at the Leon County Jail.
The incident started out on Monday, February 10th in Apopka, Florida, when the victim's father was with his 3-year-old daughter outside of his home at around 6:00 a.m.
The father realized that he'd forgotten to grab his keys from the house, and ran inside to get them while his daughter stayed on the front lawn.
Moments later he heard his daughter screaming and, when he ran outside, he saw a man snatching his daughter and placing her into a black Honda with a temporary Texas license plate.
According to Florida Highway Patrol Lt. Kim Montes, the father chased down the car from his Apopka home until he lost sight of the suspect's car on Interstate 75 North. The victim's father didn't have a cellphone at the time when he began to immediately chase down the suspect, but returned home after losing sight to call the police.
At around 9:30 a.m., an AMBER alert was issued for the abducted child. Just 90 minutes after the FDLE issued the alert, the young girl was located by authorities.
Trooper Jessie Sunday from the Florida Highway Patrol was actively looking for a black Honda while the alert was active, and had spotted the suspect's vehicle on the I-10 West near mile marker 208 in Leon County.
When Trooper Sunday, along with other troopers present, conducted the traffic stop – they had found Madeline Mejia unharmed.
The moment our agents recovered Madeline Mejia this morning!

Thanks to our law enforcement partners and everyone else who helped to swiftly and successfully resolve this AMBER Alert! #FLAMBERhttps://t.co/2LpvqQviRT pic.twitter.com/52KEX19QzJ

— FDLE (@fdlepio) February 10, 2020
LET has a private home for those who support emergency responders and vets called LET Unity. We reinvest the proceeds into sharing untold stories of those patriotic Americans. Click to check it out.
Lester Mejia, the girls father, was relieved when he was reunited with his daughter:
"It was anguish not knowing what was happening to my daughter. I'm happy for my baby coming back."
While some have been critical of the father briefly leaving his young daughter's side that morning, Police Chief Michael McKinley noted that not everyone is thinking the worst can happen at any second:
"Obviously he didn't think this was the morning someone was going to grab Madeline, We don't all think about that."
Olmeda-Velis and Fortin-Duarte were immediately arrested and transported to the Leon County Detention Facility on Monday. Police have yet to release a suspected motive in the crime, but believe that the two suspects were headed toward Texas with the young girl.
They are both being held without bond and are scheduled to have their first appearance on Tuesday, February 11th.
After reviewing Facebook, we'd uncovered the profiles of both Olmeda-Velis and Fortin-Duarte. According to their respective profiles, Olmeda-Velis was born in El Salvador and currently resides in Houston, Texas.
A review of his friends list revealed that he's connected on Facebook with Fortin-Duarte.
Fortin-Duarte's Facebook profile showcased that she currently lives in Orlando, Florida – not far from where the abduction took place. It was also shown that the female suspect is originally from Roatán, Islas De La Bahia, Honduras.
While reviewing both the social media accounts for the suspects in custody, while these were posts that were "public", there wasn't much present that could be linked to a motive either.
The only connection was that Olmeda-Velis was based in Texas, at some point travelled to Florida and linked up with Fortin-Duarte, and then the kidnapping allegedly happened.
Yet, when looking into the victim's father's Facebook – there was an interesting revelation. It looks like Lester Mejia was quite familiar Fortin-Duarte. In fact, just months prior to the kidnapping, it looks like they might have been dating.
Pictures of them can be seen at the beaches of Florida, where Lester is hugging Fortin-Duarte – while she has her hands placed on the Madeline Mejia.
So is this all just a coincidence, or was there trouble in paradise sometime down the road?
It's hard to tell, but both Lester Mejia and Fortin-Duarte are still connected on Facebook as of this time.
---
Want to make sure you never miss a story from Law Enforcement Today? With so much "stuff" happening in the world on social media, it's easy for things to get lost.